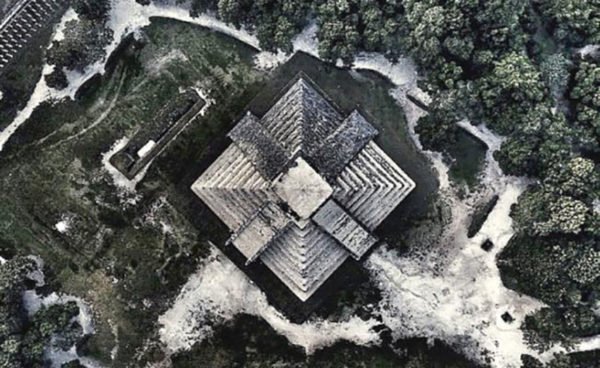 Photographer was 'trespassing' when he used a drone to take photo at Chichén Itzá
by the El Reportero's news services
A breathtaking pre-dawn aerial photograph of the Kukulcán pyramid in Chichén Itzá, Yucatán, got its author instant online notoriety — and legal action by Mexican authorities.
César Mendiburu Heredia used a drone to take the photo, which he shared on the social news aggregator Reddit. The accompanying caption indicated the photographer knew he could be in trouble.
"I took this aerial (and probably illegal?) photo of Chichén Itzá last weekend."
Mendiburu did not break any drone regulations but the device he used to shoot Chichén Itzá is considered by the National Institute of Anthropology and History (INAH) as special photographic equipment.
As such, he should have completed an official form and paid 10,227 pesos (about US $540) if he wanted to shoot video, or 5,113 pesos ($270) if he only wanted to take photographs.
INAH's legal liaison José Arturo Chab Cárdenas told El País that since the archaeological zone is property of the nation, it is subject to several federal laws. According to those regulations, Mendiburu's photograph is illegal, because it was shot at a time when the archaeological zone was not open to the general public.
Even if the photo was obtained through a remotely operated vehicle, "it's trespassing . . . it's like breaking into a museum in the wee hours of the morning."
In a press release issued on Wednesday, INAH said it had began a legal process against Mendiburu, as the photograph contravened the federal law on archaeological, artistic and historic monuments and zones. – Compiled by Mexico News Daily.
Source: El País (sp), El Universal (sp)
Havana Film Festival to Pay Tribute to James Ivory
The 39th International Festival of the New Latin American Cinema, which will take place in this capital city from December 8th to 17th, will pay tribute to U.S. director James Ivory with eight films from his fruitful career, said organizers today.
Ivory will be paid homage by screening films he shot between the mid-1980s and 2005, including the awarded films 'The remains of the day' and 'Return to Howards End,' said president of the festival Pavel Giroud.
The films to honor Ivory, 89, also include 'Mr. and Mrs. Bridge', 'A Room with a View', 'The White Countess', 'The City of Your Final Destination', 'Jefferson in Paris' and 'Le Divorce'.
The 39th International Festival of the New Latin American Cinema, which is the most important cinema event organized in Cuba, will also pay tribute to the October Revolution on occasion of its centenary, with a restored copy of 'October', a silent film by Russian great filmmaker Sergei Eisenstein, premiered in 1928 and considered a classic film.
The 39th International Festival of New Latin American Cinema will be held in 10 movie theaters of Havana, in which more than 400 films from the region and other parts of the world will be screened.
More than 9,000 files about Chinese philosopher Confucius go digital
More than 9,000 archives from philosopher Confucius, which became one of the greatest symbols of China, have gone digital with the aim of preserving and disseminating them among the new generations.
According to journalistic information, this is a vast collection of materials about the teachings of the thinker, some aspects of the traditional society of this country and the Kong Family Mansion in Qufu, where their direct descendants lived for centuries.
The project was approved in 2013 and the subsequent scanning and digitization work took four years.
Confucius (551-479 a.n.e) and his thought guided the civilization of this country for thousands of years.
He founded a school that influenced many generations in China, Korea, Vietnam and Japan. After his death, disciples and followers preached his moral and religious doctrines.
There are about 1,300 temples in his honor in and outside the country, and even several nations have opened institutions to teach the Chinese language and culture that bear his name.