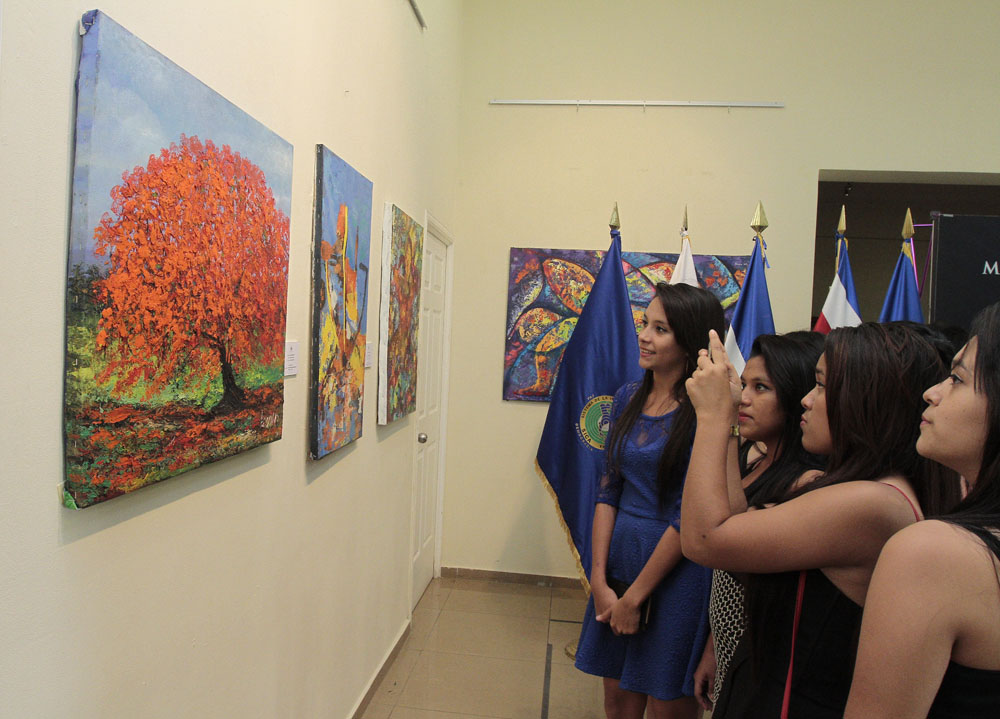 by the El Reportero's news services
A sample of works of Nicaraguan artists linked to "Inter-Acción Art" is exhibiting at the headquarters of the Ministry of Foreign Affairs of El Salvador.
Among the artists who exhibited are: Raúl Barrios, Fran León, countryman Pablo, Reynaldo Bósquez and Mario Fulvio Espinosa, all with extensive experience in the arts. The exhibition is open Monday through Friday at the Foreign Ministry of El Salvador, Antiguo Cuscatlán, from Oct. 22 to Nov. 23 hours of 7:30 a.m. to 3 p.m., explained Jorge Espinoza Maltez, giving the opening words on behalf of the artists.
"Inter-accion Art" is an artistic initiative which has existed as "Inti, Nicaraguan Art Workshop" for 15 years. Now with this collective exhibition makes its formal release with new a artistic concept: expand horizons and promote different creative expressions, beyond the paint. Its cultural management encourages the exchange of art with the public and seeks to go beyond the borders.
Inter-Action spectator-artist
"We seek to promote a direct experience of personal creativity between the public and the artistic proposals. Inter-Accion where the expectant eyes can rediscover his artistic soul through exercise or get into the discipline that most appeals to you," said Morena Guadalupe Espinoza, founder of"Inter-Acción Art."
The event is in the framework of which El Salvador assumes the Presidency pro tempore of the Central American Integration System (SICA). "The exhibition is a showing of brotherhood between our peoples," said Carlos Castañeda, Deputy Foreign Minister of El Salvador, at the inauguration of the Expo-sale.
Jorge Masís, Minister Counselor of the Embassy of Nicaragua, also presided over the opening of the exhibition and said their own efforts that the art collective is conducting the event.
You can meet more of the project in www.interaccionarte.com
Placed stone for replica of Casa Maya in Mexico
The milestone of a replica of the Casa Maya was placed today in the framework of the 4th International Festival of the Mayan culture taking place in Merida, capital of the Mexican state of Yucatán.
This facility will house miniatures and visual information of the Mayan civilization and will be located in the so-called Garden of the Vestiges of the Museum of the Mayan World in Merida.
This project provides accessible spaces for visitors, the exhibition of traditional elements, explanation of the cosmogony of the ancient Mayan house and miniatures.
The public will also be able to observe the activities performed and still maintain the descendants of that civilization.
Saint Lucia to host Latin American and Caribbean Film Festival
Saint Lucia announced that its first ever Latin American and Caribbean Film Festival will be hosted next month with the screening of various films from this country and from five nations of the continent.
The event will be hosted from November 9th to 13th and it is organized by the Ministry of Tourism, Heritage and Creative Industries in collaboration with two institutions of the island and the embassies of Venezuela, Argentina, Cuba, Mexico and Brazil.
The program includes films from Saint Lucia, as well as ten foreign films, like Libertador (Liberator) from Venezuela, Esther en alguna parte (Esther in some part) from Cuba and Vinicius de Moraes from Brazil.