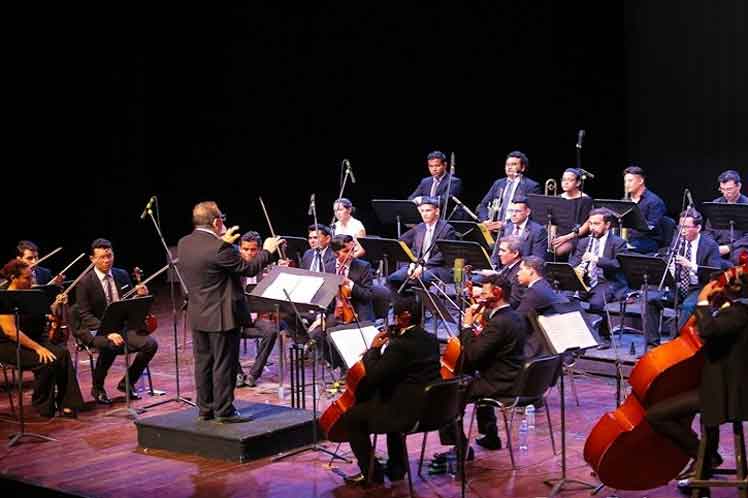 by the El Reportero's news services
MANAGUA, July 10 – In the midst of a pandemic that is raging and wreaking havoc on the Nicaraguan population, the Nicaraguan government announced that several local bands and artists, led by maestro Ruben Rodríguez, are preparing a concert to celebrate the 41st anniversary of the Sandinista Revolution.
The Ruben Dario National Theater has been recording the show, which will be broadcast on public television's Canal 6 during the July 18 vigil, prior to the historic date that marked the end of the dictatorship by the Somoza family dynasty in 1979.
Due to the health situation in the country, the Nicaraguan government has avoided holding public events that bring together large numbers of people, so the country opted for virtual concerts to celebrate historical dates.
In this sense, on Friday, July 3, a cultural performance was broadcast on Internet platforms and Canal 6 to commemorate the Tactical Withdrawal to Masaya, considered the second major feat of the 1979 People's Revolution.
Authorities believe 'Glee' actress Naya Rivera drowned in lake
by Dennis Romero, Andrew Blankstein and Janelle Griffith
Shared from NBC News
July 9 – The search for "Glee" actress Naya Rivera resumed Thursday after she was reported missing on Wednesday at Lake Piru in California, authorities said.
The efforts have become a search-and-recovery operation, Ventura County Sheriff's Deputy Chris Dyer said at the lake on Thursday.
"We're presuming that an accident happened and we're presuming that she drowned in the lake," he said, adding that there were no signs of foul play or of anything that went wrong "besides a tragic accident."
Dyer said it would not change the efforts put forth to locate Rivera.
Upward of 100 people from several agencies are searching for Rivera — including several dive teams from sheriff's departments around the region and a drone team — after her son was found alone on a boat on the lake, which is about 50 miles northwest of Los Angeles, the sheriff's office said.
The 33-year-old from Woodland Hills had been boating with her son, Capt. Eric Buschow said Wednesday.
The actress rented a boat about 1 p.m, he said, and three hours, later authorities found her son napping alone on the vessel.
The child told officials that the pair had been swimming but that Rivera never returned, Buschow said.
"There's another adult life vest found on the boat," the captain said.
On Wednesday night, the department identified in a tweet Rivera as the person for whom they were searching until it became too dark. The department said the search would continue at "first light."
Lake Piru is about 56 miles north-northwest of Los Angeles.
Deputy Dyer said the search was suspended at 10 p.m. Wednesday because of dangerous conditions. Visibility in the water during the day was about eight to 10 inches and there was lots of debris and full-size trees under the water and "varying depths."
A manager for Rivera had no immediate response Wednesday night.
Rivera is best known for playing Santana López on "Glee," a high school glee club musical and comedy that ran on Fox from 2009 to 2015.
At least two "Glee" performers have died since the series' conclusion.
In 2018, 35-year-old Mark Salling, who faced up to seven years in prison for child pornography possession, was found dead in Los Angeles. Law enforcement sources said at the time that they believed he died by suicide.
In her 2016 book, "Sorry Not Sorry: Dreams, Mistakes, and Growing Up," Rivera wrote about her struggle with the death of her "Glee" co-star Cory Monteith, who passed away in 2013 from a drug overdose.
"The Cory chapter really choked me up. I had (co-star) Kevin (McHale) come over and help me edit and we both had our moment," Rivera said in an interview with the Associated Press.
Some "Glee" co-stars weighed in on her disappearance on Twitter late Wednesday. Harry Shum, Jr., who played Mike Chang said, "Praying."
Iqbal Theba, who played Principal Abigail Figgins Gunderson on the show, said, "Oh God… mercy… please… "
Rivera is from the Santa Clarita neighborhood of Valencia, about 23 miles from the lake. She was married to actor Ryan Dorsey, the boy's father, but the pair divorced after four years in 2018.
Last week, she tweeted, "Everyday you're alive is a blessing."