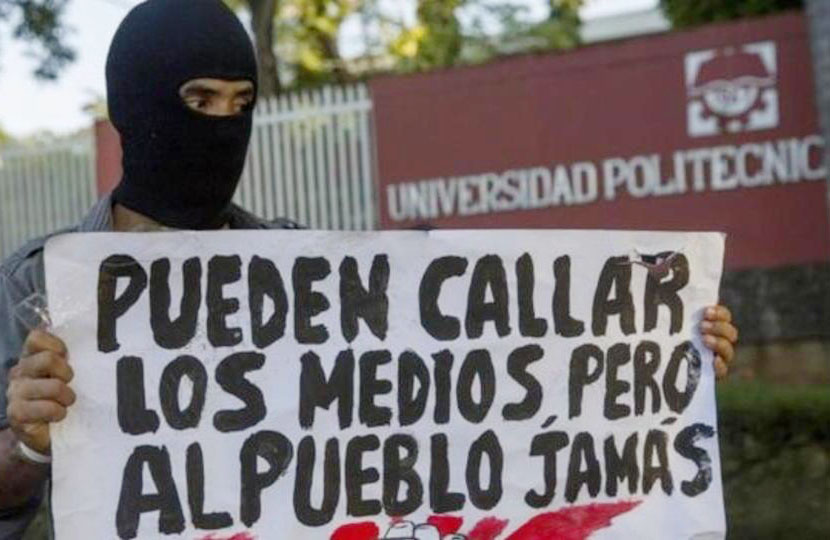 by Amnesty International reports
July 9, 2018 – The repressive actions of the Nicaraguan government have reached deplorable levels, Amnesty International said today, after one of the bloodiest weekends since the repression of protests began almost three months ago.
"Heavily armed pro-government groups remain at large, accompanied by police forces, committing joint attacks against the civilian population," said Erika Guevara-Rosas, Americas director at Amnesty International.
"The message sent by the highest ranking Nicaraguan authorities is that they are willing to do anything to silence the voices of those who demonstrate against this violent repression. This situation is extremely serious and deserves strong condemnation from the international community."
At least 17 people were killed in Matagalpa, Jinotepe and Diriamba during the weekend, most of them by police and pro-government armed groups. In addition, the arbitrary detention of dozens of people was reported.
Today, bishops of the Catholic Church, including Monsignor Silvio Báez, who has played a central role in the national dialogue process, were attacked by pro-government armed groups at the Basilica of San Sebastián in Diriamba. Several journalists also reported assaults and the theft and destruction of their equipment in the same location.
"The direct attack on figures who publicly denounce the attacks of agents of the government of President Ortega is without a doubt a form of retaliation and an attempt to silence those dissident voices," said Erika Guevara-Rosas.
"The serious human rights violations committed or permitted by the authorities are turning the country into a pressure cooker about to explode. Nicaragua's tragic history must not be repeated."
Nicaragua: Shoot to kill: Nicaragua's strategy to repress protest
In response to social protests since April 18, the Nicaraguan government has adopted a strategy of violent repression not seen in the country for years.
More than 300 people have been killed by the state and thousands injured, and this has been continuing to take place in the country as of today.
Nicaragua: Government's shameful denial of human rights violations is part of its strategy of repression
In response to the government of President Daniel Ortega's outright rejection of the Inter-American Commission on Human Rights' report on grave human rights violations committed in the context of the recent protests in Nicaragua, Erika Guevara-Rosas, Americas director at Amnesty International, said:
"It's shameful that the government of President Ortega is denying the undeniable. There is a wealth of evidence, including thousands of testimonies, to show that the Nicaraguan state has committed terrible human rights violations and continues to do so on a daily basis. This has to stop before more lives are lost."