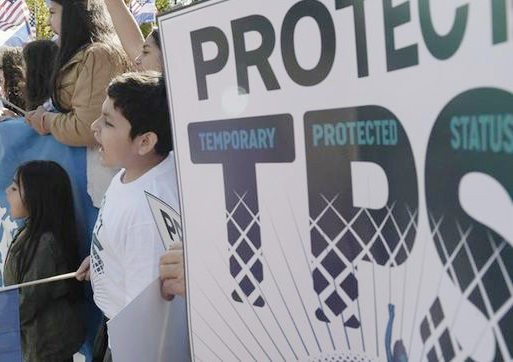 by the El Reportero's wire services
WASHINGTON, D.C. – The National Hispanic Leadership Agenda, a coalition of 46 of the nation's preeminent Latino advocacy organizations, denounces the Trump administration's decision to end Temporary Protected Status (TPS) for more than 50,000 Hondurans seeking refuge in the U.S. subsequent to natural disasters, political unrest, and violence.
In a series of decisions to uproot legal immigrants from the U.S., Honduras will be the sixth country for which the Trump administration terminates TPS. Over 300,000 TPS holders from Honduras, Nicaragua, Haiti, El Salvador, Sudan and Nepal will be torn from their families and forced to return to hostile environments despite being law-abiding, contributing citizens.
TPS holders from Honduras, Haiti and El Salvador alone contribute an estimated $4.5 billion annually to U.S. Gross Domestic Product. The mass deportation of TPS holders would result in over 250,000 layoffs, costing approximately $164 billion in Gross Domestic Product.
"This administration, contrary to federal law, is plainly exercising no legitimate discretion with respect to TPS, but is instead acting on a predetermined, race-tinged, anti-immigrant agenda," said Thomas A. Saenz, NHLA Chair and MALDEF President and General Counsel. "Congress must step in to protect Honduran and other TPS holders in order to restore some integrity to implementation of our immigration law."
"First, Trump came for the Salvadorans. Then it was the Haitians, Nicaraguans, Sudanese and Nepalese. Now, it's the Hondurans. All of these TPS holders and their families have now had their lives upended because of a president who disdains their skin color, ethnicity and culture", said José Calderón, President of Hispanic Federation. "We urge Congress to summarily call out and reject this ongoing white ethnocentric effort by the White House to reduce the number of immigrants of color in the United States."
After Criticism, UN endorsed report of violations in Ayotzinapa case
Following the criticism made by the Mexican government, the Human Rights Office of the United Nations reaffirmed today the validity of its investigations which indicate signs of torture and cover-up in the Ayotzinapa case.
During the night of Sept. 26-27, 2014, a large group of students from the Ayotzinapa Normal School traveled in five buses when the municipal police attacked them in the city of Iguala, Guerrero state.
A total of 43 were victims of enforced disappearance, six people (including three students) were killed and at least 40 others were injured. The role of various security forces in such events is now under investigation.
After a thorough reading of the response given by the Mexican government last Monday, that UN office reiterated that its operations were within the mandate established in an agreement with the authorities of that country, signed in 2002.
There are strong elements of conviction to consider that at least 34 people detained during the first stage of the investigation were tortured and many of them, arbitrarily detained, indicates the report.
These serious violations were, in turn, investigated and disguised in an inadequate way, alert the text.
Important donation to restore Zapotec Pyramids in Mexico
Monte Alban archaeological complex, in Oaxaca, Mexico, a World Heritage Site, will receive one million USD from the World Monuments Fund (WMF) to restore earthquake damages.
The September 2017 earthquakes impacted on structures of the pyramidal complex, one of the major ones in Oaxaca and the Zapotec culture, declared a UNESCO World Heritage Site.
The WMF is a private, international organization dedicated to preserve historical architecture and cultural heritage sites around the world.
'Fifteen structures within Monte Alban and the northern section of Atzompa were damaged by a devastating earthquake of September 2017, five of them are severely damaged and require emergency structural shoring to avoid collapse,' the group said in a statement.