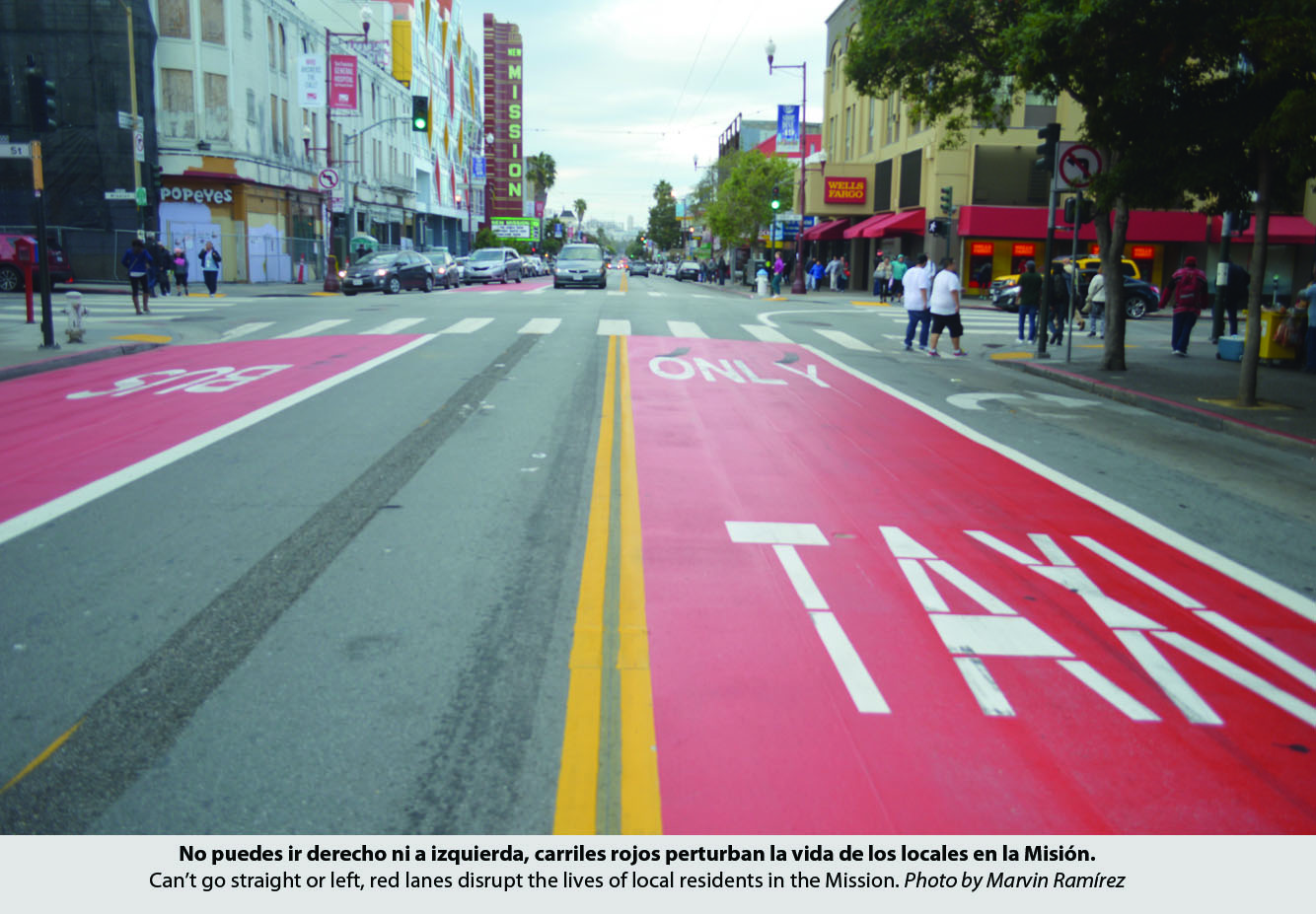 by Josh Wolf
A red strip of paint running down one of San Francisco's most well-known streets has ignited a controversy that has divided the city over transit, parking, bicyclists, and local businesses.
In February, initial changes to Mission Street that involved removing some bus stops began to draw some ire within the community. People struggling with mobility issues were suddenly burdened by a longer walk to get to the bus stop, and at least one business was displaced by the changes.
It soon became clear that these changes were part of a larger new initiative to reduce travel time on the 14-line, which bisects the city and carries thousands of passengers between the Mission District and Downtown each day. While the news of these changes generated some complaints, the community frustration would grow into a noisy chorus soon after the work was completed.
By the middle of April, a wide strip of red paint covered the Southbound outer lane of Mission Street all the way from Cesar Chavez Street to South Van Ness. From Cesar Chavez Street to Randall Street, the city painted one lane in both directions red. These red lanes are now reserved solely for busses and taxis, and regular vehicle traffic is now being diverted from Mission Street with forced right turns into quite neighborhood streets.
These changes have created both frustration and confusion among drivers and left cyclists with no clear indicators how to traverse Mission Street. On the morning of Monday, April 25, a car rolled over onto its side in an accident at Mission and 23rd Street after drivers became confused by the turns, said witnesses.
Merchants say the changes have decimated business along Mission Street. Some of the loading zones that businesses relied upon to keep their inventory stocked and there are now fewer parking spots available along Mission Street for shoppers.
"Local businesses have reported a 50 percent drop in income, seniors are walking twice as far to get the bus stop, not to mention our kids are walking twice as much to get on the bus. The mayhem is overflowing side streets and confusing drivers, endangering the lives of pedestrians," said Iswari Espana, a community activist who is running for City Supervisor in District 9, where most of the street modifications are located.
"Our local government once more fails to address issues that affect our community. We, the residents and business owners were not asked for our input. I find this unacceptable. I think that the construction of these lanes have made the transit system exclusionary to the residents in the area, placing our children, disabled, seniors, drivers and cyclist in harm's way."
David Campos, the current supervisor for District 9, has also spoken out against the changes. In a message posted on Facebook he called on the San Francisco Municipal Transit Agency to make "a radical shift in the program."
"While I understand the intention was to enhance the commute of 65,000 transit riders, the changes look better on paper than in practice," said Campos. "Most people working by, living on and driving down Mission Street will tell you that the new transit-only red carpet lanes are anything but glamorous."
Joshua Arce, a candidate in District 9, points to Campos as one of the causes of the quagmire.
"The way that the current Supervisor and his staff have approached the issue of the red lanes displays a lack of leadership," said Arce. "Rather than getting involved after the red lanes were introduced, our leaders should have engaged local businesses around their needs and concerns before their introduction…. We need to promote sustainable modes of transportation for our communities, but because of this lack of leadership a lot more work is now required."
Some transit activists are worried that the city is poised to roll back the progress made to prioritize public transit and suggest that the changes will work fine once people get used to them.
"The paint has hardly dried. Yet the transit only lanes on Mission Street may go away soon," said The San Francisco Transit Riders Union in an e-mail blast to its members. "It is a betrayal of the 65,000 riders who are served by the 14, 14R and 49 buses, as well as a betrayal of the Transit First charter of this city."
One of the strongest criticisms against the transformation is that the community wasn't properly notified about the street changes.
"I think there could have been more outreach to small business owners and street vendors," said Darcel Jackson, another candidate for District 9 Supervisor. "I think the money could have been used to give low or no interest loans to business owners to improve store front facades to attract more people to the Mission."
Many residents have suggested that the new lanes would have been more manageable had the buses been relegated to the center lane instead of the one along the curb. Since the outer lane is reserved for buses alone, it is no longer legal for anyone but taxis to pick up or drop off people along Mission Street. This is a significant challenge for people using ride-share services like Lyft or Uber, but it is also a problem for residents to shuttle their loved ones from the nearest bus stop.
"After all the promises, the red bus lanes have saved a whole two minutes on the commute, and at what cost? Our small mom-and-pop shops on Mission Street that bring so much life to our neighborhood have seen foot traffic disappear," said District 9 Supervisor candidate Melissa San Miguel.
"It's already a lot of hard work to run a business, and our city shouldn't make it harder for these small business owners to survive. Many of these shops have been in this neighborhood for a long time and they are all working hard to make a living for their family, for their kids and their grandkids. We need a fix to our system that truly works for everyone – our transit riders, pedestrians, residents, and business owners – and not another failed plan from a bureaucracy."