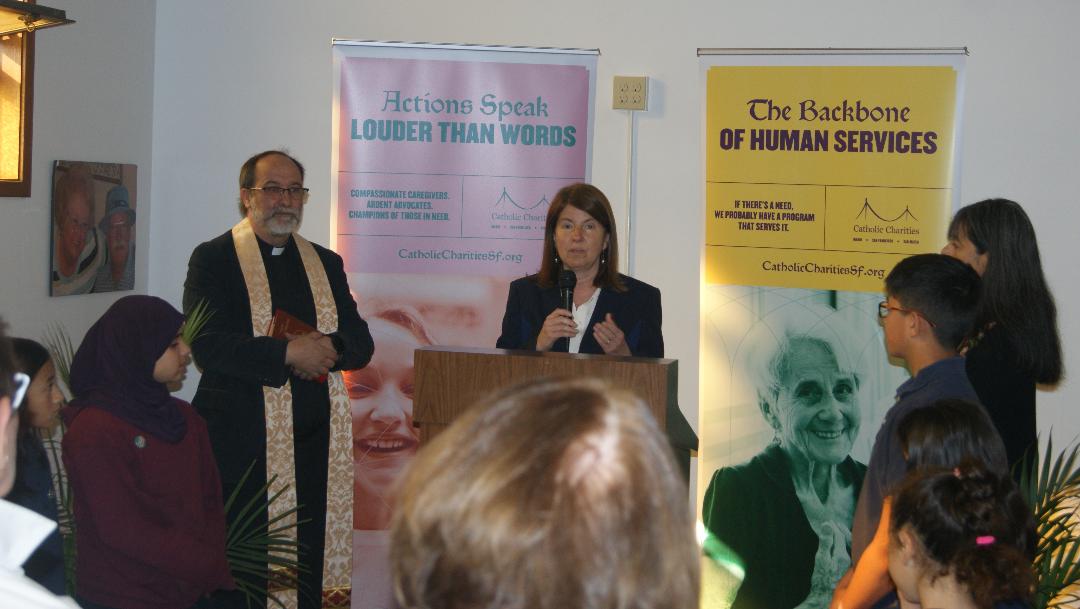 by Fernando A. Torres
Catholic Charities reported that the new social assistance center called Access Point The Mission, will join its program of prevention of homeless families and help services on immigration in a new location at 3270 18th Street with South Van Ness.
The presence of Catholic Charities and their social programs is not new to the Mission. They have been providing services for more than fifty years in the largest Latino neighborhood in Northern California. This time the new location will unite all social services under one roof, to continue providing "compassionate and comprehensive care to families and individuals struggling to survive and thrive."
José Cartagena, director of programs, said that programs to help the homeless, immigration and financing to pay rent, will work in the recently inaugurated location. "We are very happy to be opening this Access Point center, which is the center, the connection of homeless families to receive services in the city. Our function is to establish and be the bridge so that homeless families can receive the services they need, be it shelter and shelter, be it references for low-cost housing, or subsidized rent programs, "said Cartagena.
Founded in 1907, Catholic Charities is part of the Archdiocese of San Francisco but its actions are independent. With the motto of "charity and justice" the organization was created in the Bay Area to help the orphans of the San Francisco earthquake.
At the opening of the premises last week, attended by various personalities and officials of the city. Mayor London N. Breed said the problem of the homeless is great especially in California. Of all the homeless people in the country, 24 percent are in California, Breed said.
"This center will provide services not only for homeless families who sadly struggle on our streets, but also for our immigrant community. As we know, we have a President who attacks our immigrant community every day … but despite these attacks and threats, we will continue to offer resources for our community, "Breed said.
The mayor informed that this new center is part of a coordinated municipal system of five centers for families that have lost their homes; to enter a system of protection aid, shelter and permanent housing. The city provides help to 50 people weekly and waiting in line "there are another 65 people … We know that the homeless represent a big problem throughout the State", that is why it is important to find "regional solutions" because the city San Francisco "can not do it on his own," Breed said.
San Carlos Church priest and Episcopal Vicar for Hispanics in the city's Archdiocese Moisés Agudo said that Catholic Charities aims to reach "the most marginalized, those who are most defenseless. Families that are losing their homes; families that suffer from fear and even the terror of going out on the street. Every man needs to live with dignity. This center stands as a center that will enlighten and empower the Hispanic community. That they are not afraid, that they leave, that the church is with them, "Agudo said.
In a city where a one-bedroom apartment is worth 3,000 or 4,000 dollars; One of the biggest problems is economic, said Cartagena. "This implies that many families can not afford a rent. The rent is very high and the income of the family is much less … We are forced to have to share an apartment with three or four families to be able to sustain this. We are talking about Latino immigrant families who earn less than twelve hundred dollars a month; It is not enough to pay the rent and there is the problem of the homeless.
"Cartagena concluded that it is more economical to keep that family in their apartment or house than having to afford them shelter and shelter. The average cost to give refuge to a family is between 30 and 40 thousand dollars. "It's much cheaper to help them pay the rent so that it is not evicted … we do not feel bad because we need help. Let's not have grief or fear. If we need help, let's look for it. There are programs like ours and we are here to serve them, "he said.
Jilma Meneses, Executive Director of Catholic Charities, said the organization has been working in San Francisco, Mari and San Mateo for more than 150 years. Similar programs are also developed in the Bayview neighborhood. The city of San Francisco is helping to finance the center. But the fundraising campaigns must continue "to turn it into a viable and sustainable project … We provide services to everyone, regardless of origin, gender, color, sexual orientation, religion. We are in a place where everyone is safe and welcome. You are brothers and sisters regardless of your offspring. You will never be rejected from our family … I am an emigrant. As a child I was motivated by the services that I and my family received and now it is an honor for me to return this, "said Meneses.