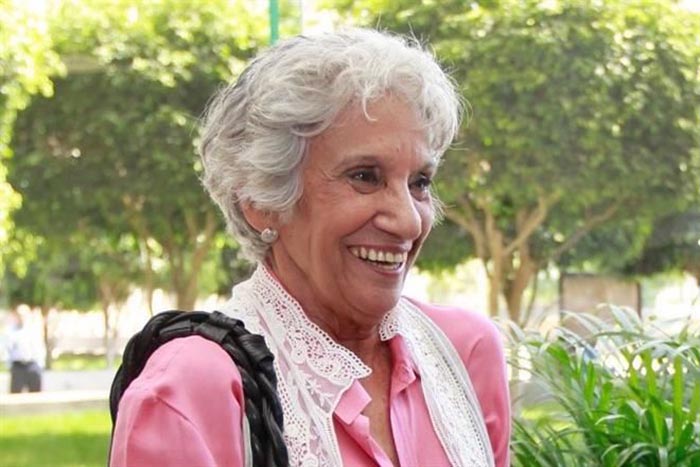 by Mónica Mateos-Vega
La Jornada
The editor-publisher Mrs. Neus Espresate, one of the great movers of Latin American literature in Mexico, passed away at the age of 83, around 4 p.m., after staying several days hospitalized due to breathing problems, informed their relatives.
Cofounder of Ediciones Era in the 1960s, where she unveiled the first works of authors such as José Emilio Pacheco, winner of the Cervantes Prize in 2009, Neus Espresate Xirau was born in 1934 in Canfranc, Huesca, Spain.
Her family moved to Mexico in the early 40's of the last century because of the Spanish Civil War. Her father, Tomás Espresate, founded the bookstore and printing company Madero, and collaborated in what would be the great professional project of his daughter, the publishing house Era, whose name was formed with the initials of the surnames of the promoters of this initiative: Neus Espresate, Vicente Rojo and José Azorín, all children of exiled Republicans and militants of the Unified Socialist Youth.
In 2011, when the publisher received an honorary doctorate from the Universidad Autónoma Metropolitana (UAM), for her contribution to the dissemination of knowledge in the social sciences, journalist Elena Poniatowska recalled that Neus "arrived with her brothers Jordi and Enrique (Quique) in 1943. She was a shy and reserved 12-year-old girl who kept secrets and experiences too hard for her few years.
Before being able to leave to Mexico, the children knew schools and convents of the pro-Franco right. Guiomar Rovira (who also comes from Port Bou, in Catalonia, where Walter Benjamin died) recalls that his great-aunt told him that the Espresates were, since then, red. In Mexico, the sky was opened. They had left behind the war and the lonely Atlantic and reunited with their parents. This girl forged in solitude became a formidable reader and a passionate politician; Of lectora happened to propose to his father, Don Tomás, to make an editorial (La Jornada, 8/3/11)
In the 1960s, the first book Era published was La batalla de Cuba, by journalist Fernando Benítez.
The second title was Palabras cruzadas, interviews by Elena Poniatowska.
Gabriel García Márquez published the first edition of The Colonel has no one to write.
After a life that had to face in its beginnings the horrors of fascism, Espresate lamented that in his old age he saw return the blind violence of a dark right, against which I have fought throughout my life.
In 2004, when she was recognized in Spain with the Liber Prize, she insisted that the past should not be forgotten and in that task the editors: we acquired a huge responsibility for the preservation of memory.
The Reporter first received the news from her daughter Isabel Fernandez Espresate, who started almost two decades ago as one of this paper's translators.
The staff of El Reportero and especially its editor, Marvin Ramirez, extend their most sincere condolences to Isabel and rest of the family for this significant loss. (This article was cut to fit space).
Talking about women inclusion in the TV industry
It looks that EstrellaTV is ahead of its competition in terms of gender inclusion.
"Passing on this very interesting data about LBI Media and how we far exceeded our competitors (Univision, Telemundo, Unimas, Galavision, Azteca América, and Entravision) by far in terms of the number of executive women in our company, proudly said to El Reportero Marco Antonio González, Vice President of EstrellaTV.
"For International Women's Day… we also celebrate and honor the achievements of our powerful women in LBI Media! Fifteen women at the top of our company, something that makes us very proud of! It is said easy, but not many can achieve it!"
EstrellaTV signal is now being carried by Dish, so it will reach so many more people now.