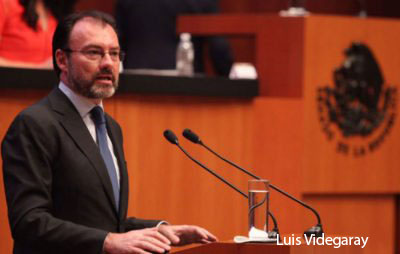 Mexico is bigger than the trade agreement, foreign affairs secretary tells senators
Compiled by Mexico Daily News
Trade talks resumed today amid growing doubts on both sides of the border about the likelihood of a successful conclusion to renegotiating the North American Free Trade Agreement (NAFTA).
Some observers say there is a real possibility that a new NAFTA deal will not be reached while Mexico has given further indications that it is prepared to walk away from the 23-year-old agreement.
The fourth round of renegotiation talks in Washington comes on the heels of further threats by United States President Donald Trump to terminate the accord.
Speaking in the Senate yesterday, Foreign Affairs Secretary Luis Videgaray warned that Mexico would leave NAFTA if it wasn't favorable to its interests and took aim at President Trump's predilection for firing broadsides and threats via Twitter.
"We are not negotiating the agreement on social networks, we are not negotiating NAFTA through Twitter, we're doing it with professionals, acting in good faith and that's how we'll continue. But we'll only continue with this process and in this agreement if it's in the national interest," he said.
Videgaray also said that the objective remained to reach an agreement that is beneficial to all three countries but stressed that Mexico's prosperity didn't depend on it.
"Mexico is much bigger than the North American Free Trade Agreement and we must be prepared for the different scenarios that could result from this negotiation."
Videgaray's comments came after Trump once again weighed in on the issue by making another threat to abandon the trilateral trade treaty.
"I happen to think that NAFTA will have to be terminated if we're going to make it good," Trump said in an interview published by Forbes yesterday, adding, "I like bilateral deals."
As a result of the increased uncertainty, the peso has sunk to its lowest level since June and is now trading at just below 19 to the dollar.
Trump's hardline stance also attracted renewed criticism this week from business groups and farmers within the United States, including the country's most powerful business lobby.
The U.S. Chamber of Commerce sent a letter to the White House yesterday, co-signed by over 300 other U.S. business groups, to express their support for NAFTA as it currently stands.
Chamber president Thomas Donohue reiterated the organization's views, saying that some of the proposals pursued by the Trump administration would undermine trade between the three NAFTA countries — Mexico, the U.S. and Canada — that is worth more than US $1 trillion annually.
"There are several poison-pill proposals still on the table that could doom the entire deal," Donohue said at a business event in Mexico City.
He specifically referred to the controversial rules of origin proposal which would force automotive manufacturers to source more parts in North America, changes that have been proposed to a dispute resolution mechanism and a "sunset clause" that would force the three countries to reaffirm their commitment to the agreement every five years in order for it to continue.
The "existential threat" to NAFTA also threatened regional security, Donahue said.
Mexico and the U.S. cooperate on a range of bilateral issues beyond trade including the fight against drug trafficking and illegal immigration. Videgaray also said that an end to NAFTA would hurt bilateral cooperation.
At this week's talks, the U.S. is expected to push a proposal that would require vehicles made in Mexico to have 85 percent NAFTA content in order to remain free of tariffs, up from the 62.5 percent content rule currently in force. Fifty per cent U.S. content may also be proposed, sources told CNBC.
But auto makers in Mexico say that any such move would have a detrimental impact on the industry's competitiveness while Donohue said that it may have an opposite effect to the one intended because industry would seek to source more input from Asia.
He also criticized the emphasis that Trump has placed on reducing the US $64-billion trade deficit the country has with Mexico.
"It's the wrong focus and is impossible to achieve without crippling the economy," Donohue said.
Several analysts believe that there is a definite possibility that the talks — and the agreement — could break down as negotiations continue on the most contentious issues.
Karen Antebi, a senior economic advisor to the Mexican embassy in Washington, said "the risks of withdrawal are high, and we are preparing for that possibility," while Juan Carlos Hartasánchez, a senior director at the consultancy Albright Stonebridge, said "I definitely think there's a real chance this could fall apart."
The chief global strategist at Horizon Investment was a bit more optimistic. Although Greg Valliere described NAFTA as being on "very thin ice" he said that even if threats to abandon the talks became a reality it would not necessarily put a final end to the agreement.
"I do think there is a chance the U.S. or Mexico could walk out," Greg Valliere said.
"[But] I think people would consider it a stunt and maybe we could resurrect the talks."
The Washington round is scheduled to conclude on Sunday although there is a possibility it could be extended by two days to Oct. 17.
Source: El Economista (sp), Reuters (en), CNBC (en)
Environment officials plan to oppose wall
Arguments have been prepared against Donald Trump's border wall
Mexico is set to oppose United States President Donald Trump's border wall on environmental grounds. But the debate will not begin until the wall's construction is confirmed.
Environment and Natural Resources Secretary Rafael Pacchiano Alamán said this week it was clear that the project could cause considerable environmental damage.
Construction of eight prototypes for the border wall began September 26 in San Diego, California. Six contractors from across the U.S. were selected for the process, which is expected to take about 30 days.
Four of the prototypes are to be built out of concrete while other materials will be used for the other four. The walls are to range between 5.5 and 9-meter high and must succeed in one prevailing goal: "deter illegal crossings in the area in which they are constructed."
Once built they will be tested by the Department of Homeland Security, which will pay between US $300,000 and $500,000 for each one.
Testing will be based on the walls' capacity for "anti-scaling, anti-climbing, anti-digging and safety of border patrol agents," said Tekae Michael of the U.S. Border Patrol.
Several of the prototypes have been erected.
Mexico's environment secretary said his department has the necessary environmental arguments against the project.
He also said there are international organizations that have been kept informed of the border wall and that they would collaborate with Mexico.
Source: El Sol de Tijuana (sp), NPR (en), WREG (en)