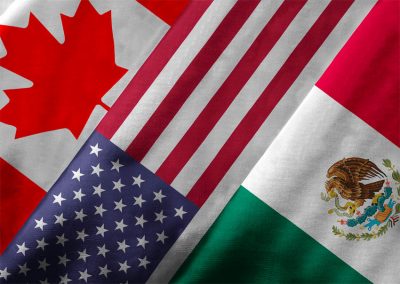 by the El Reportero's wire services
Anti-US rhetoric predicted to accompany Mexico's presidential election campaign
Five days of trade talks wrapped up Sunday with a commitment by all three NAFTA partners to accelerate the process in the coming months.
An early finish to negotiating the North American Free Trade Agreement will benefit Mexico, which would prefer to see it done before campaigning begins for next year's presidential election.
In a joint press release on Sunday, representatives of Mexico, the United States and Canada said last week's meetings covered more than two dozen different negotiating topics.
"Negotiators from each country will continue domestic consultations and work to advance negotiating text through the end of August, and will reconvene in Mexico for a second round of talks from Sept. 1-5," the statement said.
The three parties have agreed that negotiations will continue "at a rapid pace," moving to Canada in late September and returning to the U.S. in October. Additional rounds are being planned for the remainder of the year.
Mexico Economy Secretary Ildefonso Guajardo said the idea is to conclude the negotiations at the end of the year or in early 2018 before election campaigns begin for the Mexican presidency and U.S. Congress.
According to a Canadian analyst, accelerating the talks has turned the process around, putting the tougher issues on the table — including automobiles and rules of origin — first rather than waiting till the end.
That, says public policy analyst Meredith Lilly, is a sign that "the Americans realize that they could be put in a [difficult] position because of the Mexican calendar."
That calendar means anti-U.S. political posturing could begin early in the new year as parties and candidates come out hard against U.S. President Donald Trump as an election tactic, said Lilly.
But an unnamed source told Reuters the schedule was exceedingly fast, given that past trade deals took years to negotiate.
One of the stickier issues in the talks will be rules of origin for the automotive industry. U.S. Trade Representative Robert Lighthizer has made it clear that strengthening those rules was a priority. They are also the main factor behind U.S. trade deficits, an issue deemed critical by President Trump.
Source: El Universal (sp), CBC (en), Reuters (en).
Differences emerge in trade negotiations
Neither Mexico nor Canada support changes to rules of origin in auto industry
Rules of origin in the automotive industry have emerged as the biggest sticking point among other differences between Mexico and the United States in talks to renegotiate the North American Free Trade Agreement (NAFTA).
The United States is demanding higher U.S. content in auto manufacturing but Mexican Economy Secretary Ildefonso Guajardo said he doesn't support the implementation of specific national rules of origin into a renegotiated NAFTA.
His position is shared by Canada's Minister of Foreign Affairs, Chrystia Freeland.
In his opening statement, United States trade representative Robert Lighthizer said "Rules of origin, particularly on autos and auto parts, must require higher NAFTA content and substantial U.S. content. Country of origin should be verified, not deemed."
However, automotive groups from all three countries are urging negotiators not to change rules of origin to avoid upsetting complex supply chains.
Industry sources say the U.S. also pushed for the establishment of a wage system in the manufacturing industry, an issue that had not previously been publicly raised by the U.S. government.
Both Mexico and Canada sought instead to formalize international wage mechanisms in the agreement such as those provided by the International Labor Organization (ILO).
The U.S. has also made it clear that it wants to restore what it perceives as an imbalance in the agreement with Lighthizer saying, "We need to assure that huge trade deficits do not continue."
However, Mexican foreign trade undersecretary Juan Carlos Baker said, "I would strongly contest whether emphasizing trade deficits is the real metric for how our relationship should be measured" and both Mexico and Canada have argued that the deficit is due to a low U.S. domestic savings rate.
Another clash came on the issue of intellectual property. Mexico wants to grant eight years patent protection while the U.S. wants 12.
More differences are likely to arise with talks scheduled on a dispute settlement system for anti-dumping and anti-subsidy cases. The U.S. wants to eliminate the system while Mexico and Canada want it maintained.
Mexico and the U.S. clashed earlier this year over subsidies and dumping in the sugar industry.
Guajardo played down any suggestion that NAFTA was wavering due to difficult issues or differences. He said that after two days of talks, progress has been made and that there are issues that have benefits for all parties.
Common ground has been found on not using currency manipulation to make markets more competitive and a desire to reduce Asian imports in the textile industry.
The first round of talks started in Washington on Wednesday and will run until Sunday. The second round is scheduled for Mexico in early September.
Source: El Universal (sp), Milenio (sp), Reuters (en).
US warns of violence in tourist destinations
Increased criminal activity, more homicides bring new travel alert
Crime increases in five Mexican states have triggered a new travel warning for Mexico by the United States Department of State, which offers a new caution about several tourist destinations.
The alert cites increased criminal activity in Baja California, Baja California Sur, Chiapas, Colima, Guerrero, Quintana Roo and Veracruz, warning U.S. citizens about gun battles between rival criminal organizations or with authorities on the streets and in public places during broad daylight.
Caution is urged in Baja California, including Tijuana, Rosarito, Ensenada, Tecate and Mexicali, particularly at night.
As with several other state-specific warnings, that for Baja California says most homicides appear to be targeted, criminal organization assassinations, but turf battles have resulted in violent crime in areas frequented by U.S. visitors.
The warning announced that U.S. government personnel are only allowed to travel on the Mexicali-Tijuana toll highway during daylight hours.
Criminal activity and violence remain an issue throughout Baja California Sur, said the State Department, which included Los Cabos and La Paz in its warning, making the same caution about violence in tourist areas.
In Chiapas, including Palenque and San Cristóbal de las Casas, U.S. officials must now remain in tourist areas and are not permitted to use public transportation.
Inter-city travel at night is prohibited for government personnel in Colima, as is traveling within 19 kilometers of the border with Michoacán and traveling on highway 110 between La Tecomaca and the Jalisco border.
Source: El Universal (sp), CBC (en), Reuters (en).