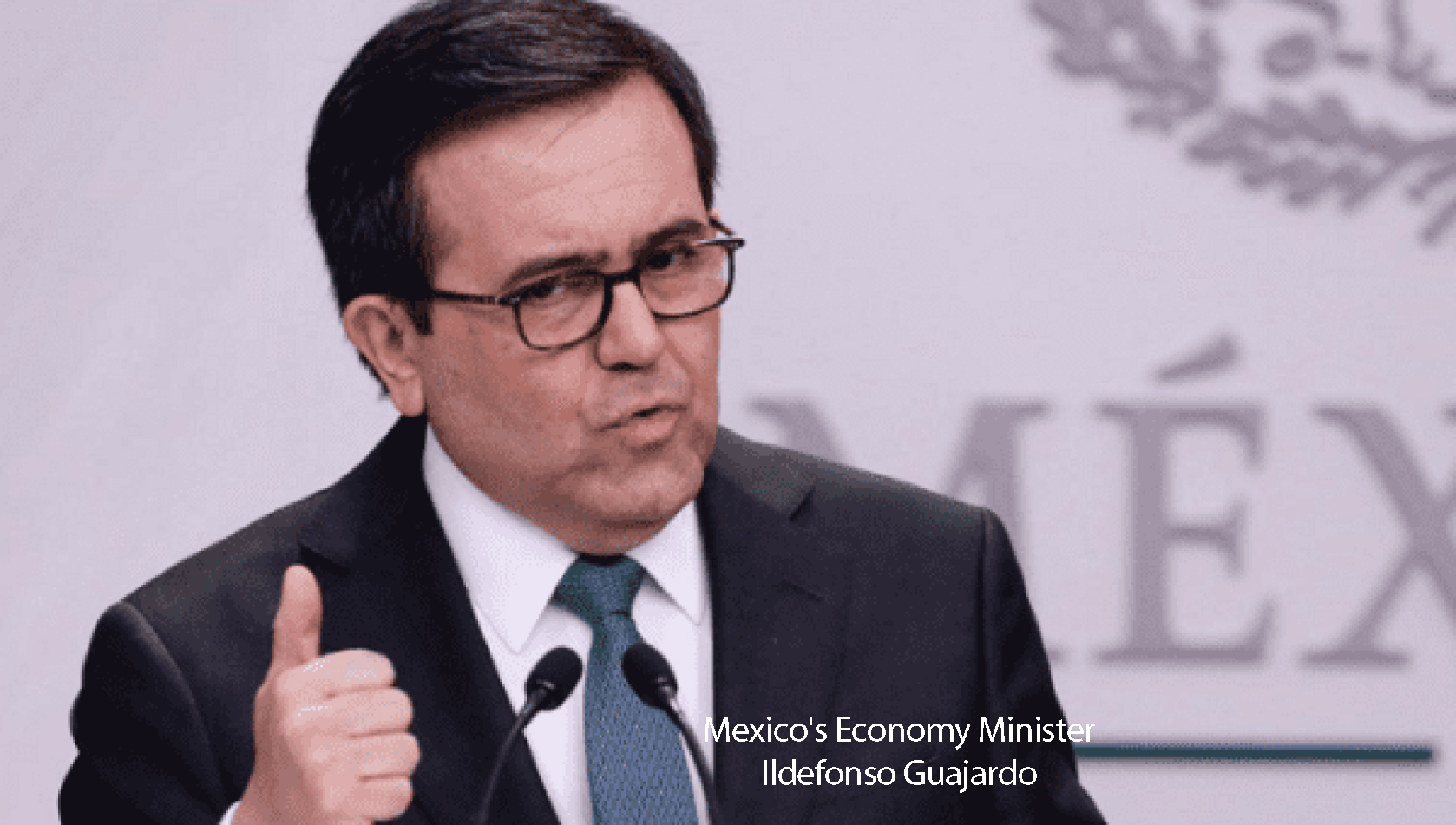 'It is not easy, we don't think we will have it by Thursday'
by Mexico News Daily
Reaching an updated NAFTA deal before Thursday's deadline is looking unlikely, Economy Secretary Ildefonso Guajardo said today.
United States House Speaker Paul Ryan set the cut-off date last Wednesday amid some optimism that Mexico, the U.S. and Canada could soon reach an agreement in principle as a result of meetings attended last week by the chief trade representatives in Washington.
However, ultimately no new deal was forthcoming and talks this week also look set to fall short of reaching a definitive outcome, which would allow the U.S. Congress a chance to approve it before the end of the year.
"It is not easy, we don't think we will have it by Thursday," Guajardo told broadcaster Televisa.
"We will keep negotiating, and in the moment that we have a good negotiation, we can close the deal . . . independent of which Congress [the current or new one] that will vote on it," he said.
The United States will hold midterm elections in November and a new Congress will first sit in January. Under the U.S. "fast track" trade negotiation law, there are lengthy notification periods before Congress could start considering a new NAFTA, precipitating the establishment of this Thursday's deadline.
Mexico's presidential election is also now less than seven weeks away, further complicating talks.
The lingering uncertainty over the future of the 24-year-old trade pact, coupled with the upcoming election, has placed pressure on the Mexican peso, Guajardo said.
The currency fell to its lowest level in more than a year yesterday and some analysts believe that it will continue to decline in the lead-up to the election, which according to opinion polls, Andrés Manuel López Obrador is likely to win.
The economy secretary, who said last month that there was an 80% chance that a new agreement would be struck in the first week of May, now believes that there are "different moments to close the negotiation."
"It could be before the Mexican election on July 1, it could be just after," he said.
A push to conclude a deal by the end of the week came yesterday in the form of a telephone conversation between Canadian Prime Minister Justin Trudeau and United States President Donald Trump.
A report in Canadian media said Trudeau make a direct appeal to Trump to keep momentum alive at the negotiating table.
Guajardo's successor, should López Obrador become Mexico's next president, said last month that an incoming AMLO administration would be willing to accept a new NAFTA deal that was struck before July 1.
However, if that doesn't happen, Graciela Márquez said, it would be preferable to complete the negotiations after the new president is sworn in in December.
In the five-month period between election day and the swearing-in ceremony, Guajardo said, the next government's team would need to be involved in any ongoing trilateral trade talks.
Guajardo said that negotiators were close to reaching agreement on rules of origin for the auto sector.
However, U.S. demands for a so-called sunset clause that would see NAFTA automatically expire if the agreement is not renegotiated every five years as well as the elimination of settlement panels for trade disputes remain sticking points.
The United States and Canada are also pushing Mexico to increase wages in its automotive sector.
Guajardo added that more flexibility was needed in order to reach a deal.
Kenneth Smith, the head of Mexico's technical negotiating team, reiterated in a radio interview that from Mexico's perspective there are no fixed deadlines it is working towards.
"Mexico's position since the start of the negotiation has been that we're not going to sacrifice the quality of the deal to conclude quickly," he said, although he added that there is still time to reach a conclusion before the end of the year.
"There's no question the possibility exists, we're interested and I think the United States and Canada share this view," he said.
Source: Reuters (en)
In other non-related news:
It's no longer just about drugs: pipeline thieves move into Sinaloa
Pemex has detected an average of three new illegal taps per day
Violent crime in Sinaloa is not the exclusive domain of drug cartels: gangs of fuel thieves known as huachicoleros have taken their fight into the northern state.
This year, state oil company Pemex has detected on average three new illegal taps on its pipelines per day in Sinaloa, which is now one of eight Mexican states where 80% of the crime is concentrated.
Last month, turf wars between rival gangs over the control of the illicit fuel market in the state triggered a wave of violence, mainly in state capital Culiacán and the town of Mocorito, located about 120 kilometers to the north.
The Topolobampo-Culiacán pipeline runs through both municipalities and, according to Pemex data, there were 252 illegal taps on the duct in the first three months of the year, almost double the number detected in the first quarter of 2017.
In Culiacán and Mocorito, state security authorities have reported gun battles and cars being set alight in connection with the crime and schools have been closed due to the fear generated by the feuding, between heavily-armed groups.
On April 15, 10 people were kidnapped in Culiacancito, located just outside the capital, and the following day a shootout in El Limón de los Ramos — also in the municipality of Culiacán — left an innocent passerby wounded.
Authorities subsequently seized a burned-out car with several bullet holes from the scene of the confrontation.
Two days later on April 18, another car was set alight at a home in the community of El Tamarindo, Culiacán, leading to an air and ground-based police operation and the suspension of classes in the area.
The same day, state Public Security Secretary Genaro Robles attributed the incident to fuel thieves.
In response to the rising levels of fuel theft, the state Public Security Secretariat has launched a joint operation with the army and navy.
It has also called on residents not to buy stolen fuel in order to discourage its sale and in turn reduce the prevalence of the crime.
Pemex CEO Carlos Treviño said last month that fuel theft costs the state oil company 30 billion pesos (US $1.5 billion) a year.
Source: Reforma (sp)