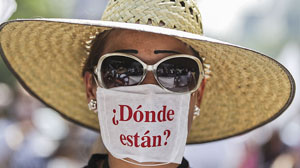 by the El Reportero's wire services
Hundreds of mothers from various Mexican states demonstrated today, on mother's day, for fifth year in a row across one of the main streets of Mexico city to ask for justice.
Participants in the "5th demonstration of national dignity, mothers seeking their sons, daughters, truth and justice", started at the Monumento a la Madre to reach the obelisk to angel de la Independencia, one of the sites of regular meetings for demonstrations and social demands.
This year, the demonstrators ask for the inclusion of the victims' families to draft the general law against the forced disappearance.
Gregoria Ortiz from Pachuca, state of Hidalgo, told Prensa Latina news agency "as mothers we don't have anything to celebrate today and we gather here every May 10".
Ortiz does not know the whereabouts of her son Gustavo Alberto de la Cruz, 12, who was at that time in his first year of high school and was last seen on march 21, 2007, on his way to school.
"We demand justice and also that institutions in charge, the work of which is almost non-existing, do something to find our missing people. I have been four years searching for my daughter", said Rocío Uribe, from Mexico state, who is a member of the "Red de Madres Buscando a sus Hijos" (network of mothers searching for their children).
According to estimates published here, the whereabouts of more than 26,000 mexicans remain unknown.
Salvadoran government reiterates refusal to dialogue with gangs
The government of El Salvador reaffirmed today its strong stance regarding the conduction of dialogues, negotiations, agreements or arrangements that would lead to strengthen the organization of gangs or their activities.
The Salvadoran presidential spokesman Eugenio Chicas said at a press conference that this administration keeps fighting against insecurity.
He highlighted that the administration of Salvador Sánchez Cerén has established participation mechanisms in order to formulate policies of the National Council on Citizen Security and Coexistence.
He also said that in this context are included the extraordinary measures approved and implemented on April 1 in order to reduce crime.
The official urged for national unity to support the effort of police officers and soldiers, who risk their lives in the fight against criminal groups to protect the population.
He said that any factor that distracts from the course and clouds the trust can be an advantage for criminals.
Countdown for Chapo Guzmán's extradition to U.S. begins
Mexican drug lord ''El Chapo'' Guzmán starts today a countdown before a judge approves his extradition to the United States.
The head of the Sinaloa cartel is being held at a special cell in a prison in Ciudad Juarez, in the northern state of Chihuahua, only a few dozen kilometers away from the United States.
A security detail including Mexican members and others from the United States Federal Bureau of Investigations (FBI), guarded Guzman's transfer from a high security prison in the capital. Hours before the operation, a Mexican federal judge ruled in favor of the extradition to the United States, therefore the Mexican Foreign Ministry has 30 days to materialize his delivery to authorities in the U.S., where El Chapo is facing charges in several courts.
El Chapo's lawyer José Refugio Rodríguez had said he was convinced by Mexican authorities would favor an extradition of his client to the United States.
The extradition resource in drug trafficking cases is not new in Mexico; however the government had previously said it would prefer to judge Guzman in the country.
EL Chapo has broken out from Mexican prisons twice in the past.