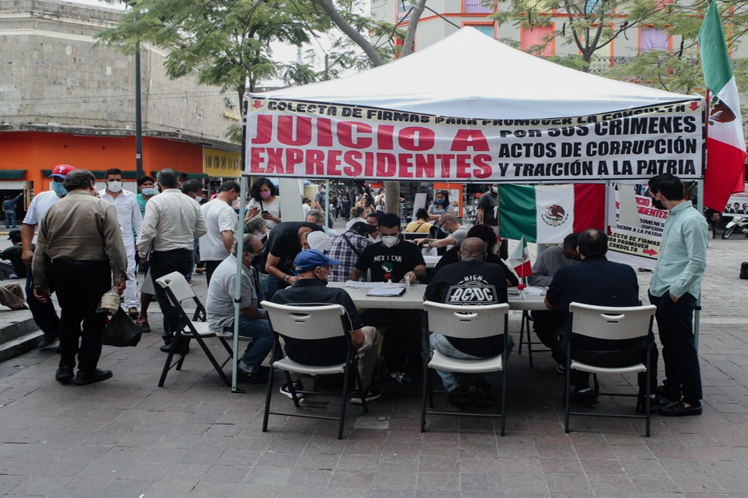 by the El Reportero's wire services
MEXICO, Aug 31 – The ruling Morena party continued today to collect signatures to prosecute five former presidents of Mexico for corruption, included in the illicit acts denounced by former Pemex director, Emilio Lozoya.
Last week, the National Council of Morena unanimously decided to carry out a national mobilization, with the aim of totaling two million signatures necessary to request a popular consultation to prosecute former presidents Carlos Salinas de Gortari (1988-1994), Felipe Calderón (2006-2012) and Enrique wPeña Nieto (2012-2018), for corruption.
However, to that list they added two more ex-presidents, Ernesto Zedillo Ponce de León (1994-2000), and Vicente Fox Quesada (2000-2006), due to the statements of President Andrés Manuel López Obrador that corruption included all from the neoliberal period.
Leader of Morena, Alfonso Ramírez Cuéllar, said that although 1,800 signatures are requested to convene the consultation, they will seek to collect two million, so that there are no pretexts.
Militants and supporters of Morena in various parts of the country and even in New York, United States, placed reception tables in public squares and parks since Sunday to collect signatures.
At the same time, the ruling party bench does so in Congress to achieve the required quorum in order to also convene the popular consultation through parliament.
López Obrador himself pointed out that if the summons is not achieved through those two channels, then he as head of the Executive will make the request, but considered that it is necessary for the former presidents to appear, even when he is not in favor of their being prosecuted.
Violence in trade union march leaves three injured in El Salvador
SAN SALVADOR, Aug 31 – Violence in a trade union march against the alleged privatization of garbage collection services left three injured on Monday in the Salvadoran town of Soyapango.
The protesters' screams were drowned out by firearm shots, and the National Civil Police later confirmed that three were wounded, although at the moment only one was shot.
The riots erupted at the so-called 'Soya City' on Monday, after a rally called by the Soyapango Workers' Trade Union (SITRASOYA) and the Municipal Workers Association (ASTRAM).
Media outlets specify that among the employees there is a group that accuses Mayor Juan Pablo Alvarez, representing the right-wing Arena party, of endorsing the use of force to evict them.
The mayor is silent on the alleged privatization of the solid waste collection service and on the violent incidents in which members of the Corps of Municipal Agents allegedly participated.
The surroundings of the Soyapango mayor's office were cordoned off by the presence of trade unionists, while the Minister of Labor Rolando Castro called the Prosecutor's Office to investigate the incident and prosecute those responsible.
Oaxaca hotel opens doors to students, provides internet and TV
Closed by the pandemic, Hotel Don Nino offers space and tools for students who don't have them
As physical classrooms are replaced with a distance learning program due to the coronavirus pandemic, children from low income and rural families are often finding themselves at a disadvantage as essential tools for learning are financially out of reach.
But a hotel in the heart of Oaxaca's capital is looking to level the playing field.
Hotel Don Nino, which is closed due to the pandemic, has opened its doors to children in need, providing two rooms and the dining room as classrooms, complete with a television, computer and high-speed internet.
"Being at home, my daughters shared their concern for those students who do not have television or internet," hotel manager Carlos said. "Last weekend we prepared the restaurant area and the meeting room. In addition, the television channels were adjusted and the internet connection was checked."
Carlos reasoned that since he has to pay for basic services such as electricity, water and internet anyway, it made sense to take advantage of the space and keep children in school by opening it up to distance learning.
The hotel is open daily, free of charge, from 8 a.m. to 6 p.m. Children must be accompanied by an adult and everyone must wear masks. Capacity is limited to 15 students, who are greeted with anti-bacterial gel and a temperature check.
University students are also taking advantage of the hotel-turned-study-hall. Clara Montaño Bautista, who studies communication science at Oaxaca's Vasconcelos University, says she uses the hotel for school because the town where she lives, Teotitlán Del Valle, is 31 kilometers away. Cell phone coverage there is spotty and the internet speed is slow and irregular.
According to government data, Oaxaca has the second-lowest percentage of internet users in Mexico at 60.5%. One in four homes in the state does not have a television.
Source: La Jornada (sp), El Universal (sp)