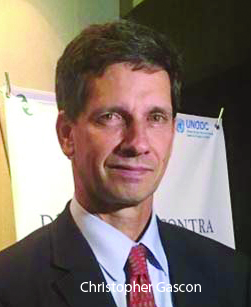 by the El Reportero's wire services
Every year more than 450 thousand people, mainly Central Americans, annually cross the Mexican territory to the United States, it transcended here today.
Christopher Gascon, a representative of the International Organization for Migration (IOM), said that the agency of the United Nations (UN) implemented a program that addresses the return of Mexicans from the United States.
Only last year, more than 219,000 people returned, that is, an average of 600 daily, who are guaranteed the return to their communities.
When meeting with Ovalis Sarmad, IOM's chief of staff, and members of the Foreign Affairs Committee of the Chamber of Deputies, he said that Mexico's challenge is to guarantee the citizens returning to the country their full integration and contribution to economic development.
By its part, Sarmad indicated that currently, there is a total of 240 million migrants, who together generate nine percent of the Gross Domestic Product on a global scale, which represents about 2.3 billion dollars per year.
He emphasized that migration is a phenomenon that no nation escapes; the 193 UN member states agreed to adopt the New York Declaration on Sept. 19, 2018, to achieve a system to ensure decent and fair treatment of those who are in this condition.
Mexico bets on development of aerospace industry
Mexico hopes to be in the next years among the 10 first countries in sales of the aerospace services and products, the Secretary of the Economy (SE) projects.
According to the CE, the international aeronautics community recognizes that the specialized human resources of Mexican engineers and technicians are among the best in the world.
Mexico stands at present in the 15th place as producer of that industry and will be in the tenth by 2020, according to the official projections
For that date, this sector will generate over 110,000 jobs and annual exports exceeding 12 billion dollars.
It is also anticipated that national integration of 50 percent in the manufacturing for this industry which will reach second place in the country's manufacturing industry due to its aggregate values and sales.
Exports in 2015 in the aerospace sector exceeded six billion dollars and a constant annual growth rate of 14 percent is reported. (Prensa Latina contributed to this report).