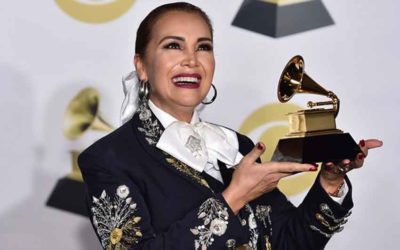 She is the first female Mexican ranchera singer to win one
by the El Reportero's news services
There was a surprise in store for a Mexican musician Sunday at the 2018 Grammy Awards.
Mariachi and ranchera singer Aida Cuevas took home a Grammy in the best regional Mexican music album category for her Arriero Somos Versiones Acústicas album.
Her win was a surprise because she was nominated among genre favorites including Banda El Recodo de Cruz Lizárraga and Julión Álvarez.
Most notably, Cuevas is now an independent artist, and her album, a collection of covers performed with only guitar accompaniment, was released under her own label.
"I'm very proud to be Mexican and to be here with my charrera outfit," Cuevas told the entertainment magazine Billboard, referring to the traditional embroidered charro outfit she wore to pick up her first-ever Grammy.
She later spoke with the newspaper Milenio, stating that "as a representative of ranchera music I feel doubly proud, because I'm the first female Mexican ranchera singer to win a Grammy . . . this is a milestone in my career."
She recalled a similar milestone eight years ago when her De corazón a corazón . . . Mariachi tango album earned her a Latin Grammy.
Cuevas has earned more than 300 awards in her 42-year career, but Sunday's was "certainly special."
"It's the greatest award in [the music industry] . . . It is very important and I was very fortunate to win one," she said.
Known as "the queen of ranchera music," Cuevas has released 39 albums, selling more than 7 million copies worldwide.
It was the second Grammy in the regional Mexican music category to be won by a Mexican woman in recent years. Lila Downs won the award in 2012.
Cuevas lamented that traditional music "is not listened to, receives poor promotion and gets little support," and that it's only after musicians win awards abroad that Mexicans turn around and see in a good way what is happening at the national level.
Song by Jennifer López ranked number 1 on Billboard's Latin Airplay
The song Amor, Amor Amor, by U.S. singer Jennifer López, is currently ranked number one on Billboard''s Latin Airplay list.
The song, featuring Puerto Rican singer Wisin, became the most popular track on Latin radio in the United States and Puerto Rico, according to Sony Music.
Amor Amor Amor has also achieved outstanding online rates with more than 59 million views on the Vevo channel on Youtube, and over 24 million streams on Spotify.
The song is the second single of the n ew album in Spanish by López 'Por primera vez', which will be released this year.
After ten years without recording in Spanish, Lopez, also actress and producer of Puerto Rican origin, returns to the music with this album, from which the song 'Ni tú ni yo' was also released.
The album, produced by Marc Anthony, includes featuring by Colombian singer Maluma and the Cuban duet Gente de Zona.
With various awards and recognitions throughout her career, Lopez has shared the stage with important figures of music.