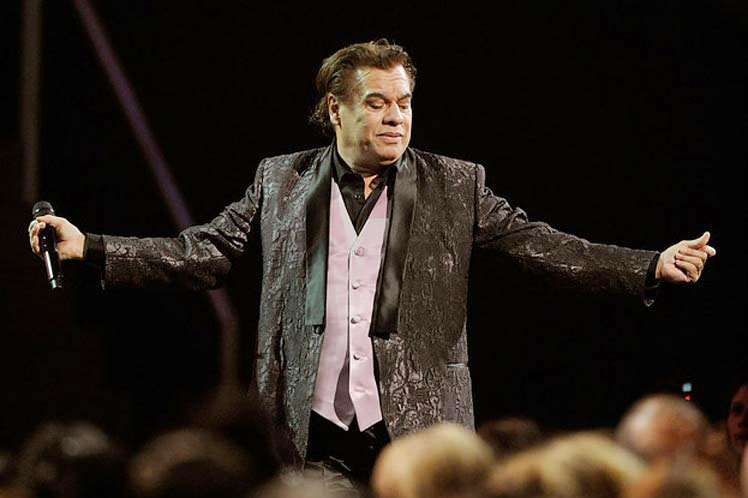 by the El Reportero's wire services
Music icon Juan Gabriel, who wooed audiences with soulful pop ballads that made him a Latin American music legend, was found dead Sunday, Aug. 28, at the age of 66 in his Santa Monica, California home.
It has been determined he died due to a combination of heart issues and complications of diabetes. It is unclear what type (1 or 2) of diabetes he had been suffering from. The Los Angeles County Coroner's office has officially ruled Juan's death a result of natural causes, but did not specify what heart or diabetes issues Juan Gabriel experienced to lead to his death.
The death of prominent singer Juan Gabriel, leaves a void in the world of art and entertainment, especially in his native Mexico.
Juan Gabriel, whose real name was Alberto Aguilera Valadez, was born on January 7, 1950 in Paracuaro, state of Michoacan, and has died yesterday aged 66.
He was known as 'El Divo de Juárez,' because he lived much of his life in Ciudad Juarez in the northern state of Chihuahua.
Affectionately called 'Juanga,' he sang genres such as 'rancheras,' ballads and boleros, and was one of the most beloved Spanish-language singers.
He had many successes, but perhaps among the songs he sang, two of the best known are 'Amor eterno' and Hasta que te conocí.
By paradox of life, the last chapter of the television series about his life, entitled Hasta que te conocí and broadcast here from July 10, would end yesterday night.
After knowing the news here, not only President Enrique Peña Nieto lamented his death through his Twitter account, but also many other Mexican politicians did the same.
Artists such as Marco Antonio Solís, Vicente and Alejandro Fernández, among others, echoed the sad event, as well as other international singers expressed their regret.
In his last concert on Saturday, as part of his "MeXXico Es Todo Tour," Juan Gabriel showed his pride for the country where he was born. He had just performed a sold-out show at The Forum Los Angeles two days prior to his death, on Aug. 26. He was set to perform in El Paso, Texas, the same day that he died.
Juan's career spanned 40 years, and spawned countless hits. He holds the distinction of having the best-selling album of all time in Mexico, Recuerdos, Vol. II, which sold more than 8 million copies. He was also known as the ultimate singer-songwriter, with more than 1000 songs under his belt — not just for himself but for other leading Latin artists.
His beloved Mexico mourns him today.
Held in the peace fair on products and services cultural
The Ministry of Cultures and Tourism of Bolivia announced the celebration of the first Party, Fair and Round of Businesses in this city, planned from Sept. 1 to 3 in the Field Fair Chuquiago Marka.
The event has among its objectives to foster marketing of products and cultural services related to the regional or patron feast, a manifestation of live cultural and rooted in this Amazon Andean nation.
The Ministry of Cultures will provide free the space and stands to the participating companies and artists.