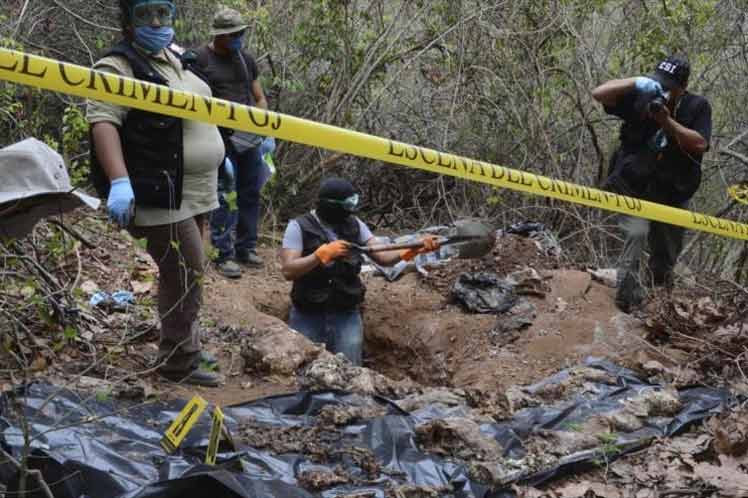 by the El Reportero's wire services
Sixteen states in Mexico have registered clandestine graves with thousands of unidentified bodies, El Sol de Mexico journal reports today.
Thousands of bodies lie under tropical forests, prairies, grasslands and desserts, vacant lots and villages. The bodies are not part of any statistics, even though they are homicides, the journal adds.
'If the current trend is maintained, by the end of 2016, there will be 19,560 direct victims of intentional homicide and many more indirect victims that will pay the consequences of living in a country where institutions have failed to guarantee social peace and respect to human rights', the statement by Francisco Rivas, general director of the National Public Observatory, a civil organization that defends human rights.
According to the journal, between January 2014 and July 2016, the number of missing people added up to 968 Mexicans and 83 foreigners.
Parents of Ayotzinapa 43 students break dialogue with Mexican government
Mexico, Sep 15 (Prensa Latina) Parents and relatives of the 43 missing students from Ayotzinapa, Mexico, broke the dialogue with the Government, as announced today at a press conference.
The decision is in response to President Enrique Peña Nieto´s decision to appoint Tomas Zeron, who yesterday resigned as chief director of the Criminal Investigation Agency (AIC), as technical secretary of the National Security Council.
Relatives of the 43 students said that Peña´s decision is a mockery that shows the 'impunity' in the case of Iguala, where the students of the training teacher school disappeared in the evening of September 26th, 2014, after being suppressed by the police in that municipality of the Guerrero state.
They said that dialogue with the Attorney General's Office (PGR) will not be resumed while Zeron is not punished for 'illegal actions' carried out during the investigation of the Iguala case revealed by the Interdisciplinary Group of Independent Experts (GIEI).
The official conclusions about the Iguala case are questioned, both in the country and abroad, although Zeron defended them to the hilt.
Felipe de la Cruz, a spokesperson for the parents of the 43 students, blamed Zeron directly for being involved in the alleged manipulation of an action carried out in the San Juan River on October 28th, 2014, during the search of the plastic bags in which presumably were found bone fragments of student Alexander Mora, the only one of the missing students identified by genetic testing.