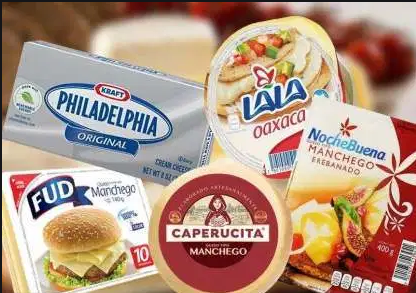 by the El Reportero's wire services
Mexico, Oct 14 – It is inadvisable to consume yogurt and cheeses in Mexico, as they are anything but dairy and, consequently, Mexico's Economy Ministry and Federal Consumer Prosecutor's Office (PROFECO) on Wednesday ordered to ban their sale. This was announced by Economy Minister Graciela Marquez and Ricardo Sheffield, from POFECO, who claim to have verified that a great number of dairy products called as 'cheese' and 'natural yogurt' do not meet the Official Mexican Standards.
Both leaders said its marketing is carried out to the detriment and with information, which can mislead consumers, and ordered the immediate ban of its marketing to many brands.
These two products (cheese and yogurt) violate the '100 percent milk' nutrition fact; add vegetable fat to replace the dairy they should contain in their preparation, provide a lower grammage than that declared on the label as 'net content' and do not show the percentage of use of caseinates for the cheese processing.
The most popular cheese brands that were banned from sale are, among others, Caperucita, Cuadritos, Frankly, El Parral, Walter, Sargento and Burr.
Peasants announce protests against 'Banana Law' in Honduras
Representatives of several peasant organizations in Honduras announced protests against the so-called 'Banana Law', which currently favors domestic and international private capital in the agricultural sector.
According to the peasants, the decree represents a setback for the agrarian conquests obtained in the last few years, as it motivates to transfer lands now cultivated by them to the highest bidder, Criterio noted.
The Executive Decree No. PCM-030-2020, official name of the legal regulation signed by President Juan Orlando Hernandez and his Council of State Secretaries (ministers) on April 9, established measures to ensure sovereignty and food security in Honduras, given the health crisis caused by the Covid-19 pandemic.
The peasant movement presented at the Supreme Court of Honduras an appeal of unconstitutionality against Decree No. PCM 030-2020.
Consulting attorneys of the peasant movement denounce that the decree gives lands to the domestic and international agricultural industry for 30 years.
Buggies go horseless in Yucatán, gasoline engines take over
Motul replaces horse-drawn buggies with a motorized version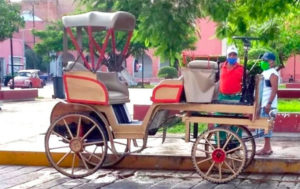 Motul, Yucatán, has become the second city in the state to replace horse-drawn carriages with motorized ones following pressure by animal rights activists to abandon the practice, citing animal cruelty.
Mérida was the first city in the state to begin using gas-powered buggies, which it did in November 2019.
Horse-drawn carriages have been banned in Cozumel, Quintana Roo, since May as the practice violates the state's animal welfare laws.
They were also banned in Acapulco, Guerrero, this spring after the state decided to begin enforcing animal welfare laws on the books since 2014.
In that city, buggy drivers have taken to pulling the carriages with ATVs provided by the state government. Carriage drivers also received 10,000 pesos (US$ 469) from the government and a year's worth of free maintenance on the four-wheelers. They were instructed to find a dignified retirement home for the now prohibited horses.
In Guadalajara, horse-drawn carriages were banned in 2017 and replaced with electric buggies equipped with a 10-horsepower motor that can drive the carriage at speeds of up to 25 kilometers per hour.
"We cannot continue to mistake the idea of tradition with animal abuse. That no longer has a place in Guadalajara; we've put a stop to it today," then-mayor Enrique Alfaro Ramírez said at the time.