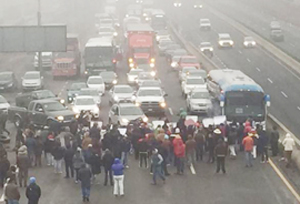 by the El Reportero's wire services
Salazar community people, in Ocoyoacac Mexican district, demand today to know where several neighbors are, because they were abducted by the military and still their location is unknown.
The first action adopted by protesters was to block Mexico-Toluca highway, and requested authorities to find their location and ask that if officers still have them, to free them.
Hundred vehicles are piling up throughout 10 kilometers in the highway in direction to Toluca, Capital of Mexican State.
Officers of the federal police started a dialogue with protesters to open the highway and reestablish circulation. The location of the missing people is still unknown.
Latino leaders applaud Texas judge for temporary block on racial profiling law
WASHINGTON, D.C. – Chief U.S. District Judge Orlando García granted a partial preliminary injunction in the Texas SB4 case, preventing the bulk of the legislation from going into effect on Sept. 1, 2017.
The ruling recognizes the validity of the cities and organizations that filed the lawsuit that raised concerns about its constitutionality. Texas SB4 is a racial profiling law that would lead to rights violations, economic harm, and family separation and would have turned every local law enforcement official into part of Trump's deportation machine.
"This victory is uplifting, but it is just a step toward fully eliminating this unconstitutional piece of legislation," said the National Hispanic Leadership Agenda (NHLA) in a written statement.
"The Latino community, immigrant community, and Texas and national allies are ready to keep fighting the racism and bigotry that is manifested through laws such as Texas' SB4," added the NHLA.
SB4 would have required local law enforcement to comply with Immigration and Customs Enforcement (ICE) detainers, prohibited law enforcement agencies from issuing policies and guidance about immigration enforcement, prohibited elected officials from endorsing policies that contradict SB4 — such as sanctuary city policies — by penalizing them with fines and removal from office, and allowed untrained local police officers to decide to become appendages of ICE.
The preliminary injunction does leave in place provisions that allow police to ask about immigration only when they have a separate non-immigration-related reason to detain someone, and that allow police to share any information obtained with ICE. 
However, local police are not permitted to arrest, hold, or turn over someone based on information or suspicion about immigration status.  That means that anyone questioned by local police about immigration does not have to answer the questions.
"The decision is encouraging and offers relief to millions of Texans who now know that the legislation will not be implemented on Sept. 1.
In other related news:
California State Senate passes bill to stop irrelevant disclosures on immigration status in open court
The California State Senate approved on Aug. 28 a bill by Senator Scott Wiener (D-San Francisco) and Assemblymember Lorena González Fletcher (D-San Diego) to protect immigrants from irrelevant disclosures of their immigration status in open court. Senate Bill 785 is sponsored by San Francisco District Attorney George Gascon and is co-authored by Assemblymember David Chiu (D-San Francisco).
Speaking on the Senate floor before passage, Senator Wiener and others cited the juxtaposition of President Trump's pardon of Sheriff Joe Arpaio, who was convicted of illegally targeting immigrants, against the actions taken by the Senate as a demonstration of California values.
"On Friday, President Trump sent a shockwave through the immigrant community and this country by pardoning a convicted criminal who illegally profiled and jailed people based solely on suspicions about their immigration status," said Senator Wiener.
"Today the California Senate sent a message to our immigrant neighbors that unlike this President, we stand with you in working to keep our communities safe. Making immigrants fearful that testifying in court may get you deported isn't how we ensure justice and public safety. In this state your immigration status will not make you a target for deportation when you are the victim of a crime or a witness to one."