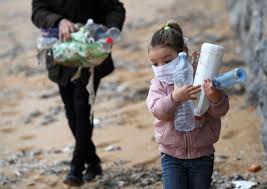 by Araceli Martínez
Measures AB 1080 and SB 54 that seek to reduce pollution caused by plastic products such as packing containers, bowls, utensils and lids that are only used once, which often end up in the oceans and landfills, have generated a great rejection among various groups.
The opponents' argument points out that this is not the time to approve them due to the COVID-19 pandemic, and the increased use of plastic containers to pack food as a preventive measure against the virus.
Last year these bills, unique in the nation, that seek to require manufacturers to take responsibility for the fate of single-use products, failed to pass legislators.
Senator Ben Allen's SB 54 and San Diego Assemblywoman Lorena González's AB 1080 seek to eliminate 75 percent of single-use containers by 2030.
"These misguided policies threaten to ban the very products that have helped families and businesses in the midst of this crisis," said Pastor William Smart, president of the Christian Leadership Conference for Southern California.
He found that AB 1080 and SB 54 were undoubtedly written with the best of intentions before the coronavirus turned our lives upside down to reduce waste from single-use products and bags.
However, given the current situation, he said the legislature must press the pause button on two bills that would be unsustainable for families, communities and small business owners.
And it would not only ban products that families and businesses are relying on today such as food containers, and others to keep things safe and hygienic, but it would propose a $ 50,000 fine to businesses that do not meet waste reduction standards.
"It is a fine that would disproportionately harm small businesses, which are already struggling to keep their doors open during the pandemic."
In addition, the pastor mentioned that these bills do nothing to increase the current recycling infrastructure, which has been damaged during this health crisis.
"Increasing recycling capacity to 300 percent to meet the waste reduction goals proposed by AB 1080 and SB 54 will not happen overnight, and the measures do not include a source of funding to create the facilities. what do we need".
In a statement, the organization Californians for Recycling and the Environment announced that they support an effective recycling solution that reduces waste in communities.
"But now is not the time to pass a flawed law that fails to fix the state's recycling problem and drives up costs for families and restaurants."
And they recalled that during the pandemic, restaurants have seen their sales decline by 20 percent, and given the restrictions to offer food inside, the delivery of orders in person or through home delivery, they have been critical to stay afloat.
"By doubling or tripling the costs of takeout containers, it will make it more difficult for restaurants to stay in business during these difficult times," they said.
To all this, they concluded, we must add that SB 54 will cost the state $ 20 million in costs to start at a time when California cannot afford that luxury since it faces a budget deficit of $ 54 billion, and the possibility of severe cuts to education, housing and other key programs.