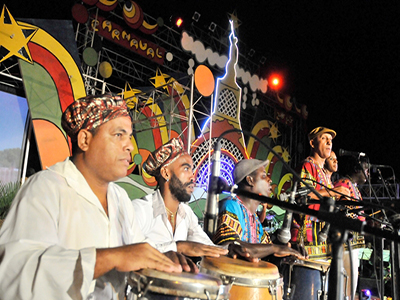 reported by Griselda Flores
Shared from Billboard
Rising Argentine singer-songwriter Maria Becerra recruited compatriot TINI and up-and-coming Spanish artist Lola Indigo for her new "High" remix.
Premiering exclusively on Billboard today (Sept. 3), the eclectic, Latin trap-leaning remix finds the three leading ladies trading verses of heartbreak and despair. The minimalist and colorful music video, premiering along with the girl-power remix, was directed by Julian Levy. Becerra's original "High" music video, released in December, has raked in more than 47 million views on YouTube.
Becerra, a leading voice in Argentina's urban pop movement, was recently signed to 300 Entertainment, becoming the indie label's first Latin signee. In a previous interview with Billboard, the rising star described her sound as a fusion of R&B, funk and trap.
The set marks the country music band's first full-length foray into its Hispanic roots
The Mavericks debut at No. 1 on Billboard's Latin Pop Albums chart (dated Sept. 5) with En Español. The band concurrently earns its first top 10 on the all-genre Top Latin Albums chart, where the set bows at No. 8. The new album marks the first visit to the Latin album charts by the group, which has notched five top 10 efforts on the Top Country Albums chart dating back to 1994.
"This is an amazing feeling," Raul Malo, The Mavericks' lead singer, tells Billboard. "To wake up and receive a text from our manager that we have a No. 1 record. That's not in the cards, this is beyond us. But you feel good about the work because you've put a lot of effort, a lot of love and time into it, so you make sure that you do everything in your power to propel it." 
En Español bows with 5,000 equivalent album units earned in the week ending Aug. 27, according to Nielsen Music/MRC Data. Most of the set's opening sum is attributed to album sales.
Rumba and national identity in Cuba at Timbalaye 2020
RONE – Rumba as an essential factor of national identity will be the main theme of the 12th edition of the festival dedicated to this musical genre organized in Cuba by Timbalaye, its main directors highlighted in Rome on Friday.
An international colloquium, concerts, performance of folkloric projects and interviews to legendary 'rumberos' (rumba performers) are part of the agenda of 'Timbalaye-Festival 'Ruta de la Rumba (Rumba Route),' which took place virtually from August 27 to 30, in tune with the circumstances generated by Covid-19.
Ulises Mora and Irma Castillo, president and vice president, respectively, of 'Timbalaye,' an international promoter of Cuban culture, offered details about the festival in which the participated from Rome due to the movement limitations imposed by the pandemic.
Once again, Timbalaye in neighborhoods interacted with people, even at a distance, especially in the family environment where staying is greater than usual due to the social distancing measures implemented to protect themselves and protect others, Mora stated.
Castillo, Ulises' partner in life and in promoting Cuba's culture as folkloric dance teachers in Italy, underlined Timbalaye's contribution to recognize rumba as UNESCO's Intangible Heritage of Humanity in 2015.