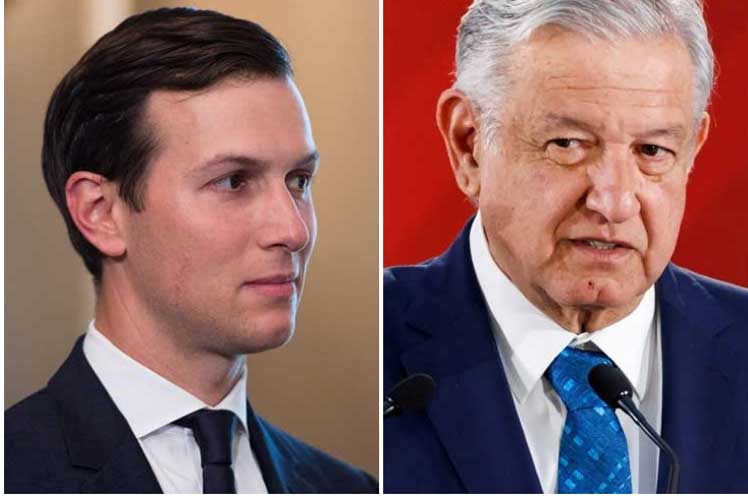 by the El Reportero's wire services
President Andres Manuel López Obrador described Wednesday as a meeting in good terms the one held with Jared Kushner, son-in-law of Donald Trump, to finance with 10 billion dollars development plans in Mexico and Central America.
We are reaching a commitment of understanding to foster cooperation for investment, employment generation and economic growth in Mexico and Central American countries, he pointed out.
We insist, he said, that to face the migratory phenomenon the best thing is to develop in Central America and in the south southeast of our country.
There has been progress in this purpose, we deal with this issue in a friendly way, there is a very good relationship with the U.S. government and that is why this meeting was held, he added.
He revealed that the meeting was in a private home of a mutual friend, and were present Marcelo Ebrad (Foreign Minister) and the charge d'affaires of the U.S. Embassy.
"We were talking until 11 p.m. about development cooperation, a bilateral agreement to guarantee 10 billion dollars investments in Central America and the south of our country, so that there will be job, work and that migration will be optional, voluntary, not forced by the lack of opportunities or by violence," he said.
The other issue discussed, he said, was to reaffirm the commitment to approve a trade treaty in which we can maintain the current terms to avoid misunderstandings because what was already achieved was good for both countries.
There will be work, he said, the Sowing Lives programs already benefit 80,000 farmers who are already receiving resources to work their own plots and so on in almost all states of the country.
Just the Mayan Train, he said, will result in the creation of 300,000 jobs, and we will have employment throughout the country. People don't go to the United States just because they like it, but because they need it.
We are talking about a 5 billion dollars Mexican investment and the same for Central Americans, that is what is most important to us, not because of what the money means but because it is an investment to generate jobs and so that people do not have to abandon their comforts, customs and cultures, stated the president.
In other news in Mexico:
López Obrador affirms that Mexico leaves neoliberalism behind
President Andres Manuel López Obrador said on Friday that Mexico leaves neoliberalism behind and replaces it with a new policy, including the economic one, and that he will soon announce his new post-neoliberal project.
In his morning press conference at the National Palace, he promised that next Monday he will announce what he called the new national development plan, which is, in practice, a post-neoliberal project, a model that has sunk the country.
The president didn't go into many details on the matter and created expectations for the next conference on Monday by admitting that many are wondering what is the government's alternative proposal to neoliberalism, its economic policy and how this new era will be distinguished from the previous one.
What is sought, he said, is to do everything necessary for the country to move forward, to bring about the rebirth of Mexico. He added that consultations and forums will be held to define the national development plan.