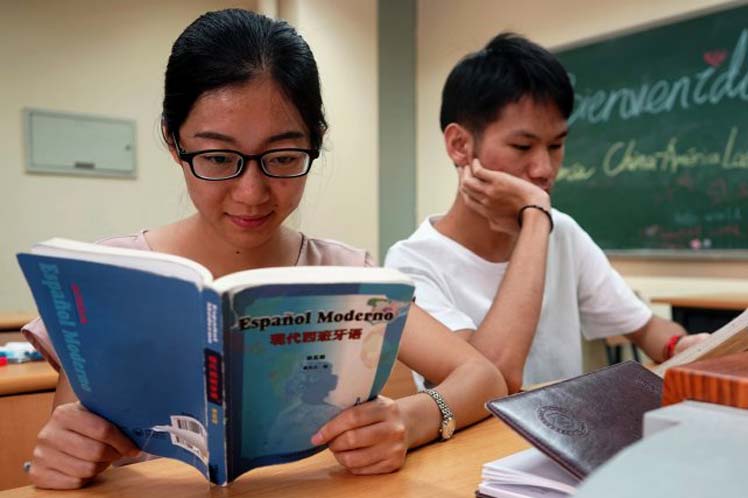 by the El Reportero's news services
The deepening of the diplomatic, economic and cooperation relations with Spanish-speaking countries, especially of Latin America, encouraged the growing interest in China to learn Spanish, especiallized official source reported Monday.
Inma González, head of the Cervantes Institute where the Spanish language is taught, said that the impact has been overwhelming and every time there are more enterprises, keen to include personal to their staffs with knowledge of the language.
'Definitely,in this blunted development of Spanish in China, the excellent political and economic relations with the world in Spanish have played an important role, especially with Hispano-America', Gonzalez pointed out.
The Cuban academician mentioned there are a lot of China companies very interested in entering Latin America with projects of investments, engineering, plants and buildings that is why it is necessary to prepare human resources with knowledge of Spanish language.
González highlighted the good moment for Spanish in China, backed up by the decisions of authorities of including it in the study curriculum of the elementary and high level,together with English, French, Russian and German.
González also remarked a survey result which figures in 126 the High Educational Centers where Spanish will be taught next course as well as the high demand in private schools.
Cervantes Institute advantaged the Spanish World Day, celebrated Monday,and it launched an initiative which is being promoted in this country.
This initiative has to do with the opening of a social media Wechat, the most popular here, which spreads data about persons and countries all over the world that use this language nowadays.
Besides, last Saturday the Center screened the documentary Gabo, magic of the real, a trip through the power of image by the Colombian writer, as a part of the celebrations of the Book International Day, also celebrated every April 23.
Cervantes Institute picked the film by the British Justin Webster to honor Gabriel García Márquez memory in his 4th death anniversary as well as to release work and life of one of the most outstanding authors of the Hispano American literature.
Writer/performer Rick Najera adds comedic magic in new film, Taco Shop
Actor-Writer-Director-Comedian, Rick Najera (East Los High, Nothing Like The Holidays, In Living Color) co-stars in the new comedy, Taco Shop which he also co-wrote the screenplay with Oskar Toruno.  The film is set to launch in select theaters May 4th and on DVD and digital on May 1st from GVN Releasing via Sony Pictures Home Entertainment.
"Rick Najera is an accomplished talent with an impressive background in urban sketch comedy and we were glad to get him on board," said producer Moctezuma Esparza.
SFFILM Wraps 2018 San Francisco International Film Festival 
The Golden Gate Award Short Film jury consisted of Director of Canyon Cinema Antonella Bonfanti, filmmaker Mark Decena, and programmer Liliana Rodríguez, who awarded a total of $14,000 in cash prizes.
Best Documentary Short was presented to Crisanto Street (USA) by Paloma Martínez.
First Prize for Best Bay Area Short went to Weekends (USA) by Trevor Jiménez.
The Golden Gate Award Family Film jury was comprised of writer Carvell Wallace, Betsy Bozdech from Common Sense Media, and Jefferson Elementary School teacher Marcy Johnson, who awarded a $1,500 cash prize and Best Family Film to Crisanto Street (USA) by Paloma Martínez, with a Special Jury Prize to Bird Karma (USA) by William Salazar.
The 2018 SFFILM Festival Audience Awards gave festival-goers the opportunity to select their favorite narrative and documentary features. The Audience Award for Best Narrative Feature went to Bo Burnham's Eighth Grade (USA), with Un Traductor by Rodrigo Barriuso and Sebastián Barriuso (Canada/Cuba) also scoring highly with Festival audiences.