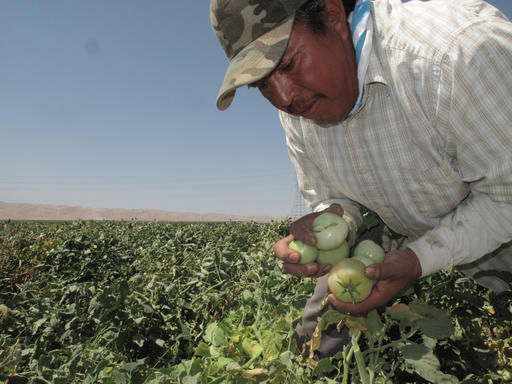 by the El Reportero's wire services
After an hour of debate, including emotional words from Senate leader Kevin de León, the California Senate on Monday passed a bill that would expand overtime pay for farmworkers.
AB 1066, introduced by Assemblywoman Lorena González (D-San Diego), squeezed out of the Senate floor with a 21-14 vote. It is now headed back to the Assembly, where it faces its most passionate opposition, for a final vote. 
The proposal would roll out new rules for overtime in 2019, lowering the current 10-hour-day threshold for overtime by half an hour each year until it reaches the standard eight-hour day by 2022. It also would phase in a 40-hour standard workweek for the first time.
Resolution to provide due process, legal representation for unaccompanied minors approved in Senate
a resolution calling on the federal government to provide unaccompanied minors due process by providing government-funded attorneys to all indigent children fighting deportation or seeking asylum. Senate Joint Resolution 28 was approved by a vote of 31-2. 
Every week in immigration courts around the country, thousands of unaccompanied minors act as their own lawyers, pleading for asylum or other type of relief in a complex legal system they do not understand. SJR 28 urges the federal government to provide these children with due process and legal counsel so they can adequately plead their asylum cases in court.
The U.S. legal system provides court-appointed attorneys for all individuals who cannot afford one. However, this same counsel is not guaranteed for unaccompanied minors, leaving thousands of children to navigate the complex legal system on their own.
Colombia convenes referendum on peace agreement
President Juan Manuel Santos signed today the decree to call on the vote to be held on next October 2nd on the final peace agreement between the Government and the Revolutionary Armed Forces of Colombia- People''s Army (FARC-EP).
According to the newspaper El Espectador, the President confirmed that in the ballot will appear the following question: Do you support the final agreement to end the conflict and build a stable and long-lasting peace?.
Santos said that this question mentions the title of the peace agreement, and therefore, it will not create confusion among Colombians.
The signing of the decree took place after Congress endorsed to convene the referendum, with 71 votes in favor and 21 against.
The Colombian Government and the FARC-EP reached last week a historic peace agreement, after four years of negotiating peace in Cuba. The final text was delivered on last Thursday to Congress in order to start the process for convening the referendum.