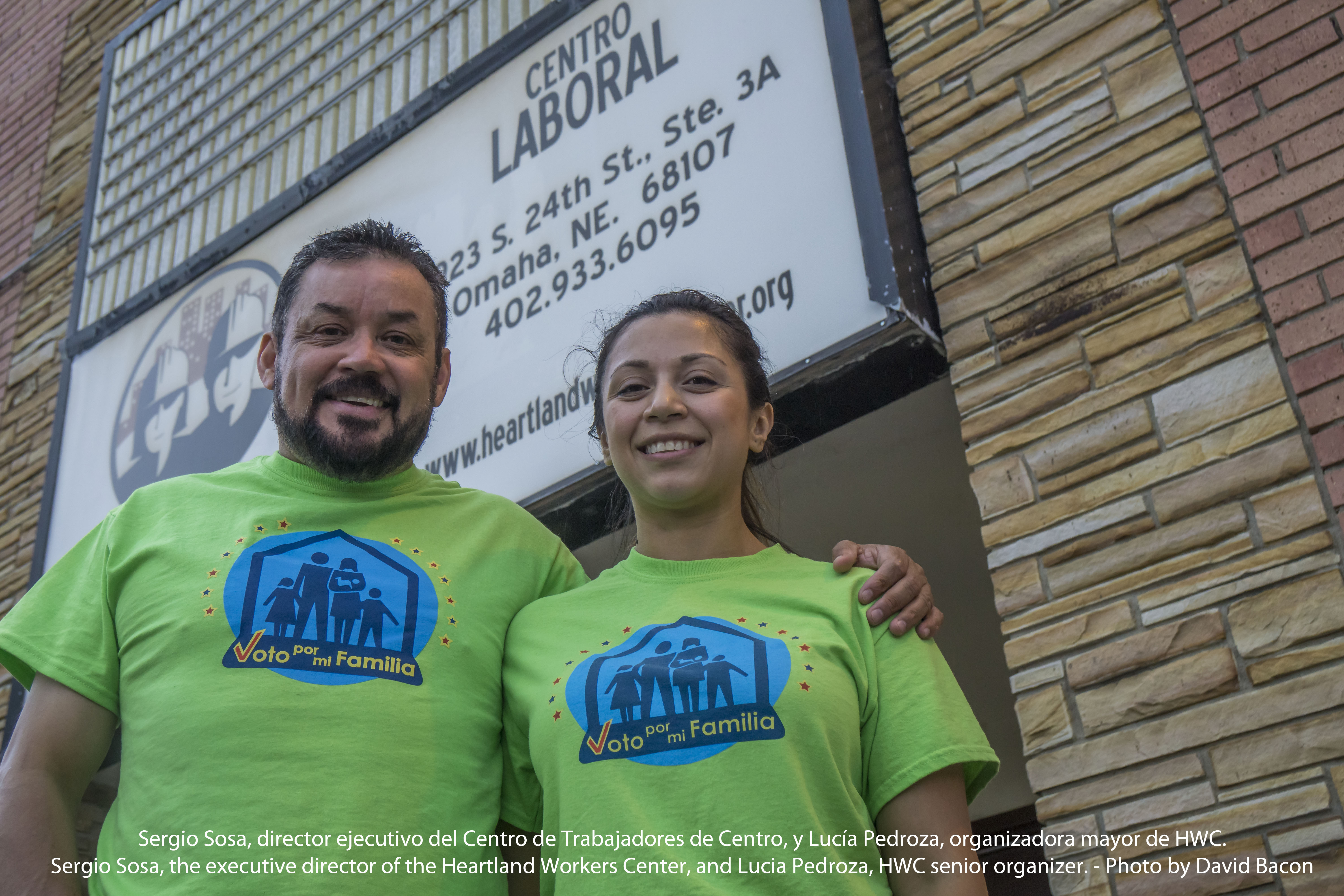 by David Bacon
If the winds of political change are starting to blow in Nebraska, the center of the storm is a third-floor office on 24th Street in South Omaha. There, huge maps of eight targeted precincts in Ward 4 line the walls of the Heartland Workers Center (HWC), covered in red dots for all the people organizers have spoken with over the past six months. Little stickers highlight the key issues in each neighborhood.
Every afternoon on weekdays, and all day on weekends, a row of reconditioned iPhones sits on a table next to clipboards holding signup lists and Spanish-language voter-education brochures. Rain or shine, young Latino organizers climb the stairs to pick up their packets and then fan out into the streets.
This is not an old-fashioned paper-based effort, though. Derek Ramirez, HWC's data cruncher, has loaded voter information derived from the Voter Activation Network database onto the iPhones. This allows precinct walkers to know house by house whom they're talking to, and to immediately input the information they receive-updating the office's database in real time.
"We do 20 houses a night, and I go to every house," says Lucero Aguilar, who was born in Campeche, Mexico. She's been an organizer here for two years. "Sometimes people don't open the door, but the last house I visit always opens to me. We have a good conversation and I get that person registered to vote. That's where the magic happens. I know the next day I'm going to try again."
Another organizer, Stephanie Zambrano, came to Omaha with her parents as a child from Guadalajara. "Community members get happy when they see youth knock on their doors, and want to talk with them," she says. "They're surprised we want to ask about housing or voting or issues in our community."
Zambrano came into the workers center after helping win a battle against Nebraska's former governor, Dave Heineman. Three years ago, Heineman ordered the state's Motor Vehicles Department to deny drivers' licenses to young people who gained temporary legal immigration status under President Obama's Deferred Action for Childhood Arrivals program. Last year, the HWC, Young Nebraskans in Action, and other groups convinced state legislators to enact legislation overruling his order. "We have gained so much momentum," she enthuses. "It's getting out there so that we can make a difference."
BEFORE BEGINNING VOTER mobilization efforts, HWC organizers first assessed the impact of this economic structure in South Omaha neighborhoods. They began by analyzing census data, and then went out into the community to survey residents and look for leaders. They visited 2,306 homes, collected more than 600 surveys, and found almost 250 leaders.
At a community congress last November, they reported their results. Nearly half of the residents they spoke with reported that their households had to sacrifice on essentials, including utilities and food, in order to cover housing costs. A third said that at least one household member who could work was unemployed, and that they had no health insurance. Potholes and crime were concerns as well.
The main source of the poverty was "wages not adequate to cover housing expenses," the report stated, adding that "unemployment and underemployment likely contribute to this poverty." Latinos in South Omaha are concentrated in meatpacking, manufacturing, and construction. When the recession began in 2008, all three industries lost jobs.
Meatpacking has been the magnet drawing Latinos to Omaha, and to Nebraska generally. Beginning in the 1970s, this industry was restructured with the development of boxed beef. Prior to that, animals were slaughtered in urban packinghouses by the then-giants Armour, Swift, Wilson, Cudahy, and others. Quarters of meat were shipped to markets, where skilled butchers cut them into pieces for consumers.
Corporations in the restructured industry built new plants in small rural towns, closer to the farms where animals are raised. To keep wages low, they brought in workers. "In the small towns where they located," says Lourdes Gouveia, retired sociology professor at the University of Nebraska in Omaha, "they created a whole new labor force." Companies sent recruiting teams to Los Angeles and other established immigrant communities, and even placed advertisements on radio stations along the Mexican border.
South Omaha's Latino community expanded as a result of this flow of migrant labor into the state. Today, foreign-born Latino immigrants make up a third of the total population of 32,362 in HWC's eight targeted precincts. About 10,261 people in the precincts are foreign-born Latinos, while more than 15,000 people speak Spanish at home, meaning that many Latino families now include children born here. The voter engagement project has registered about 1,500 people in Ward 4, and voter turnout here increased by 26 percent between 2010 and 2014.
Home for them now is here. That gives them a big motivation to become citizens and participate.
"Twenty or thirty years ago, when people first began arriving, they thought of home as their hometown in Mexico or Central America," says Sergio Sosa, HWC's executive director. "As they've had children, and as those children have grown, many people now see they're not going to return. Home for them now is here. That gives them a big motivation to become citizens and participate. Children born here are also getting old enough to vote now, so the voting population is growing."