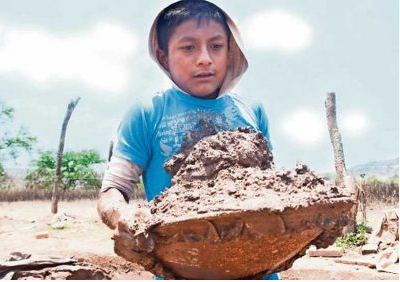 Study says six out of 10 are looking for an 'informal but honest' way to survive
Compiled by Mexico News Daily
A study by the National Autonomous University of Mexico (UNAM) has found that 3.6 million Mexican children and adolescents between five and 17 years old are currently employed in some way or another, representing close to 50 percent of all working children in Latin America.
The report, published Monday for the World Day Against Child Labor 2017, states that six out of every 10 children in Mexico are looking for an "informal but honest" way to survive.
Víctor Inzúa Canales, a faculty member at UNAM's national school of social work, told the newspaper El Universal that children and teenagers in that age range should not work because they have yet to fully experience childhood.
But families in extreme poverty turn to them for a contribution, she said.
According to INEGI, the national statistics institute, 5.7 percent of the population between five and 17 performs housework under inadequate conditions. By gender, 5.5 out of every 10 boys and six out of every 100 girls are employed in such a way.
Nearly 21 percent of that cohort of the population have abandoned their studies while 53.3 percent both study and do housework. Another 27 percent combine outside employment with housework.
According to Mexican labor laws, working hours for children under 16 cannot exceed six hours a day. However, 36.6 percent of the employed population aged five to 17 works 35 hours or more a week.
Of the child population that works, 42.5 percent do not receive any income for it; 19.1 percent receive up to twice the daily minimum wage (160 pesos) and three out of 10 receive only one minimum wage. Of those, 38.2 percent work from 40 to 48 hours a week.
Nearly one-quarter of the working children declared that they work in order to pay for schooling and/or their own expenses; another 23.5 percent said they do it for pleasure or to help at home.
As for the person they work for, six out of 10 (59.2 percent) said they do it for a relative and 3.85 percent work on their own.
Another sector of working children are homeless and are exposed to violence, drug abuse and delinquency.
An analysis performed by professor Inzúa found that 40 percent of homeless children are addicted to drugs and commit crimes. Their life expectancy is between 22 and 25 years, rather lower than the average in Mexico of 76.7.
'Country is bleeding:' church urges dialogue
Editorial supports peace agreements with organized crime
The Catholic Church in Mexico has expressed its support for dialogue with criminal gangs in the face of impotence on the part of authorities.
In yesterday's issue of the church's weekly publication Desde La Fe, the Archdiocese of Mexico endorsed the efforts of a bishop in Guerrero to engage in communication with gang members.
In an editorial titled El país se desangra, or "The country is bleeding," the church notes the positive results obtained by the bishop of the diocese of Chilpancingo-Chilapa, Salvador Rangel Mendoza, who has declared that narcos in Guerrero are not like those found in northern states.
"Ijust call them farmers," he said in March.
The archdiocese believes the church should promote peace agreements with criminal elements because the authorities have proven themselves incapable of guaranteeing security for the public.
The article recalled that in recent weeks violence has given no respite, leading to bloodshed in different regions of the country.
In the absence of authorities' ability to control crime, "it is necessary that actors of moral repute come forward and obtain agreement on, for the least, some terms for peace and security . . . ."
Desde la Fe praised a meeting on May 28 that Rangel held with gangsters to reach "an agreement regarding what authorities no longer guarantee: public safety."
Those meetings, the editorial declared, have annoyed the authorities, "who have brandished a triumphalist discourse, claiming everything is going well, that there are no problems or difficulties, when deep down what they are after is to conceal the truth."
It said the clergy cannot escape the current "horror," which is something that "wasn't even seen during the communist era or in religious persecutions."
The church said many priests are victims of extortion by criminals, through which they are allowed to continue celebrating the Catholic rites.
Lerma River: 15 km are 'biologically dead'
Researcher says its clean-up should be a priority of state's new government
The Lerma River — one of Mexico's longest — is so polluted that one expert has labeled it "biologically dead" and environmentalists have described it as "an enormous stinking sewer" that requires an unprecedented effort to clean up.
The river originates in Almoloya del Río near Toluca in the State of México and empties into Lake Chapala in Jalisco and has long been plagued by wastewater contamination.
Excess rainwater mixed with sewage often bypasses outdated drainage systems and flows directly into the river.
Adding to the problem is that the Lerma's upper basin is one of Mexico's most developed industrial zones with around 2,500 factories, which produce chemical-containing wastewater that further upsets the river's biological balance.
Carcinogenic heavy metals and trash are also present in the water.
He says the 30 treatment plants that currently treat water flowing into the Lerma are not enough to stop the damage.
The problems faced by the Lerma are indicative of a wider freshwater crisis that affects other parts of the country including Mexico City, where millions of people lack access to potable water.