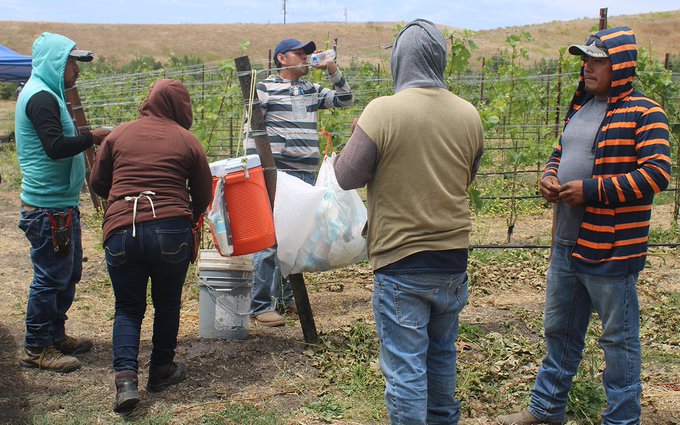 by the El Reportero's wire services
Migrant Connection – May 6, 2020 – A judge denied two taxpayers' request to block California governor's $ 75 million aid to undocumented immigrants
"The defendants intend to illegally spend 79.8 million of taxpayer funds," according to court documents.
The plaintiffs said they would suffer "substantial and irreparable damage" if a restraining order was not granted.
But in defense of California Governor's aid plan, Deputy Attorney General Anna Ferrari stated that the plaintiffs could not show any "irreparable injury."
According to the plaintiffs, Newsom's plan would provide some 150,000 undocumented migrants with a one-time cash payment of between $ 500 and $ 1,000 per household.
Recipients would receive payments starting this month, and 40,000 of the 150,000 selected people live in Los Angeles County.
Myers and Crest contend that California does not have "a law establishing that illegally present aliens are eligible for those public benefits."
New lawsuit claims cares act intentionally discriminates against immigrants
U.S. Citizen Children of immigrant parents from benefits of emergency cash assistance are excluded
MARYLAND – Georgetown Law's Institute for Constitutional Advocacy and Protection (ICAP) and Villanova Law Professor Leslie Book today filed a complaint in the U.S. District Court for the District of Maryland challenging the intentional and discriminatory exclusion of U.S. citizen children from the benefits of emergency cash assistance distributed in response to the coronavirus pandemic, based solely on the fact that one or both of their parents are undocumented immigrants.
The complaint was filed on behalf of seven U.S. citizen children and with the support of CASA, a D.C.-area immigration non-profit organization. The complaint explains that the CARES Act, which was signed into law on March 29, 2020, provides a financial lifeline to millions of people by distributing through the tax system immediate economic impact payments of up to $1,200 per adult and up to $500 for each of the adult's children under age 17. However, the CARES Act provides payments solely to taxpayers who file their taxes using a Social Security Number – meaning U.S. citizens and immigrants with work authorization – thereby denying payments to U.S. citizen children of undocumented immigrants who pay their taxes using an individual taxpayer identification number (ITIN).
"The refusal to distribute this benefit to U.S. citizen children undermines the CARES Act's goals of providing assistance to Americans in need, frustrates the Act's efforts to jumpstart the economy, and punishes citizen children for their parents' status – punishment that is particularly nonsensical given that undocumented immigrants, collectively, pay billions of dollars each year in taxes," said Mary McCord, Legal Director for ICAP. "More fundamentally, this discrimination violates the equal protection principles embodied in the Fifth Amendment's Due Process Clause."
Many of CASA's members in Maryland, Virginia, Pennsylvania, and the District of Columbia—as well as immigrant families across the country—have been impacted particularly hard by the coronavirus pandemic and its economic consequences.
89-year-old Guerrero woman with diabetes beats Covid-19
María's 35 grandchildren and great-grandchildren and her 98-year-old husband were looking forward to her return home
An 89-year-old Guerrero woman with diabetes survived a 17-day bout of Covid-19 and was released from an Acapulco hospital on Tuesday.
María, whose last name was not given, was one of 12 patients discharged from the city's Social Security Institute (IMSS) General Hospital earlier this week. The survivors ranged in age from 29 to 89 and suffered from a number of comorbidities that made them especially vulnerable to the virus, including obesity, asthma, chronic bronchitis, diabetes and hypertension.
Appearing happy and healthy upon her release, María expressed her gratitude to the frontline workers whose efforts enabled her return to her home in Taxco, in the north of the state.
She encouraged personnel to continue "doing their best, because they give very good medical attention," and added a plea to others to "take care of themselves and stay home," IMSS said in a statement.