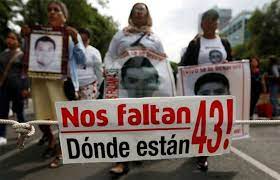 One former gang leader is likely to be released in exchange for his collaboration on the case
by the El Reportero's wire services
The United States is set to close its investigation into crimes allegedly related to the disappearance of 43 students in Iguala, Guerrero, in 2014.
A leader of the Guerreros Unidos crime gang – which allegedly killed the Ayotzinapa rural teacher's college students – has confessed to transporting drugs from Iguala to Chicago and reached an agreement with the United States government to provide information to the U.S. about the illegal smuggling.
Pablo Vega, who has been in prison in the United States for the past seven years, pleaded guilty in April to transporting drugs to the U.S. in passenger buses, according to the newspaper Milenio, which reviewed official U.S. documents. The details of the agreement he reached with U.S. authorities is classified but it appears likely he will be released from prison as a result of his agreement to collaborate.
José Rodríguez, an associate of Vega who was also a member of the Guerreros Unidos, is currently in negotiations with U.S. authorities and pending an agreement will officially plead guilty to trafficking charges on September 1, Milenio said.
Once that occurs the Ayotzinapa-Iguala case will be officially closed in the United States.
The United States Drug Enforcement Administration (DEA) determined several years ago that the Guerreros Unidos had transported heroin to the United States on passenger buses. The gang transported the heroin in hidden panels on the buses that ran from its territory in Iguala to Aurora, a suburb of Chicago, the DEA established.
By intercepting dozens of messages Vega received on his Blackberry phone, the DEA also concluded that Guerreros Unidos members in the United States were aware of the abduction of the 43 students on September 26, 2014.
The students were on a bus they had commandeered to travel to a protest in Mexico City when they were intercepted and came under attack by Iguala municipal police. Independent experts who investigated the students' disappearance said that one hypothesis is that the bus on which they were traveling was carrying drugs and would have left for the United States had it not been commandeered. It was allegedly one of five buses carrying drugs that was scheduled to depart for the U.S. on the day the students disappeared.