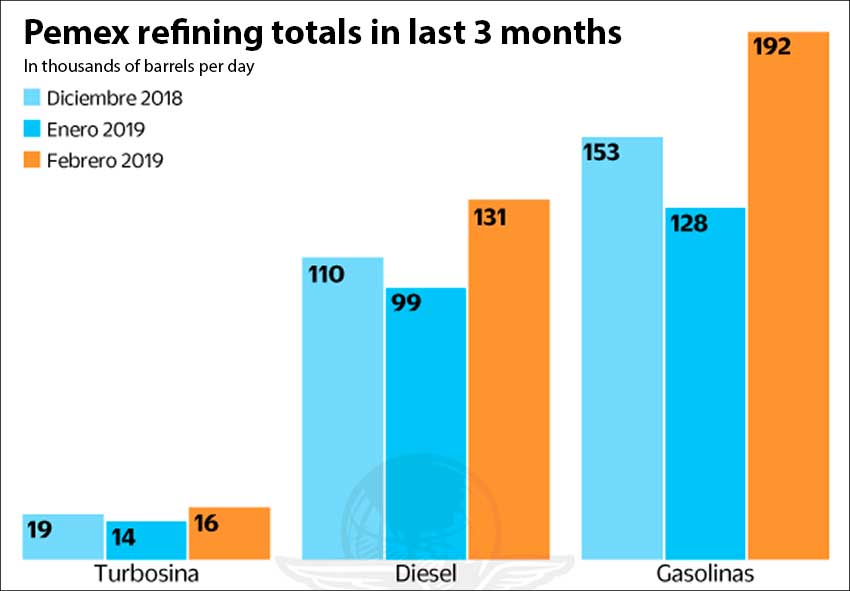 Crude oil processing, fuel production showing increases
by Mexico News Daily
Mexico's six petroleum refineries are showing new signs of life: fuel production and crude processing capacity are up and unscheduled stoppages have been reduced to zero.
State oil sector reports seen by the newspaper El Universal show that production of regular and premium gasoline in the third week of February was 86.7 percent higher than in the first week of January.
Diesel and aviation fuel production also increased, by 98.3 percent and 68.7 percent respectively in the same period.
The month-over-month figures are not quite as impressive but positive nonetheless.
Daily gasoline production this month has averaged 192,000 barrels per day (bpd) compared to 128,000 bpd last month – a 50 percent increase – and 153,000 bpd in December. Diesel production was up 32 percent to 131,000 bpd in February compared to 99,000 bpd last month.
While the signs are promising, the National Refining System (SNR) is still a long way from getting back to production levels seen a decade ago when they reached their highest point in 29 years.
During the last two weeks of this month, automotive fuel production has averaged 213,000 bpd – just 42.3 percent of the average daily production of 504,100 bpd in January 2009.
With regard to crude oil processing, the six oil refineries achieved an average capacity of 484,000 bpd during January but this month, the figure has increased by 15.7 percent to 560,000 bpd.
Looking at figures for the first week of last month and the third week of February, the increase is even more impressive.
Crude processing has increased from 309,500 bpd to 664,00 bpd in the period, a 114 percent surge. However, the figure represents less than 40 percent of the refineries' combined processing capacity if they were operating at an optimal level.
Another good result for the oil sector is that there hasn't been a single work stoppage at refineries this month compared to 40 in January and 48 in December.
According to the oil sector reports, Mexico's oil production and processing problems were, as of the end of the third quarter last year, primarily linked to "operational problems" at the refineries in Ciudad Madero, Tamaulipas, and Minatitlán, Veracruz.
At the time both facilities were only operating at a minimal capacity.
To improve production and processing capacity across the SNR, an oil sector report said, it was "essential to continue general maintenance and preventative programs" at all refineries.
Petroleum production has been declining in Mexico for years.
Earlier this month, President López Obrador announced a 107-billion-peso (US $5.5-billion) rescue plan for Pemex aimed at reducing the state oil company's financial burden and strengthening its capacity to invest in exploration and production.
He has pledged to reduce Mexico's dependency on petroleum imports and part of his rescue plan for the sector includes the construction of a new refinery in Tabasco.
But while the president is optimistic, financial institutions rejected the government's plan, describing it as insufficient and disappointing, while Fitch Ratings warned that it doesn't insulate the state oil company against future cuts to its credit rating, which it currently rates at just one notch above junk.
Source: El Universal (sp).
In other news, in Nicaragua
Nicaragua talks on crisis begin, dozens of prisoners freed
MANAGUA, Nicaragua – Representatives of President Daniel Ortega and the opposition sat down face-to-face in a restart of long-stalled talks on resolving Nicaragua's political crisis Wednesday, shortly after authorities released dozens of people arrested in last year's crackdown on anti-government protests.
The meeting at a business institute south of the capital, Managua, was held behind closed doors and journalists were not allowed access.
The first day had been expected to be used to set the agenda and format for talks, and at its end the sides released a statement saying they agreed to nine of the 12 points on a preliminary road map and would meet again Thursday. The statement read by Apostolic Nuncio Waldemar Stanislaw Sommertag did not provide details about what the points were.
Ortega did not take part in the talks but was represented by his foreign minister, a magistrate, several lawmakers and a student leader. The opposition delegation included several prominent business leaders, a noted academic, a politician and a university student. Sommertag, the Vatican's ambassador to Nicaragua, and Managua's cardinal were present as observers.
Last year's protests demanding Ortega leave office and allow early elections prompted a deadly crackdown by security forces and armed, pro-government civilian groups. At least 325 people were killed, 2,000 wounded, hundreds imprisoned and more than 50,000 fled into exile.
One of the opposition's primary demands has been the release of the estimated 770-plus people considered political prisoners jailed for participating in demonstrations.
Hours before talks began Wednesday, several vans carrying people in inmates' uniforms left the Modelo prison in the capital escorted by heavily armed police in trucks.
Source: Associated Press.