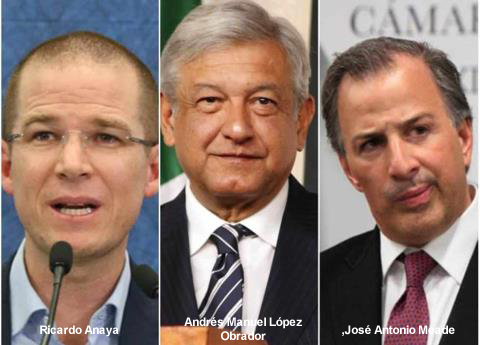 Second-place Anaya drops to 26 percent; PRI's Meade steady at 18 percent
by Mexico News Daily
Leftist presidential candidate Andrés Manuel López Obrador has extended his lead over his nearest rival to 22 points, according to a new opinion poll by the newspaper Reforma.
The survey, conducted between April 12 and 15, gave López Obrador 48 percent support, an increase of six points from a February Reforma poll.
Ricardo Anaya of the right-left coalition "For Mexico in Front" was in second place with 26 percent, a decline of six points since February.
The net effect was a widening of López Obrador's advantage over Anaya from 10 points in the February survey to 22 points in the new poll.
Ruling party candidate José Antonio Meade remained in third place with unchanged support of 18 percent.
The backing for the two independent candidates in the race also remained steady. Margarita Zavala had 5 percent and Jaime "El Bronco" Rodríguez had 3 percent.
The results did not take into account the 19 percent of respondents who expressed no preference.  In total, 1,200 voters were surveyed and Reforma said the poll had a margin of error of 3.7 percent.
The advantage for the third-time presidential candidate commonly known as AMLO is double that of a poll published by the newspaper El Universal earlier this month and four points higher than the 18-point lead he had over Anaya in a March poll by El Financiero.
Another survey published yesterday by the polling firm Mitofsky also showed that López Obrador had increased his lead, although it suggested a tighter race with AMLO leading Anaya by 31.9 percent to 20.8 percent.
The 22-point advantage in the Reforma poll is the largest lead that any candidate in the past three presidential elections has enjoyed over rival candidates at the same time in the campaign period.
President Enrique Peña Nieto had a 15 percent lead over López Obrador in April 2012 and went on to win the election with just over 38 percent of the vote, almost seven points more than AMLO, who was runner-up.
News agency Reuters said that López Obrador had consolidated his lead in the poll by capitalizing on "widespread disenchantment" with the ruling Institutional Revolutionary Party (PRI) over political corruption, rising levels of violence and slow economic growth.
The survey showed that 76 percent of respondents disapproved of the job Peña Nieto is doing.
López Obrador's increased lead comes despite threats he has made to suspend the new Mexico City International Airport project, a stance that has put him at loggerheads with rival candidates and the business sector.
Mexico's richest man and key airport investor Carlos Slim came out in defense of the project this week, saying that canceling it would halt economic growth and declaring that candidates have no reason to interfere in the development.
Support for Anaya has dropped since he was implicated in a money laundering investigation involving the sale of a property he owned in his home state of Querétaro.
The former president of the conservative National Action Party (PAN) has denied any wrongdoing but his rivals have continued to accuse him of acting improperly.
After the federal Attorney General's office (PGR) released a video of the second-placed candidate at one of its offices, Anaya's team accused the agency of conducting a "dirty war" on behalf of the PRI. Last week Mexico's electoral tribunal ruled that the PGR had interfered in the presidential election.
Meade's unchanged support indicates that his campaign has failed to gain any real traction among voters.
The former finance secretary was chosen to run as the ruling party's candidate despite not being an official member of the PRI. His campaign logo does not include any reference to the party or feature its customary colors.
The Reforma poll also showed that López Obrador's support was stronger among men than women and his popularity was highest among the 18-29 age demographic.
Half of all respondents with a university education said that they intended to vote for the former Mexico City mayor, compared to just 12 percent and 11 percent who said they would back Anaya and Meade.
Head-to-head with his two main rivals, the poll showed that the candidate for the "Together We Will Make History" coalition would win comfortably.
Facing Anaya, López Obrador wins by a margin of 51 percent to 31 percent while against Meade the gap is even larger at 57 percent to 22 percent.
Asked what they considered most important in this election, 59 percent of respondents cited "removing the PRI from government" as the priority while 22 percent said avoiding an AMLO presidency was their first concern.
The National Regeneration Movement, or Morena party, that López Obrador heads is also poised to become the largest party in Congress, just four years after it was formally registered, the poll showed.
Morena was projected to win 37 percent support in the lower house while its coalition allies, the Labor Party (PT) and the Social Encounter Party (PES), polled 5 percent and 1 percent respectively.
The PAN garnered 21 percent support and the PRI had 17 percent.
The first of three presidential debates will take place this Sunday at 8:00pm in Mexico City. The election will be held July 1.
Source:  Reforma (sp), RT (sp), Reuters (en)