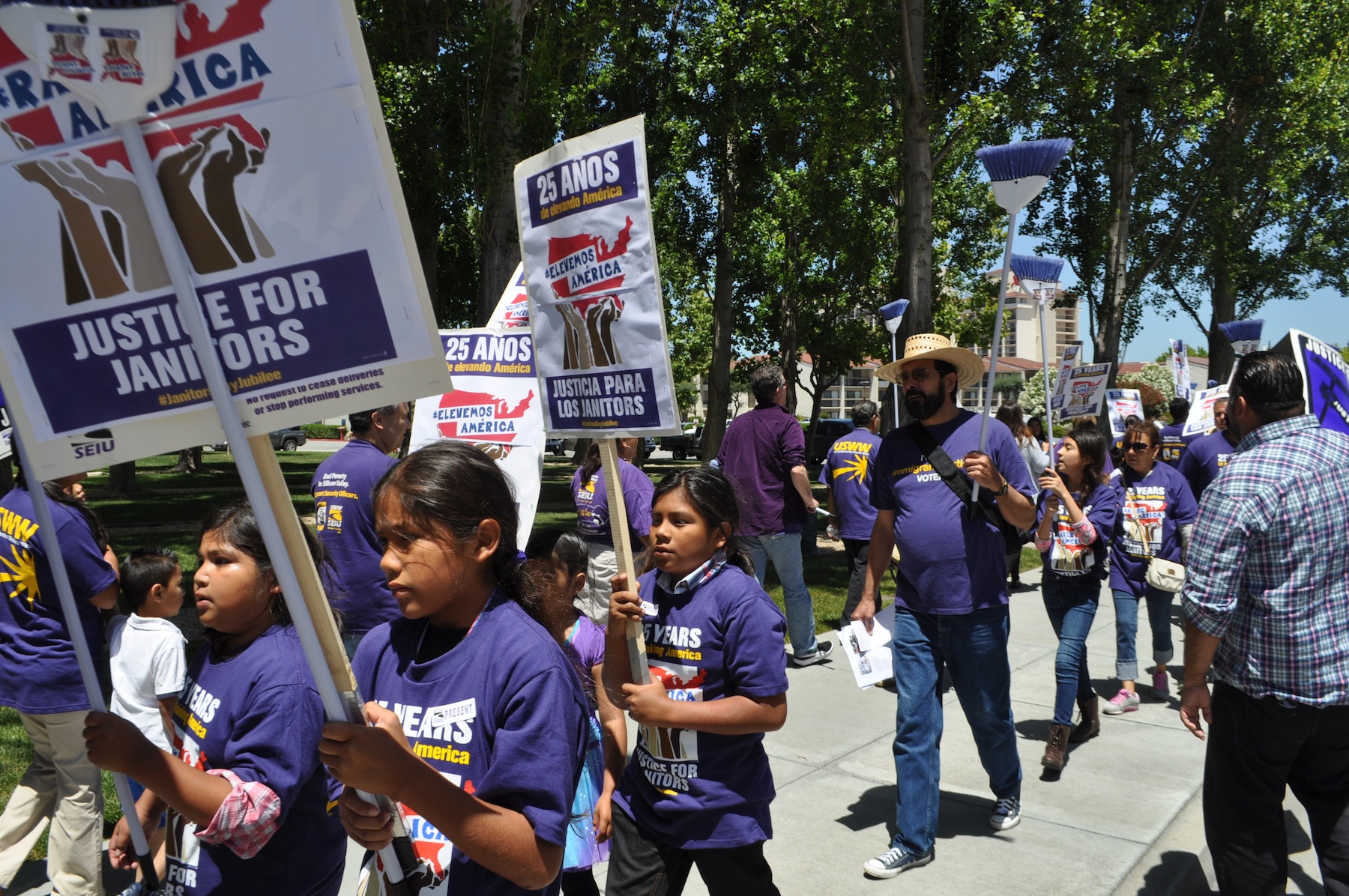 The strike comes after an eight-month long stalemate with real estate businesses who own buildings in the city and failed in negotiations to reach a new contract
by the El Reportero's wire services
More than 700 San Francisco janitors walked off the job Wednesday for a three-day strike over what they said are unfair labor practices following eight months of failed contract negotiations.
The contract for over 20,000 janitors across California expired on Aug. 31st, and if no resolution is reached in negotiations with their employers, they may go on strike as soon as next week. Janitors who clean the largest office buildings and tech and biotech campuses have worked throughout the pandemic as Essential Workers, at great danger to themselves and their families, and now, they are making the economic demand to be treated as Essential.
Essential Workers, like janitors, are struggling through the second wave of the pandemic as many of the companies in the buildings that they clean are thriving. Their employers are some of the largest employers in the industry, including ABLE, ABM, and Allied Universal Services.
They work in buildings with the biggest companies in the world like Apple, Pfizer, Johnson and Johnson, Gilead, Netflix, and Visa. Those companies continued to see profits soar during the pandemic, while the Essential Workers that helped keep them running are having trouble getting by.
Seventeen of the top 25 most profitable US corporations are expected to make almost $85 billion more in 2020 than in previous years. Nine out of every 10 dollars of excess pandemic profits are likely to end up in the hands of white Americans, with only 32 cents for Black and Latino communities. Study
Janitors are at the frontline of this global health crisis, cleaning and disinfecting work and public spaces to prevent the spread of infectious diseases. They have worked throughout the pandemic, many have gotten COVID-19 and some have died. Many risk their lives because they have no choice. Even though some janitors are older or are dealing with health issues, they continue to work because their pay does not allow them to retire or make plans to protect their health. Guadalupe Ramos, a janitor in Oakland said "I know co-workers who had pre-existing conditions like diabetes, that continued to work during the pandemic because they couldn't afford to lose their health insurance. They had to put themselves at risk of catching a deadly disease to keep their health insurance."
Janitors, who are mostly black and brown immigrant workers, are in the process of bargaining with their employers for fair wages and compensation and have filed Unfair Labor Practice Charges with the National Labor Relations Board. They are seeking fair wages, affordable health care that will allow them to care for themselves and their families during this ongoing pandemic, and fair retirement so that janitors who are in their 60's and 70's can retire without risking becoming homeless.