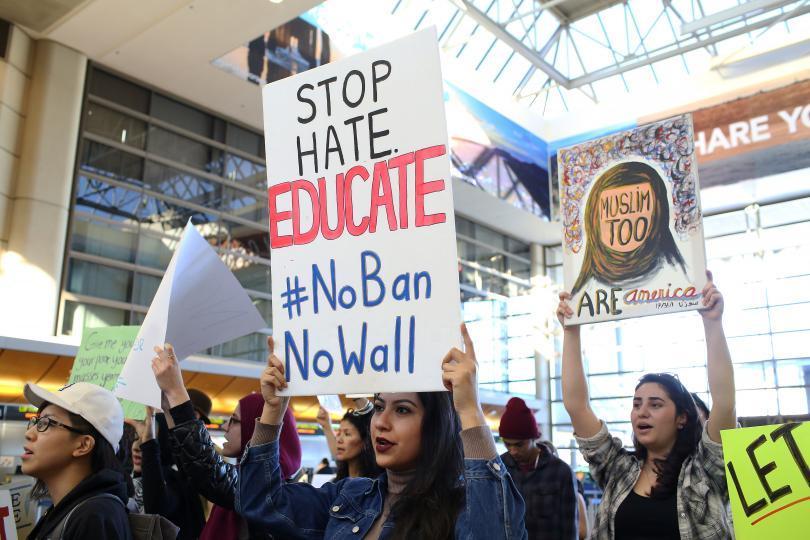 by the El Reportero's wire services
President Donald Trump's executive order limiting the flow of refugees from predominantly Muslim countries into the U.S. has left many immigrants. Federal judges have ruled to temporarily halt Trump's ban, which prevents the entry of any refugees for 120 days, bans citizens of seven Muslim countries for 90 days, and blocks Syrian refugees indefinitely, but right now it is unclear whether these rulings will require detainees to be admitted into the U.S.
As of now, the White House has reportedly reversed its position on green card holders, saying that they will be admitted to the country. A statement from Homeland Security, though, is not making people any less fearful: "The Department of Homeland Security will continue to enforce all of President Trump's Executive Orders in a manner that ensures the safety and security of the American people."
This has left many immigrants and refugees from the seven countries included in Trump's ban — Iran, Iraq, Syria, Sudan, Libya, Yemen, and Somalia — scrambling to understand their rights.
Here's what immigrants and refugees need to know to keep themselves safe.
The U.S. Constitution includes protection for refugees
Michael Wishney from Yale Law told Teen Vogue that foreign nationals, including refugees, are protected under U.S. law. The minute they are on American soil they have the right to due process and to be "free of invidious discrimination based on race or religion."

Refugees also have rights under international law
According to UNHCR, the U.N. Refugee Agency, the 1951 Refugee Convention is the "key legal document" that outlines the rights of refugees. This "customary international law" states that refugees should not be returned to a country where they are likely to have their life and freedoms threatened.
Demand to speak to an attorney
United We Dream recommends that if an officer from Immigration and Customs Enforcement (ICE) shows up to your door with a warrant — you don't have to open your door without them having one — ask for an attorney. Anything you do say can be used against you, which is why it's best to let an attorney handle all aspects of your case. They can make sure you get a hearing, which you are entitled to.
The government will not pay or provide you with a lawyer, but immigration should provide you with a list of free or low-cost legal representation. If you see a judge before finding representation you can ask for more time.
Do not leave the country at this time
According to the Huffington Post, attorneys are advising that non-U.S. citizens avoid traveling outside of the U.S. at this time.
"I don't want to make people scared for no reason, but I think caution is best right now until we see what that exact language will be," Nermeen Arastu, clinical law professor at CUNY School of Law, told HuffPo. "If you're a not U.S. citizen, don't leave right now."
If you must travel abroad, do not do so without speaking to an immigration attorney first.
Do not sign anything
This may be the most important piece of advice for anyone, including green card holders since a swipe of the pen could be catastrophic. There have been cases in which green card holders were asked to sign a Form I-407, which causes the signee to voluntarily give up legal status.
According to the National Immigration Law Center (NILC), this agreement means that you "won't get a hearing, you will have to leave the U.S., and you may never be allowed to enter the U.S. again or get legal immigration status."
To make things easier, the NILC is providing printable cards for immigrants that can be handed to officers. They explain that you are choosing to exercise your legal rights: "I will remain silent, and I refuse to answer your questions. If I am detained I have the right to contact an attorney immediately. I refuse to sign anything without advice from an attorney."
Manufacturing facility in Mexico due to threats of economic retaliation by United States President Donald Trump.
Nisshinbo Holdings Inc. announced yesterday it was dropping plans to build a brake manufacturing plant, estimated to represent an investment of close to US $90 million, said a report by the Nikkei Asian Review.
The company is the first from Japan to change its investment plans in Mexico in response to the U.S. government's threats of import tariffs.
The report said the parts that were to be manufactured in Mexico were destined for the U.S. market, and that the plant will probably be built in that country instead.
The news agency AFP quoted Nisshinbo spokesperson Kiyohiro Kida saying that "Mexico was the strongest candidate [to host the new plant], but we decided to backtrack."
A day before the firm's announcement, executive managing director Takayoshi Okugawa stated that "We've abandoned Mexico… we must chose a different place other than Mexico."
Nisshinbo is a leader in brake friction materials, with 15 percent of the global market, and has investments in textiles and electronics production as well.
While Nisshinbo was saying goodbye to Mexico, Nissan was reaffirming its commitment.
Nissan Motor Company said yesterday it was moving forward with its plant in Aguascalientes, called Compas, a billion-dollar joint manufacturing facility it is building with German auto maker Daimler AG. The new factory will build next-generation premium compact vehicles for the Mercedes-Benz and Infiniti brands.
"[The project] is under way, on schedule, and by the end of our fiscal year, new Infiniti cars will be produced there," said Nissan corporate vice-president Joji Tagawa.
But other manufacturers may yet bail on Mexico.
An economist with the Japanese cooperative bank Norinchukin told AFP that "similar movements [to that of Nisshinbo] are expected" from other firms.
Trump's policies "could affect companies with plants in Mexico as well as those who were expecting to invest there," he added.
Nonetheless, abandoning projects in Mexico will have a "negligible impact" on the Japanese economy as Mexico represents half a percentage point of that country's foreign direct investment, said an economist with the Tokyo branch of the Credit Suisse bank. (Via Mexico News Daily)
US deported more than one million Mexicans in five years
In the last five years, 1 million 372,883 Mexicans were repatriated from the United States, according to data from the Interior Ministry (Segob) released today.
Segob statistics indicate that the annual number of deportations has been declining, although Mexicans occupy the first place of expelled people from that country.
The year 2012 registered the greatest number of returned Mexicans with 369,492; while for 2015 the figure fell to 207,398.
Segob said that in 2016, 219,923 Mexicans were deported, most of them from Michoacan, Guerrero, and Oaxaca.