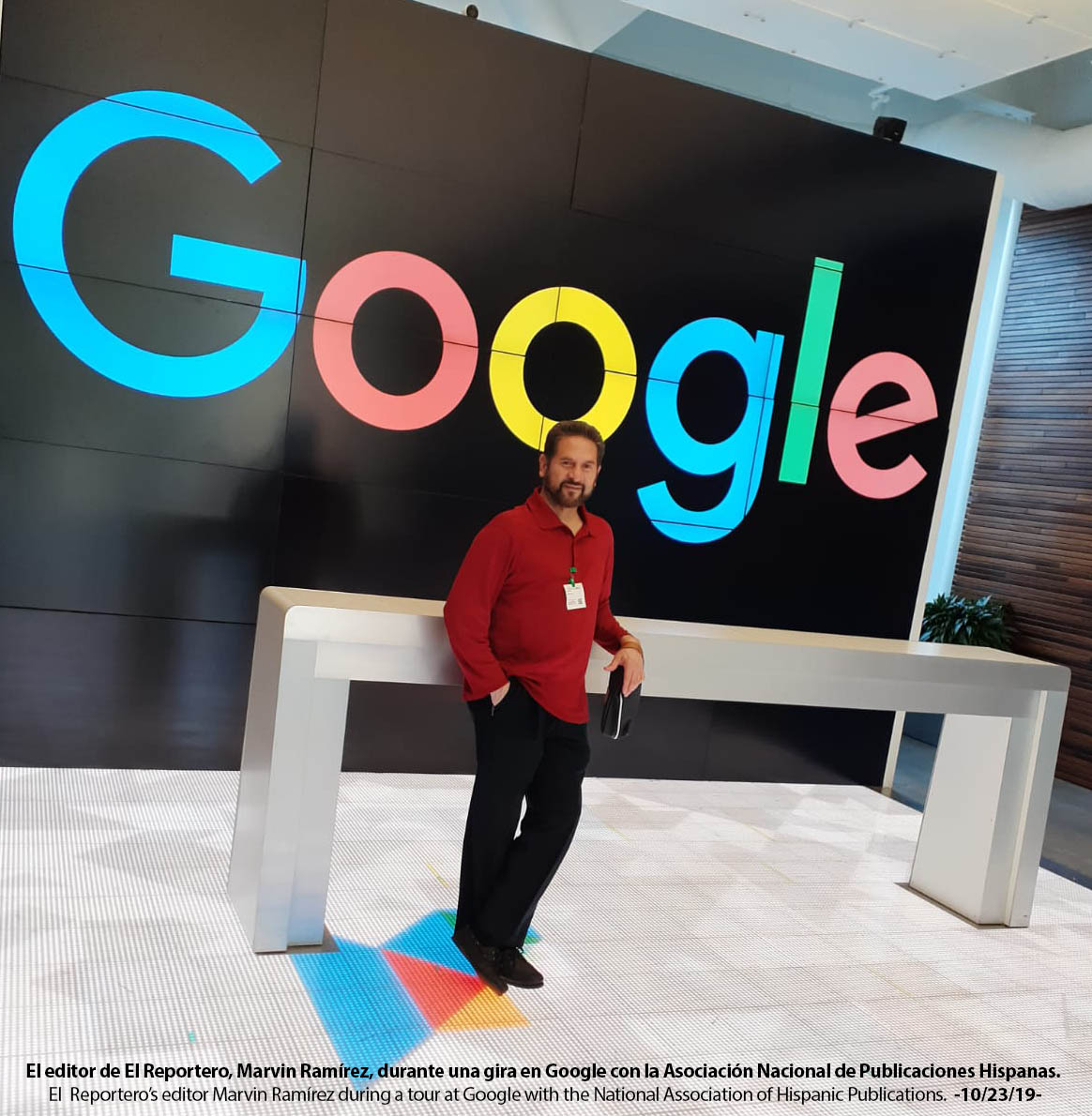 Welcome Latino publishers, to the NAHP 2019, in San Jose, California



Dear Latino colleague publishers, it was a great pleasure to meet you all. I almost didn't make it.
Usually I don't have much time during the week to do anything besides publishing El Reportero, and this has been going on for many years. Even when I am invited to conferences of any type, particularly press conferences or social gatherings, I usually skip them as I risk getting behind in my daily work.
This week was an exception to the rule and I decided to attend. The National Association of Hispanic Publications Convention (NAHP), which is held once a year at different locations around the US, was held this year in San Jose, California, just 54 minutes from El Reportero's office in the San Francisco's Mission District.

The three-day Convention, held from Wednesday to Friday, included a special tour on Wednesday for the approximately two dozen publishers who came on the first day from different parts of the US to attend the media event. It was an extraordinary experience to have a taste of what it is like to be inside the quarters of the biggest internet search engine in the world: Google, at its main headquarters in the city of Mountain View. Publishers who did not arrive on Wednesday missed this unique experience.
As the date of the Convention approached, I had debated with myself a lot about whether or not I should attend the event due to my deadline issues with El Reportero – yes, the holy deadline that happens every week, and which usually isolates me from most every social activity.
This time, I thought, it's going to be my first attendance at the publishers' organization and I would be able to meet many publisher colleagues, learn from them how to improve my own publication, and network with professionals in the publishing and marketing business. Previously I had only attended the National Association of Hispanic Journalists (NAHJ). The last time I attended the NAHJ I believe was nearly 20 years ago in Santa Fe, New Mexico.
This year's event of the NAHP – I thought – would be so important for our industry because we don't know how many more conventions of this type we would be able to attend in the future, since we keep losing member publications.
During the last decade or so, newspapers, especially HIspanic publications, have been closing in large numbers due to adverting revenues drying up around the country. Many attribute this to the advent of the Internet.
When the first edition of El Reportero was published in March 1991, there were at least half a dozen weekly and monthly Latino newspapers in the SF Bay Area, while monthly magazines started blossoming in the market. And this included web printing companies that have gone out of business, and I believe only two remain today. Many business oriented immigrants looked at publishing as a good opportunity to make a decent living or even get rich, and the competition for advertising revenues became fierce.
And today, with the exception of one magazine, and a newspaper based in Chicago (with no local offices), El Reportero is the only weekly Hispanic publication in the SF Bay Area which is still publishing.
The first day of the Convention, held at the Westin Hotel in San Jose, was small in attendance, but pretty cozy and warm, and it felt as if I was at a big family reunion. Most of the publishers and the staff and volunteers of the Convention were very interested in helping each other. And when it came time to name for the first José Martí Award winners, it was another boost for everyone, as their names were called to receive awards from Publisher of the Year to Best Article in the various categories.
And the spirit is there, despite the rocky path we all are going through, surviving, and I believe that most of the publications that have survived the Internet tsunami will be there for many more years to come. Our grandchildren should not be born in a community without newspapers and printed books or grow up without the habit of reading.
I find many people and business owners that mistakenly say that newspapers have no place in this new era of Internet. I tell them, "because you don't read, it doesn't mean others don't read." They say that newspapers are obsolete, that people don't read newspapers anymore because they can find everything they need on the Internet.
Let me tell you, it's just not true.
 When you publish something on a newspaper, it is imprinted forever – like in a rock; it cannot be changed or modified. Laws, presidential decrees, etc. are published in newspapers. Historians go back to newspapers to write their history books that we as students used when taking our history classes.
You can't do the same with digital publishing on the Internet. Why? Because anything that is published in digital format can be erased or altered.
Newspapers are the record of our history. So, please – big companies: car dealers, beverage companies, and especially Facebook and Google and other internet companies, invest, donate, and pour advertising money in community newspapers, as we are the testimony of record for our barrios. Mainstream media does not record our history in the neighborhoods.
The awards were presented in several different categories for US Hispanic publications.
Receiving awards in the Business category were Negocios Now (Chicago) and Hola Noticias (North Carolina). In Entertainment, the awardees were El Diario NY (New York), La Oferta (San José) and Hola Noticias.
El Diario NY and El Latino (San Diego), along with Hola Noticias also received mentions in the Food Category.
In Sports, La Opinion, Excelsior (Los Angeles) and La Noticia (North Carolina) were the winners, while for Automobiles it was El Diario NY and El Aviso Magazine (Los Angeles).
El Tiempo Latino (Washington) received a special mention.
The first Jose Marti Awards were presented 30 years ago and have become a reference point for Hispanic media outlets in the United States.
Named for one of the heroes of the Cuban independence movement, the awards "honor those editors, publishers, photographers, designers and marketing professionals who continue to use the power of the written word, and creative design to reach, impact and motivate readers across the USA and beyond."