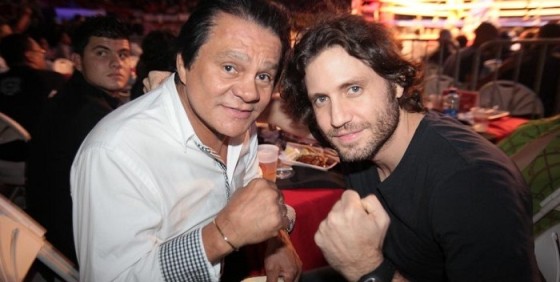 Compiled by the El Reportero's staff
Come see my newest paintings including a series of small ones on paper, 5.5×8.5" to echo the exhibit FourSquared at Arc Studios and Gallery – Studio Soad 101, 1246 Folsom Street, San Francisco.
On Saturday, Aug. 27, 2016 from 7-10 p.m. studio visits by appointment call or text or email to Soad A. Kader 415-606-9875.
Roberto "Manos de Piedra" Durán to the big screen
Latino Boxing Legend Roberto Duran challenges Donald Trump to get inside the ring with him and "see how strong he is."
Defending his country and culture for over 50 years, Roberto "Manos de Piedra" Duran, who is considered a national treasure in Panama, said if he could get one person inside the boxing ring today, it would be Donald Trump. "To see how many Latin people he wants to deport, and see how strong he really is." Duran further explained that his disrespect to the Latino community has become a cultural war and he would proudly do what he could to defend his people.
Duran was promoting the upcoming film HANDS OF STONE which opens later this month, starring Edgar Ramirez as Duran himself, Usher as his infamous rival Sugar Ray Leonard, and Robert De Niro as legendary boxing trainer Ray Arcel.
Dance Brigade Auditions, be a part of history!
Dance Brigade is seeking female and male professional dancers with strong technique in ballet and modern (partnering experience +) for Dance Brigade's 40th Anniversary Celebration at Yerba Buena Center for the Arts on January 13 and 14, 2017. At 3316 24th Street and Mission.
Paid rehearsals and performances. Rehearsals begin Sept. 19, 2016, Mondays 1:30 p.m. – 3:30 p.m. Wednesdays and Fridays 9:30 a.m. – 12 p.m.  At 3316 24th Street and Mission Streets, SF.
Please bring resume and photo. For more info call 415 826-4401 or email dancebrigade1984@gmail.com
Bay Area Discovery Museum Hosts Birthday Bash
Everyone is invited to celebrate the Bay Area Discovery Museum's 25-year legacy at Birthday Bash. Admission to the museum is free on Saturday, Aug. 20 from 5 – 7 p.m. During this time, Miss Kitty will do a "Happy Birthday" sing-a-long, followed by free cupcakes and ice cream.
This two-day birthday festival takes place on Saturday, Aug. 20 from 9 a.m. – 7 p.m., and Sunday, Aug. 21 from 9 a.m. – 5 p.m. On Aug. 20, admission to the museum is free from 5 – 7 p.m.
At Fort Baker, located in Sausalito at the foot of the Golden Gate Bridge. The Bay Area Discovery Museum is located at 557 McReynolds Road, Sausalito, California, 94965.