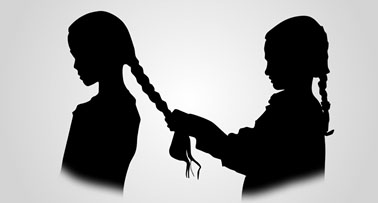 by Ben Fuchs
Hair is dead! By the time the skin appendage has left its hidden home and birthplace in the follicle, and becomes a visible strand of substance, it is nothing more than a hard shell. Because this shell is largely composed only of dead cells filled with protein, the same stuff that makes up human fingernails as well a horse hoofs and rhino horns, trying to enhance hair's appearance and texture with topical products is like putting lipstick on a corpse. But that doesn't mean we can't try!
Throughout history luxurious locks have been honored as a sign of fertility, virility, overall vigor and well-being. Men and women around the world have used a wide range of materials to improve its appearance. From ingredients, like the olive oil infused dead lizards or boiled bulls blood (!) used by ancient Egyptians and Greeks, to the more sophisticated high tech chemicals with difficult to pronounce monikers, like "quaternary ammonium complexes" and "polysiloxanes", all manner of substances synthetic, natural, benign and toxic have been applied to the tresses to encourage growth, shine, thickness and bounce among other desirable characteristics.
Hair is mostly made up of protein. That's why the more popular hair care ingredients found in modern shampoos and conditioners are the chemically modified extracts of protein-rich grain and seeds. These derivatives purport to enter into the surface of the nonliving hair shaft to provide support and protection by filling in gaps and repairing microscopic defects. Most include an amino acid called "cysteine". Cysteine contains a little piece of sulfur, the element that is responsible for hair's resilience and strength. From a quantum chemistry perspective the electronic nature of sulfur makes it very magnetic. It holds on to things and doesn't let them go, like a really powerful heavy duty magnet.
This micro-magnetic grip creates hardness on the macro level. Thus defining cysteine's role in strengthening the hair shaft (as well as bone, joints and cartilage).
There are various ways manufacturers can leverage the power of cysteine for their hair care products. While you'll rarely see the actual amino itself listed on your product's ingredient deck, what you will often find is some kind hydrolyzed protein. Whether it's from wheat, barley, soy or some other plant product, these hydrolyzed proteins, which contain a significant amount of the hair hardening amino acid, can, theoretically at least, be released and delivered into the hair shaft as your shampoo or conditioner is being applied.
The major cysteine containing protein in the hair (and for that matter in nails and skin) is called "keratin" and oftentimes shampoos and conditioners manufacturers will include it as an ingredient in their formulations. L'Oréal, Jason and TRESemme among other companies all have hair products that feature keratin and there's also hair styling products that have keratin in them. If you do a google search for keratin and shampoo, you'll find over 5 million hits and if you just take a walk through the shampoo section at Walmart or your favorite grocery store you'll find dozens of shampoos with names like Keranique and Keralique and Suave with keratin as well as keratin hair oils and keratin conditioners.
Do they work? Probably not. Remember, hair is dead and while keratin is composed of cysteine it isn't going to be able do much to permanently change the quality of hair by simply applying it topically via a shampoo or conditioner. Keratin containing hair products are more about marketing and misinformation than actual keratin effects; at best keratin may soften hair a little bit by acting as a moisturizer. It's possible that keratin may get deposited in the hair shaft allowing for a temporary strengthening effect, although that too is unlikely.
Read more: http://criticalhealthnews.com/health-news/25-ben-fuchs-articles/157-hair-is-dead