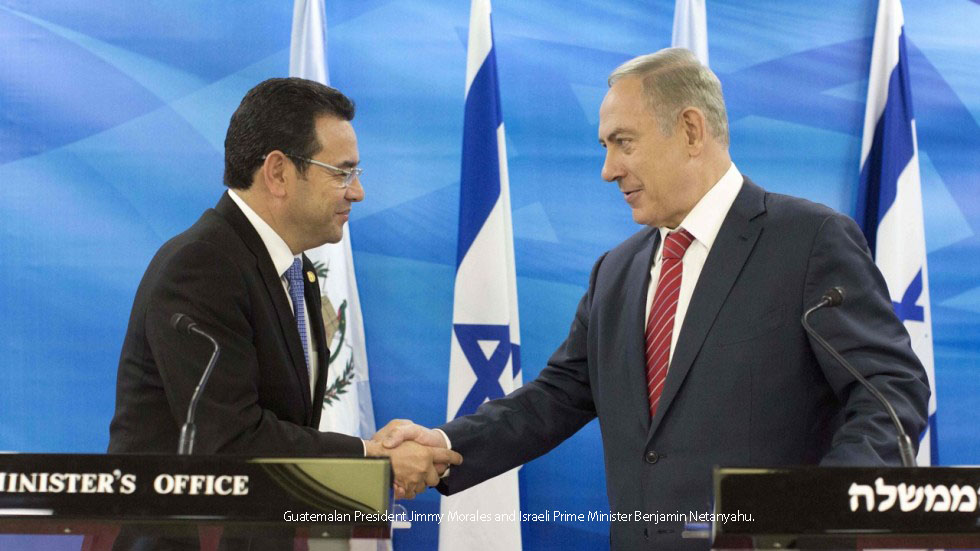 In recent years, Israel has been increasingly turning its attention to Latin America. The shift toward right-wing governments in the region, the latest example being Chile, may facilitate such diplomacy
by Ramona Wadi
GUATEMALA CITY, Guatemala — The unfolding of events since U.S. President Donald Trump announced his unilateral recognition of Jerusalem as Israel's capital, against international law and U.N. resolutions, revealed the historical bond between the settler-colonial state and Guatemala — the latter being the first country after the U.S. to declare its intention to move its embassy to Jerusalem.
Writing on his official Facebook page, Guatemalan President Jimmy Morales stated that the decision was taken in light of the historical ties between Israel and Guatemala, thus making the embassy's relocation "of major relevance." Guatemala was one of the countries with an embassy based in Jerusalem prior to 1980 when the U.N. called for the withdrawal of such embassies after Israel proclaimed ownership of the entire city.
Morales's statement was issued after the U.N. General Assembly's non-binding resolution on Jerusalem in December 2017, which was backed by a majority of 128 to 9. The resolution called upon countries to abide by the previous U.N. Security Council resolutions and reaffirmed that the status of Jerusalem should be resolved through negotiations. It also reiterated that:
Any decisions and actions which purport to have altered the character, status or demographic composition of the Holy City of Jerusalem have no legal effect, are null and void, and must be rescinded in compliance with relevant resolutions of the Security Council."
Honduras and Guatemala, both of which rely upon Israeli sales of military equipment, voted against the resolution. Honduras recently bought $209 million in surveillance and military equipment from Israel.
Guatemalan Foreign Minister Sandra Jovel gave an interview to the Times of Israel in which she stated that her country had planned the move several years back but had been unable to effect it. "Obviously, President Trump's decision helped in a way, because we can do it together, as allied nations," she acknowledged.
Jovel was also reported as stating that Guatemala wanted to be the first country to move its embassy to Jerusalem.
In recent years, Israel has been increasingly turning its attention to Latin America. The shift toward right-wing governments in the region, the latest example being Chile, may facilitate such diplomacy.
Several countries in the region — such as Argentina, Chile, Brazil, Honduras, and Guatemala — have ties with Israel and avail themselves of the opportunity to buy Israeli surveillance technology. Regionally, there is also governmental support for the two-state paradigm rather than overt support for historic Palestine. Governments in the region, therefore, are reluctant to sever ties with Israel, which results in a situation where support for Palestine is in tension with maintaining ties with Israel.
Adel Turjuman — a Palestinian from Jerusalem who has been living in Guatemala since the age of 14 and is a committee member of Confederacion Palestina Latino America y del Caraibe (COPLAC) — thinks that Guatemala's influence in Latin America remains limited, explaining:
COPLAC has reasons to believe that Guatemala will not influence other countries. For instance, Honduras has announced they will not be moving their embassy to Jerusalem, even though they voted against the U.N. resolution. Panama and El Salvador, who abstained, have also said their embassies will remain in Tel Aviv. The majority of countries in the region voted in favor of the U.N. resolutions and countries such as Argentina, Mexico and Colombia abstained."
A look at the comments on Morales's facebook page announcement reveals public sentiment as generally supportive of the government's position, coming from a largely religious perspective.
On January 8, however, Dr. Marco Vinicio Mejía filed a legal complaint against Guatemala's decision to move the embassy. He was an advisor to Morales during his electoral campaign, until 2016 when Morales assumed the presidency. The Constitutional Court's decision on whether to revoke the decision to move the embassy is expected on Monday.
In comments to MintPress News, Vinicio Mejia gave an overview of the religious and political perspectives of Guatemala that led to Morales's decision:
President Morales's decision to move the embassy is political; however, he framed it with religious arguments. Guatemalan society is characterized by religious divisions. The majority is Christian; there are also Catholics and Protestants. Morales supports the construction of the Jews as the 'chosen people.'"
Vinicio Mejia stated that there were public protests by Zionists against his legal action, but he is adamant about his intention:
I am not of Palestinian origin but I believe that the decision taken by President Morales is against peace. I oppose the decision to relocate the embassy to Jerusalem because it violates freedom of religion. On political grounds, the President's decision is wrong because it also violates international law. With his decision, Jimmy Morales has also violated his obligation to maintain Guatemala's dignity."
Morales's electoral campaign slogan was "Ni corrupt, ni ladron" (neither corrupt, nor a thief), which made him a favorite candidate with the Guatemalan electorate despite his lack of political experience. However, Vinicio Mejía explained:
[By September 2017] hundreds of thousands of people protested and demanded his resignation, after he ordered the expulsion of the commissioner against corruption. He remains in power thanks to the support of the military and Protestant sects."
Mejía is of the opinion that with this decision, Guatemala will be "considered as a satellite of the U.S."
Turjuman is of a similar opinion, giving consideration to Morales's decision against the framework of corruption of which his government is accused:
I do believe that the U.S. has influenced this decision and for several reasons. Since the summer of 2017, Jimmy Morales has been under investigation for charges of corruption. Both his brother and son were in prison for the same reasons. His party is now being investigated for illicit financing. I think that he believed that if he supported Trump and the U.S. with this decision, he would be in some way 'protected.'"