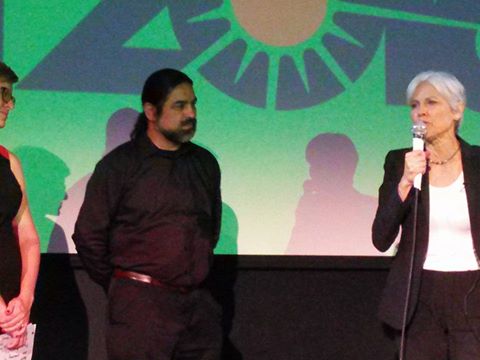 Compiled by El Reportero's staff
The Green Party President candidate Jill Stein came to SF to support candidacy for Francisco Herrera for Supervisor for District 11. The event took take place at The Chapel 777 Valencia, SF, on Oct. 6.
ZOPPÉ – an Italian Family Circus
The Zoppé Circus brings an all new show for its 9th year to Redwood City, called  "Ricominciare" (ree-koh-min-CHAR-ay) meaning recommence, begin again and restart. This fresh new show will host an amazing lineup of performers featuring La Tarumba Equestrians who fuse Circus with Theatre, Music and the Equestrian arts.
Additionally, 5th Generation Circus performer Denisse Santos from Mexico brings an exciting flying trapeze show to the tent, while Ring Master Raoul Gomiero from Italy pulls the audience into the emotions of the show for an exciting new wild ride this year while juggler Liam Halstead wows the audience with his amazing feats.
Oct. 7-23, 2016, Matinee & Evening Showtimes, at the beautiful Red Morton Park in Redwood City. Tickets and info at: http://www.redwoodcity.org/zoppe
East Oakland organization shines spotlight on multigenerational leadership
Communities United for Restorative Youth Justice (CURYJ) is pleased to announce the winners of the first ever Courage Awards. The Courage Awards honors leaders in the community that have made vital contributions towards justice for systems impacted youth and their families. The four awards are named in honor of elders and ancestors who have left behind a legacy of movement building and healing in their field.
2016 Courage Award Winners
Robert Castro to receive the Jimmy Simmons & Chuy Ortiz Spiritual Warrior Award in recognition of his commitment to healing individuals and communities who have experienced the most harm and offering spiritual leadership as guidance in movement building.
Dignidad Rebelde to receive the Piri Thomas & Suzie Dod Thomas Cultural Activist Award in recognition of their commitment to using their art towards cultural activism and movement building.
Mireya Smith-Mojica and Juan "Oso" Cervantes to receive the Betita Martinez Young Warrior Rising Award in recognition of their personal accomplishments and their leadership and determination to inspire their peers and surrounding community to fight for the rights of young people.
 
Arthur "Tha" League to receive the Ronald Elder Freeman Freedom Award in recognition of his life-long commitment to movement building in the Black Liberation struggle and the empowerment of formerly incarcerated people.
The Courage Awards will be held on Oct. 13, 2016 at 5:30 p.m. in the Snow Building, at the Oakland Zoo. Tickets are available online or by calling Tamaya Garcia at (510) 842-9365 x709.