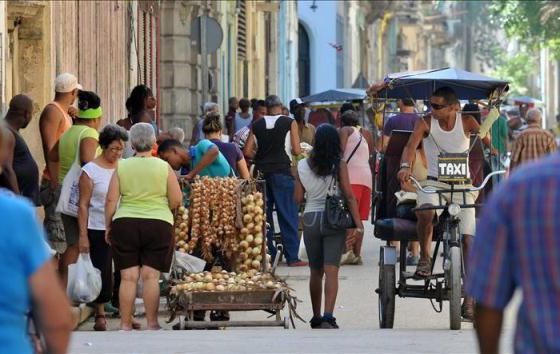 by Louis Nevaer
New America Media
HAVANA – Cubana Airlines flight 154 departs Havana at 12:50 a.m., arriving in Cancun, Mexico less than an hour later. It is one of a handful of flights that, every day, are used by agents of the Cuban government and self-styled "entrepreneurs" to smuggle consumer products onto the island that, due to the U.S. embargo and travel restrictions on most Cubans, would not otherwise be available.
Flight 154 is seldom on time, often departing more than an hour late. It makes no difference to Juan, a thirty-something Cuban who makes this flight multiple times each month.
"Anything they sell at Wal-Mart, Costco, or Comercial Mexicana I can get for anyone in Havana," he says.
What it takes to become a Cuban entrepreneur whose career it is to circumvent the U.S. economic embargo are three things: A visa from the Cuban government allowing you to travel to Mexico, knowing how bribes work at Havana's international airport for unfettered entry of consumer goods, and enough capital to cover the initial upfront money to travel to Mexico for a shopping spree.
If during the Cold War the United States operated an airlift to keep Berlin from collapsing, the commercial flights between Havana and Cancun offer a way of releasing pressure in Havana by establishing a mechanism that allows for the flow of consumer goods into Cuba, in turn allowing Cubans with dollars or euros to achieve a higher level of material comfort than would otherwise be possible.
When Flight 154 arrives in Cancun, the airport is almost deserted. Almost all the flights to Europe have departed. The first flights from the U.S., Canada and Mexico City have yet to arrive. Juan finds this pre-dawn arrival inconvenient; it will be hours before Wal-Mart, Sam's Club, Costco, Comercial Mexicana or Home Depot open their doors.
On occasion, he is met by Mexican friends or business associates who he emails when there is a request too difficult to find in just a few hours. He will often hang out for an hour or so with the Cubana Airlines crew, trading tips on where to get the best deal on this or that. Juan prefers the Wal-Mart on Avenida Coba, since they have a better selection of electronics and domestics. Although for cosmetics, sundries and foodstuff, he says the Mega Comercial Mexicana at the intersection of Tulum and Uxmal Avenues can't be beaten.
"I wouldn't be surprised if half the women in Havana weren't shampooing their hair with something from the Mega," he says.
Juan says that, when he is well organized, he can shop for everything on his list in a few hours. As a regular client at these stores, salespeople know him; they will set merchandise aside for him, and even pack it for cargo transport.
The prices he charges for the products back in Cuba reflect what he calls the "embargo tax," which is to say, he triples the price. A stainless steel Hamilton Beach 4-Slice Toaster Oven, that sells for just over $30 USD in Cancun, he sells for $100 USD in Havana. A Suave Professionals Shampoo + Conditioner that sells for $3 USD at Mega Comercial, he will sell for $10 USD in Havana.
"I have to pay between $100 and $200 USD in bribes at the airport in Havana, depending on how much I'm bringing in," Juan explains. "Plus the cost of the ticket—and this is how I make a living."
The news that the U.S. and Cuba were to resume diplomatic relations didn't bother him.
"It will be years before it affects me," he said with confidence. "The truth is that Wal-Mart could open a store in Havana tomorrow and it wouldn't make a difference. Why? Because the problem in Cuba is not that there isn't Coca-Cola, microwave ovens, or shampoo, he explains.
"The problem is that the Cuban people don't have money to buy things," he says. "I sell three microwave ovens and 10 toaster ovens a month—but that's because that's how few Cubans have the money to buy these things."
"The only customers I have are government officials—all of whom are corrupt so they have dollars—or Cubans who have access to dollars. And you can get dollars only one of two ways: you have family in Miami that sends you dollars or you work in the tourist industry where tourists give you dollars or euros as tips. That's it, that's the entire consumer economy."
"If the embargo ended tomorrow and Wal-Mart opened… it would be as empty as the Centro Comerical Palco or Galerias Paseo" he says, a reference to two shopping areas located in the heart of Havana, both of which remain largely empty of local customers. "Unless the embargo is going to mean that everyone in Cuba gets a paycheck in American dollars, I'm not going out of business anytime soon."
After a busy morning of shopping in Cancun, he is ready to head back to the airport. If he's lucky, there won't be a problem checking in all his luggage and cargo for the afternoon flight to Havana.
Juan prefers to arrive back in Havana before sunset. That allows him to clear customs—by which he means paying off his regular officials—and head home by evening. When Cubans have money to buy the products, they want instant gratification.
"I'm going to be up until 2 or 3 in the morning," he explains. "I have to stay up for people to pick up what they ordered."
As he's going over his list—as if he were a Cuban version of Santa Claus, he ticks of which items are packed where: toaster ovens; sundries and shampoos; two infant car seats; three Xbox 360 video game consoles, four pairs of Asics Gel-Kahana men's running shoes, in different sizes; plus three suitcases of children's, women's and men's clothing.
If there are no problems, after costs, he hopes to pocket $250 USD in profits. This is a princely sum, especially in a country where the average worker makes about $25 USD a month.
"Some of my customers have to save for months to buy brand-name shampoo, or a pair of sneakers for their kids," Juan explains.
With that, the airline ticket agent hands him his boarding pass—and receipts for the luggage he checked in. A moment later, he smiles as he walks to the security checkpoint. Less than an hour after leaving Cancun, he will be back in Havana, where customers will be anxious to get their hands on everything he spent the entire morning securing.