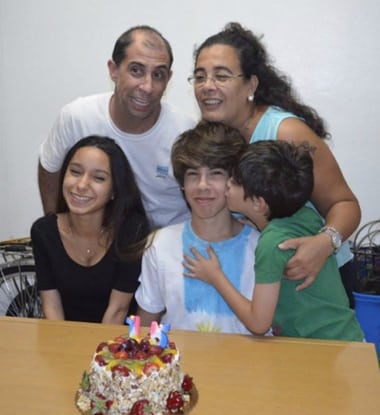 Suit against Miami-Dade County claims Honduran-born Garland Creedle was illegally detained, as activists hope to restore Miami's 'sanctuary city' status
by Richard Luscombe
In itself, Garland Creedle's short stay at Miami's Turner Guilford Knight correctional centre ought to have been unremarkable. Arrested after an alleged domestic dispute at his family's home one evening in March, the 18-year-old posted bond, and charges were never filed.
The Honduran-born teenager, however, now finds himself at the centre of a legal fight that immigration activists hope could ultimately restore Miami's status as a so-called sanctuary city – and end county mayor Carlos Gimenez's controversial cooperation with Donald Trump's aggressive anti-immigrant agenda.
A lawsuit filed against Gimenez and Miami-Dade County by a coalition of advocacy groups, including the University of Miami school of law's immigration clinic and the American Civil Liberties Union of Florida, claims county jail officials acted illegally by detaining Creedle for two days at the request of US Customs and Immigration Enforcement (Ice) as a "removable alien" even after his bond payment had posted.
According to the lawsuit, not only is Creedle a US citizen, making him ineligible for deportation, but Miami-Dade's actions in holding anyone on an immigration detainer without a valid arrest warrant contravenes both the US constitution and Florida law.
"That a US citizen was held illustrates the problematic nature of these detainers, and one of our claims is there's an insufficient probable cause finding on the detainer," said Rebecca Sharpless, Creedle's attorney and director of the immigration clinic at UM law school.
"We warned the county; we wrote to the mayor and commissioners before they decided to go forward, stating it was unlawful and that it was bad policy because it mixes immigration policy with our criminal justice system. They failed to heed our warning."
The lawsuit, Sharpless says, is the culmination of six months of frustration and fear among south Florida's sizeable immigrant community.
Gimenez caused outraged in January when he overturned years of county policy and ordered jails to approve all immigration detainer requests instead of only those for people facing serious charges. It followed an executive order from Trump cutting federal funds from cities and counties who offered safe haven to the estimated 11 million undocumented immigrants in the US.
The mayor, who did not respond to a request for comment this week, justified the move at the time by pointing to $355m in government money Miami-Dade received for public housing, transportation and police programs.
Yet despite a federal judge blocking Trump's order in April; a subsequent clarification from the US attorney general, Jeff Sessions, that only certain law enforcement funds would be withheld; and community protests, Gimenez and the Miami-Dade commission have persevered with the policy.
One consequence, opponents say, has been an upswing in the number of episodes in which law enforcement officers have taken into custody immigrants suspected of even the most minor offences, then passed them on to Ice.
"One of the big promises Gimenez kept saying was police officers would not function as immigration agents, but he either chooses to ignore it's happening or doesn't know," said Thomas Kennedy, deputy political director of the immigration advocacy group FLIC Votes.
"The tension is inextricably linked with police enforcement. Say you're an undocumented immigrant driving to work and run a stop sign, or you're involved in a minor accident and the police decide to take you in. Your due process gets violated and you'll be held for the immigration agency.
"It's a fear immigrants have always had, even in the Obama years, but Obama wasn't targeting the average, working-class immigrant. Driving every day, interacting with police officers, it's always a nerve-wracking experience. This policy can bring such a heavy penalty and rip families apart."
Between Gimenez signing the order in January and mid-June, Miami-Dade turned over 124 detainees to Ice custody, figures show. Among them is Raul Quiroga, a father of two from Argentina who has lived undocumented in the US for 15 years and was driving to his job as a construction worker in Miami in May when he bumped another vehicle with his truck.
He was arrested by state troopers, passed on to Ice and has been held at an immigration facility 40 miles from his family's home pending deportation.
"My children are not well, they are very sad because they cannot see their dad and they do not understand why this is happening," said Laura Quiroga, whose younger son, Thiago, nine, is a US citizen.
"Raul is the only support for the family, and we are being evicted from our apartment. I hope we can stay in the US but I'm very afraid he'll be deported at any time."
Members of several activist groups staged a protest at the privately run Broward detention centre in Pompano Beach on Saturday, accusing Ice agents of "kidnapping" detained immigrants for profit and denying them basic human rights and dignity.
"A deportation monster is being created by asking Congress [for] millions of dollars to increase detentions and deportations," said Maria Asuncion Bilbao of United We Dream. "At times like these all we have is each other, and we have no choice but to organize and fight together." the Guardian.