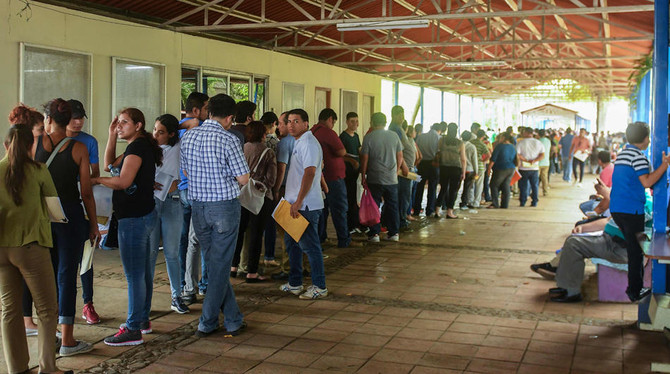 by the El Reportero's wire services
The border between Nicaragua and Costa Rica is beginning to feel the pressure of the protests against the Daniel Ortega regime, with 100 to 150 Nicaraguans arriving each day through the Peñas Blancas crossing, according to the Costa Rican foreign ministry.
William Spindler, spokesman for the U.N. High Commissioner for Refugees, said the number of Nicaraguans applying for asylum in Costa Rica has "increased exponentially." At least 8,000 applications have been received since April, when the protests started, and another 15,000 are pending.
About 200 asylum requests are received each day, Spindler added. His agency has promised immigration officials assistance to increase their capacity to process at least 500 applications per day.
The peace talks between the Ortega government and the opposition, mediated by the Catholic Church, have stalled, sharpening a political crisis that has left more than 300 dead, thousands wounded and many displaced people in the Central American country.
Costa Rican Foreign Minister Epsy Campbell said recently that there had been "a significant increase" in Nicaraguan immigrant arrivals, but added that the exodus is not yet a crisis. Source: (El Nuevo Herald).
Venezuela's Maduro admits socialist model has failed
Venezuela's President Nicolas Maduro admitted that his socialist economic model has "failed" amid food and medicine shortages as well as a failing infrastructure highlighted by Tuesday's power failure to 80 percent of Caracas.
Compounding matters is the IMF's Weimar-topping hyperinflation forecast of 1,000,000 percent by year end, and a GDP set to plummet 18 percent this year, as the government continues to simply print money to in hopes of filling the void of what was once the country's economy.
"The production models we've tried so far have failed and the responsibility is ours, mine and yours," Maduro told his ruling PSUV party congress. "Enough with the whining… we need to produce with or without (outside) aggression, with or without blockades, we need to make Venezuela an economic power."
"No more whining, I want solutions comrades!"
No word on whether he took a bite of an empanada during his speech while his country starves on the "Maduro diet" – a phrase coined after Venezuela's notorious food shortages gave rise to mass starvation across the country. Not even the donkeys are safe.
Venezuela's socialist government has nationalized a wide swath of industries across the country over the past several years, such as steel and cement plants, food processing, distribution and more. In order to try and control inflation, the country has fixed prices on various goods while imposing tight regulations surrounding foreign exchange.
"I estimate it will take about two years to reach a high level of stability and see the first symptoms of new and economic prosperity, without for one second affecting social security and protection," added the president.
Maduro plans to increase oil production to "six million barrels a day by 2025 or before," amid a crash in output from a high of 3.2 million barrels a day in 2008 to just 1.5 million this year, a 30-year low. Venezuela's crude oil sales comprise approximately 96 percent of the country's revenue.
The economic crisis has hit so hard that the public transport system has almost ground to a halt, with the government and local councils offering free rides in unsafe and uncomfortable pick-up trucks — branded "kennels" by users — after many bus service providers couldn't afford to keep their vehicles on the road.
Maduro, who blames Venezuela's woes on an "economic war" waged by the United States, called on PSUV supporters to help kick-start production and resist US "aggression."
Washington, meanwhile, has imposed financial sanctions against Maduro's government, along with state-owned oil company PDVSA.
Meanwhile, Venezuela's industrial sector is operating at just 30 percent capacity, as illustrated by the farming sector, which now provides just a quarter of national consumption, after providing 75 percent just a few years ago according to the National Farmers Federation.
This should all make for some interesting debate questions during the next US elections, as Democratic Socialists have become the "new face" of the left. Just don't ask any questions about economics or logistics…
López Obrador seeks commercial agreements
Mexican president-elect Andres Manuel López Obrador today met Chinese Ambassador to Mexico Qiu Xiaoq to seek formulas to reduce the commercial deficit between Mexico and China Thursday.
This is the first Chinese ambassador who meets the Mexican president-elect, who is still waiting for the official notification from the Mexican Federation's Judicial Power Electoral Court.
Before this, López Obrador separately received the Foreign Ministers from the U.S. and Canada. Both foreign officials took the topic of bilateral relations in their respective agendas, especially the future of the renegotiation of the North American Free Trade Agreement (NAFTA).
The future Mexican foreign minister, Marcelo Ebrart, told the press that the meeting with the Chinese Ambassador dealt with the trade balance between the two nations.
'Our country behaves like an importer of multiple electronic equipment and only exports automotive material,' said Ebrard noting that the exchange is eight to one, unfavorable for Mexico.