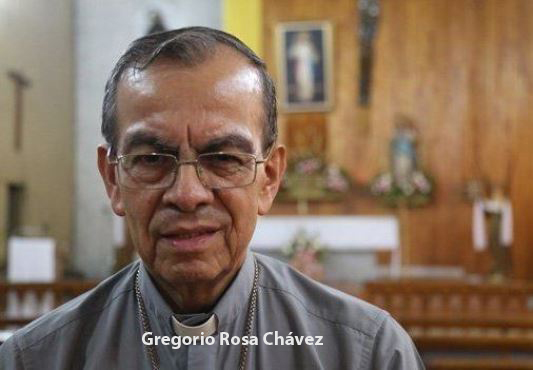 by the El Reportero's wire services
When Monsignor Gregorio Rosa Chávez was told that Pope Francisco would name him Cardinal, above Archbishop Jose Luis Escobar himself, he thought it was too early to be joking.
However, the early phone call that brought him the good news from Spain was not only serious but historical: the auxiliary bishop of the Diocese of San Salvador would be the first Salvadoran cleric to wear the red cardinal's robe.
Monsignor came to suspect that he had not yet awakened and that everything was just an overwhelming dream – or a disconcerting nightmare – although practically all Salvadorans, except for him, considered him deserving of such an endowment.
In fact, Rosa Chávez came to the crypt of whom many revere as Saint Romero of America, to dedicate the appointment to him, who had been the first Salvadoran cardinal if the oligarchy had not killed him for his social preaching.
Next June 28, he will travel to the Vatican to be promoted along with four other archbishops and vicars of different nationalities, but then return to continue with his work among his own in San Salvador.
Mexico journalist kidnapped amid rising reporter murders
Salvador Adame Pardo, a journalist and owner of Mexico's Channel 4TV, was kidnapped in Mugica three days after the murder of reporter Javier Valdez. According to local media, Pardo had received death threats via cell phone calls.
Interviewed by La Jornada, relatives of Adame Pardo said that the journalist was intercepted by occupants of a new model black van. He was then held in a water purifying plant located on Avenida Lazaro Cardenas before being taken to Nuevo Corondiro village, according to witnesses.
Fifteen hours after Adame Pardo's kidnapping was made public, neither the federal government nor the Michoacan state government made an official statement regarding the case. Michoacan Governor Silvano Aureoles was one of many top officials who decided to skip a federal government meeting concerning Adame Pardo's disappearance.
Local media outlets reported that relatives of Adame Pardo requested that the authorities locate his whereabouts. They also filed a complaint with the Public Prosecutor's Office, claiming that Adame Pardo had received anonymous death threats and had not received adequate protection.
Some family members stated that Michoacan's Anti-Kidnapping Prosecutor's Office had requested that they wait up to 62 hours before filing a missing person complaint.
According to Debate, Adame Pardo was known to have frequently criticized Salvador Ruíz Ruíz, the mayor of Mugica.
In April 2016, the journalist had denounced on social media that elements within Michoacan's Secretary of Public Security had violently evicted and detained a group of peaceful female protesters who had occupied the town hall. The women, victims of violence perpetrated by organized crime, were demanding public assistance and guarantees of a safer city.
In response, city officials beat several women who were detained, including Adame Pardo's wife, Frida Urtiz.
"The Special Operations Group have beaten my wife and 11 other women. It's very unfortunate to see how they beat these defenseless women, I have no words to describe it," he wrote on his Facebook page.
For years Mexico has been ranked among the most dangerous countries to work as a journalist. According to a recent report by Article 19, a press freedom organization, 2016 was the most deadly year for the press in Mexico in the past decade with 11 journalists murdered and more than 400 attacks on media workers.