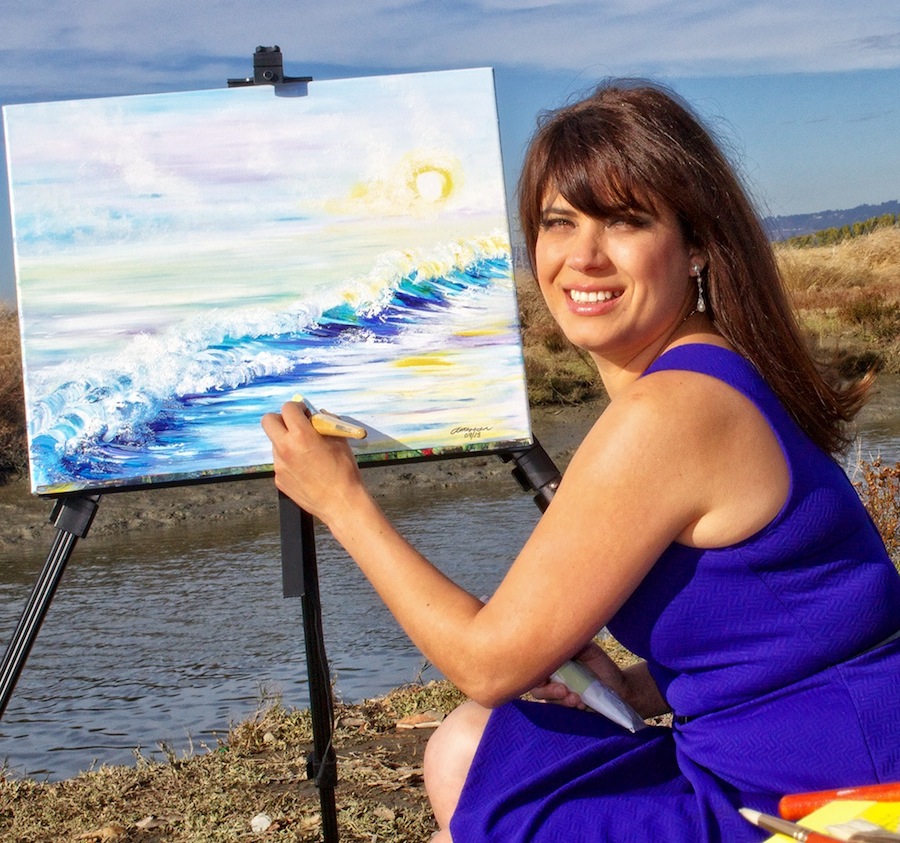 Compiled by the El Reportero's staff
Want to be a witness of a quality, high definition art exhibition? Then do not miss this incredible event of fine art in the City.
America Jiménez a countryside Mexico-born, Bay Area artist, has been preparing day and night for several months specifically for this presentation. Nearly 40 paintings of her own will be exhibited with grand splendor.
She describes her work as eclectic, using oil, acrylic, watercolor, charcoal, pastels and mixed media.
A graduate from UC Berkeley with a BA in Arts with emphasis in mixed media (oils, watercolors, acrylics, sculpture, photography) as well as creative writing and ceramics, America decided to leave the corporate world in 2012, to pursue her passion as an artist and become an advocate for Culture and Education.
She launched and is CEO of Global America which promotes a "Cultural Renaissance".Recently merging Global America with CandleLight to create a Gallery and Studio that will allow for a stronger growth and impact in the arts.
At Payne Mansion Hotel, 1409 Sutter St, at Franklin Street, San Francisco, on Thursday, May 21, 2015 from 6 p.m. to 9 p.m.
Carnaval SF 2015 to Sizzle with participation by Grand Marshal Sheila E.
The Mission district will sizzle with the sights and sounds of samba, salsa, soca, cumbia and the participation of parade grand marshal, Bay Area native and musical icon Sheila E., when the 37th Annual Carnaval San Francisco makes its way through the neighborhood, showcasing the very best of Latin American and Caribbean cultures.
Carnaval San Francisco offers a dazzling array of food, music, dance and artistry from Bolivia, Brazil, Cuba, El Salvador, Jamaica, Mexico, New Orleans, Puerto Rico, Trinidad and more. Works created by the talented community of Mission District residents and Bay Area artists are also showcased.
Event organizers chose this year's theme, "Agua Sacrada! Cada Gota Cuenta! – Sacred Water! Every Drop Counts" to celebrate water as precious and sacred.
Poet Jorge Argueta will perform a poem at the festival written in direct co-relation with the theme.
The Carnaval San Francisco Festival will be held Saturday and Sunday, May 23 and 24 from 10 a.m. – 6 p.m. Located on Harrison Street between 16th and 24th Streets, the Festival will feature a rich assortment of food, music, dance, arts, crafts and other fun activities and entertainment on several stages for people of all ages to enjoy. A special live tribute performance for Bay Area native and musical icon Pete Escovedo will take place Saturday, May 23 at 4:30 p.m. at the Harrison and 22nd streets stage in honor of his 60 years in the music business and his 80th birthday. The complete list of festival participates can be found at http://www.carnavalsanfrancisco.org/festival.
Eliana López debuts Original Bilingual Monologue, ¿Cual es el Escándalo?
Eliana López in her bilingual monologue ¿Cual es el Escándalo? for a three-weekend-long series.
Award-winning film, theater, and television actress, Eliana López, presents an original piece created by her and her brother Alfonso López and produced by Ivette Carolina Agudelo, celebrating Latina women's values through a comedic one-woman show. Through her various characterizations, López covers themes such as immigration, discrimination, and racism, demonstrating the power of one woman daring enough to speak her truth.
Eliana López born in Caracas, Venezuela, made her debut at 16 as the main actress in the prestigious National Theatre Company of Venezuela. She has since worked in Mexico and Venezuela, and her most recent work includes Spanish theatrical performances of The Vagina Monologues.
General admission for this event costs $18 Advance until May 3, and $20 after May 4. Admission to week one and week two performances are guaranteed, and admission to week three performances will be by popular demand only.
At the Mission Cultural Center for Latino Arts (MCCLA), beginning Friday, May 29 from 8-9:15 p.m. through Sunday June 14 from 6–7:15 p.m.