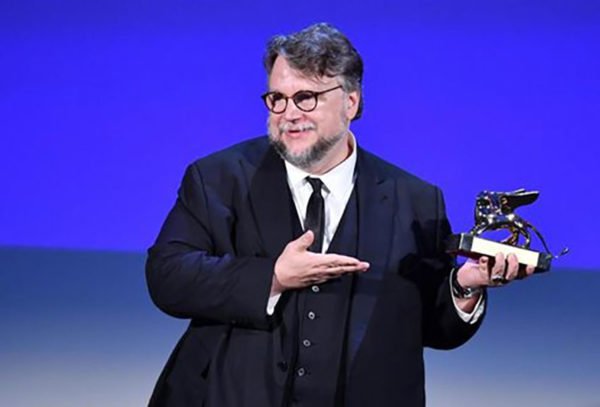 The Shape of Water named best film at Venice International Film Festival
by the El Reportero's news services
A Mexican filmmaker — one of this country's Three Amigos of Cinema —won the Golden Lion award on Sept. 14, at the Venice International Film Festival.
Guillermo del Toro won the best-film award for The Shape of Water, a tale about the Cold War and set in the 1960s that was universally well received in Venice by film critics.
It is described as an anti-Hollywood love story in which a mute cleaning woman (Sally Hawkins) falls in love with a sea monster being held captive by the United States government.
Films by del Toro's fellow Amigos, Alejandro Iñárritu and Alfonso Cuarón, have also won awards in Venice before going on to win at the Academy Awards, a path that del Toro may well follow, according to a report by Hollywood Reporter, which announced today that "the Three Amigos have conquered Venice."
Del Toro, 52, is described as a prolific producer. The Guadalajara native's work is characterized by connections to fairy tales and horror and a lifelong fascination with monsters, for which he has earned a long list of awards.
Among the films del Toro has directed are The Devil's Backbone, Blade II, Hellboy, Pan's Labyrinth, Pacific Rim and Crimson Peak.
Source: Hollywood Reporter (eng)
.
SFMTA and San Francisco Beautiful announce winners for Muni Art 2018
Final five have until Nov. 6th to submit work themed "The Art of Poetry in San Francisco"
The San Francisco Municipal Transportation Agency (SFMTA) and San Francisco Beautiful (SFB) today announced the five winners of the 2018 Muni Art Project. This year's theme is "The Art of Poetry in San Francisco".
The five winning artists will have their newly created work presented along with five poems selected by the Poetry Society of America, all by local poets, displayed on 100 Muni buses that will be transformed into rolling art galleries throughout San Francisco beginning in January 2018.
Ten artists were chosen to compete for the final five slots by a jury comprised of individuals of the arts community and decisions were based upon quality of concept, expression of theme, diversity and the likelihood of the artist to be able to deliver the completed work by the Nov. 6 deadline.
The10 finalists were then voted on by the public via a link from the San Francisco Beautiful web site to Neighborland.com that tabulated the winning votes and the five fortunate winners.
The 2018 Muni artists are: Donavon Brutus, Mara Hernández, Tsungwei Moo, Randi Pace, Janet Rumsey.
The theme this year, "The art of poetry in San Francisco" is a collaboration with The Poetry Society of America (sponsors of Poetry in Motion ®) who pre-selected five poems that each Muni artist will creatively interpret. The five poets and poems are:
Juan Felipe Herrera, Thich Nhat Hanh I Step With You; Diane di Prima, To a Student; Kay Ryan, Relief; Brynn Saito, Traffic; Charif Shanahan, Love Poem Three Autumns Later."
EstrellaTV premieres new season of Noches Con Platanito
The Spanish language broadcasting network EstrellaTV, announced its premier on Sept. 5, of the newest season of its late night talk show Noches Con Platanito, which is the only Spanish-language late night talk show format hosted by Mexican comedian Sergio Verduzco.
The new season of Noches Con Platanito premiered Sept. 5, 2017 on EstrellaTV Monday through Friday, 9 p.m./8 p.m.