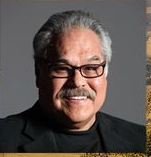 Compiled by the El Reportero's staff
The Peninsula Open Space Trust presents "Land and People: A Conversation with Dolores Huerta & Luis Valdez." In this special talk, Huerta and Valdez will reflect on their long history in the Santa Clara Valley, their work in the struggles for social and environmental justice, and perspectives on relationships between history, land, and people in California. The conversation will be moderated by José González, Founder of Latino Outdoors. Go here for more information and to register. Next Tuesday, January 26 at 7 p.m.
WhaleFest Monterey: If you've been missing our California coastline and its wonderful creatures, enjoy a virtual visit via the Monterey WhaleFest. Starting next Tuesday, Jan. 26, this four-day event will feature videos, talks, and cutting-edge presentations for curious minds of all ages. Be inspired by world-renowned scientists, hear from local marine and sustainability-oriented non-profits, and enjoy an eclectic array of original music performances. Go here for more!
Small Business Relief Webinar: This free webinar will discuss the latest COVID-19 relief package with updates to the Paycheck Protection Program (PPP), Economic Injury Disaster Loan (EIDL) program, and more. Register here to join on Tuesday, Jan. 26 at 9 a.m.
Rally and car caravan to DEMAND MASS RELEASES from California prisons
As of 1/18/21, Newsom and CDCR are responsible for murdering 175 incarcerated people since the beginning of the pandemic.
Join us in holding Newsom accountable and DEMAND MASS RELEASES NOW!
Mass incarceration in California created the ideal conditions for a predictable and preventable mass outbreak of COVID-19 in state prisons. Currently, every California State Prison is responding to a wave of active cases of COVID-19. Recent major surges occurred at Ironwood State Prison, California Men's Colony, Central California Women's Facility, and CTF Soledad.
California has reduced its prison population since the beginning of the pandemic, but not nearly enough. Nine prisons remain at over 120 percent of capacity and 7,000 people in county jails await transfers.
We gather on Jan. 31 to demand No State Execution by COVID-19! The only humane response is to decarcerate and remedy California's legacy of mass incarceration. Governor Newsom must grant mass releases now to stop the rising death toll.
For more event information: https://bit.ly/2XUANvq