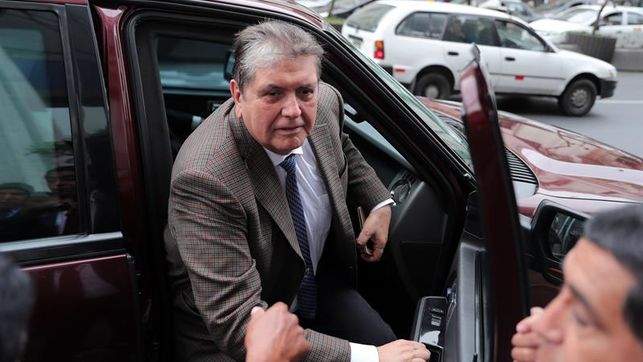 by the El Reportero's wire services
Peruvian President Alan García died Wednesday after shooting himself in the head when he was about to be arrested on corruption charges.
Garcia, 69, underwent emergency surgery at the José Casimiro Ullóa Hospital in Lima, officials from the Health Ministry reported. A doctor who was interviewed at the hospital said that the ex-president had suffered three cardiorespiratory arrests.
Garcia's personal secretary, Ricardo Pineda, told a Peruvian radio station that when the authorities arrived at the residence of the former president with an arrest warrant, he locked himself in his room and shot himself. Subsequently, he was taken to the hospital.
The charges against the exmandatario are related to Odebrecht, a Brazilian construction giant that last year agreed to have made payments of 800 million dollars in exchange for lucrative contracts for infrastructure projects. That revelation sparked a series of investigations by prosecutors and lawmakers, mainly in Latin America, as they sought to discover who had received the payments.
The investigations have targeted several former presidents of Peru.
Last week, Peruvian prosecutors ordered the arrest of Pedro Pablo Kuczynski, predecessor of the country's current president (Martín Vizcarra), as part of an investigation related to the case. He has been asked to be detained for up to three years while evidence is gathered.
The United States has requested the extradition of Alejandro Toledo, who was president at the beginning of the decade of the two thousand; Ollanta Humala, García's successor, was also arrested and subsequently released.
Alan García was president of Peru from 1985 to 1990 and after 2006 to 2011; in his first term he governed during an economic collapse, and an expansion in his second presidential term.
It was precisely his second presidency that became the target of the investigation for Peruvian prosecutors, who began to examine whether campaign contributions from García's Popular Revolutionary Alliance (APRA) party were linked to the Odebrecht scandal. (Source: The York Times).
Over 2,000 deportees to arrive in Honduras this week
TEGUCIPALGA- Honduras – More than 2,000 emigrants will return to Honduras deported from the United States, Mexico and Guatemala this week, said Tuesday the Head of the General Directorate of Protection of Honduran Migrants, Liza Medrano.
There were 936 arrivals on Monday, including complete family groups and unaccompanied minors, according to Medrano, quoted by the daily Primicia Honduras.
Eight flights are expected this week: six from the United States and two from Mexico, although they will also enter the country by land, she added.
A total of 22,160 Hondurans had been returned this year up to April 5, and the number has been increasing.
All returnees receive comprehensive care upon arrival and are provided with transportation facilities so that they can return to their places of origin, she added.
Hundreds of Hondurans, every day flee the country because of poverty, poor access to basic services, violence and insecurity.
Mass departures, from October to date have raised the world's attention to this migration problem which is not new to the country, nor its causes.
Medrano urged Hondurans not to risk their lives on the migratory route, where they are exposed to fraud, drug cartels, extortion, human trafficking and smuggling, kidnapping, mutilation, injury, rape and even death. He also asked not to expose minors to these risks.
Despite the growing emigration, the deportations of many Hondurans looking for better living conditions are also striking.
Pemex Plans to Dig this Year 20 New Oil Wells
Mexico's hydrocarbons corporation Pemex is planning to increase production this year by digging 20 new wells, the company has reported.
According to the report, particularly issued for investors, during the past three years of the previous administration no new field was developed, but with the new authorities things are different.
The Government of President Andres Manuel Lopez Obrador is working to boost the oil industry, not only by allocating 5 billion dollars announced in February, but also with a new assistance of a similar amount the Secretary of Finance and Public Credit Carlos Urzua Macias made public.
As part of the goal to rescue Pemex and expand its production, the authorities are pushing forward the plan to dig 20 wells, 16 of them in coastal waters, the rest on land.
The report for investors indicate that during the past three years of Pena Nieto administration no field was developed, though in the first half of his mandate Pemex worked in five in 2013, on two the following year and only one in 2015.