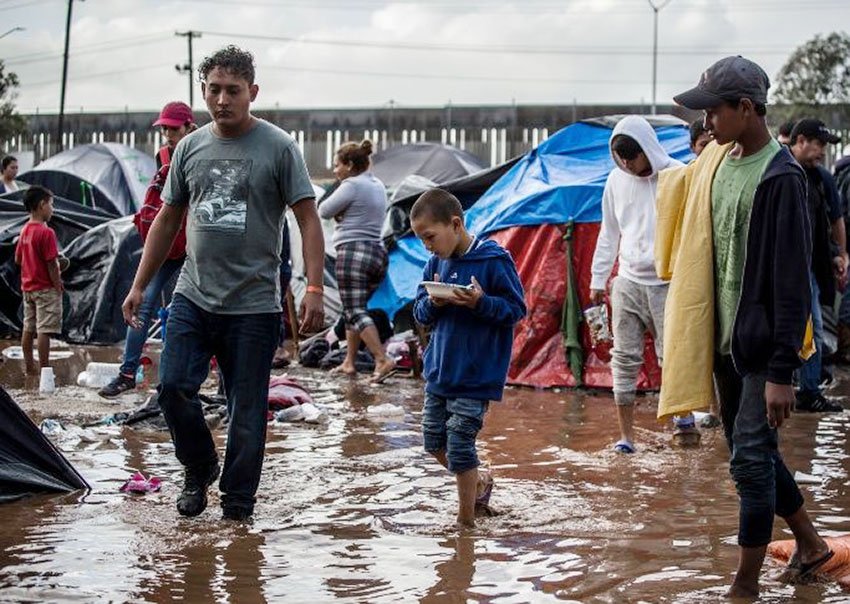 No one knows where they are, most of those who remain have moved to a new, dryer shelter
by the El Reportero's wire services
The whereabouts of around 3,000 Central American migrants is unknown after fewer than half of those in a Tijuana shelter were transferred to a new location.
More than 6,200 mainly Honduran migrants have arrived in the northern border city since mid-November and most had been staying in a sports complex that was converted into a temporary shelter.
However, government authorities announced last week that the migrants would be transferred from the Benito Juárez sports complex, whose grounds had become a quagmire after heavy rain, to a 9,000-square-meter-piece of land known as El Barretal, which is located in Tijuana's eastern outskirts. "…the rest, around 3,000 [migrants], nobody knows where they are," he said.
Senators Nominate Erika Contreras as Secretary of the Senate
SACRAMENTO – Senate President pro Tempore Toni Atkins (D-San Diego) and Senator Bob Hertzberg (D-Van Nuys) have introduced Senate Resolution 2, nominating Erika Contreras to serve as the next California Secretary of the Senate. The procedural measure, adopted at the beginning of each legislative session, nominates each of the three elected officers of the Senate: the Senate President pro Tempore, the Secretary of the Senate, and the Senate Sergeant-at-Arms.
"Erika is deeply familiar with the inner workings of the Senate and has a profound appreciation for our traditions," Atkins said. "I'm confident she has the skills and temperament to guide this chamber into the future."
Contreras was born in Aguascalientes, Mexico, and raised in the San Fernando Valley. Her family was granted legal residency following the Immigration Reform and Control Act of 1986, and she later earned her citizenship in 1998. She is a graduate of the University of California, Santa Barbara, with degrees in Sociology and Spanish. She lives in Sacramento with her partner, Hector Betancourt, and their two children.
Mexico to drill new wells in Campeche to stop decreased extraction
The Mexican Government ordered the drilling of new wells in Campeche with the hope of stopping the fall in extraction that has turned the country from a net exporter to a partial importer of hydrocarbons.
The announcement was made by President Andres Manuel Lopez Obrador, who said that he will travel to that state in the Gulf to attend the beginning of the drilling of a battery of wells that should contribute to producing more crude oil.
The president is convinced that it is possible to reverse the crisis so it is necessary to extract more oil with new drilling and reactivate those wells that are declining, but without applying harmful techniques to the environment such as fracking, a practice denounced by environmentalists and scientists.
López Obrador reiterated that in his administration in the next few years, he will not bid for hydrocarbon exploitation contracts, until they show results, because with the energy reform only 2 percent of Petroleos Mexicanos (PEMEX)'s public investment have come from abroad and it has not produced 'a barrel of oil.'
He added, 'We cannot be granting territories for the extraction of hydrocarbons if there is no investment and, most importantly, if there is no production.'
However, he clarified that all 110 contracts awarded in the oil rounds will not be canceled so that there is no distrust.
He made it clear that those who received those contracts must show that they are going to invest and produce oil. Based on the results we have, we will make the corresponding decision. Our commitment is to give a truce of three years for results, because we do not want them to have the concession titles and only to speculate.