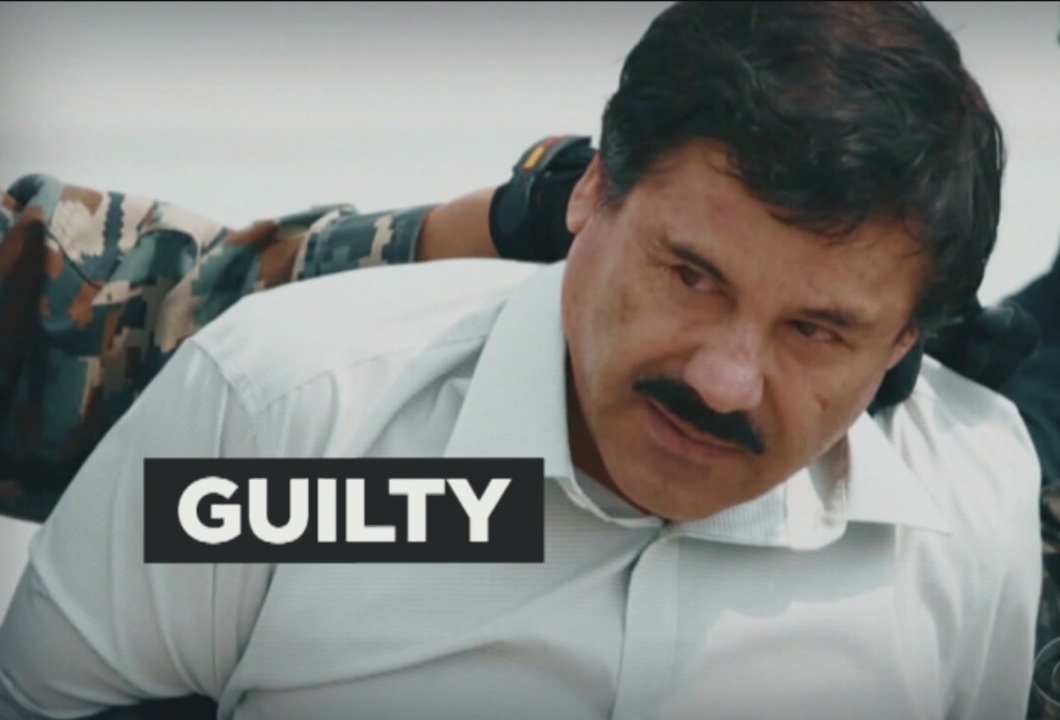 The jury deliberated for six days but reached a unanimous decision in the end
by Mexico News Daily
After six days of deliberations, the jury has found Joaquín "El Chapo" Guzmán, former leader of the notorious Sinaloa Cartel, guilty of drug trafficking.
The unanimous verdict was announced today, bringing to an end a three-month trial in which Guzmán's defense team unsuccessfully attempted to persuade jurors that their client's role in the cartel was exaggerated by witnesses for the prosecution who were seeking leniency in their own cases.
Held in New York, the trial heard tales of grisly killings, political payoffs, high living and a massive drug-smuggling operation that moved at least 180 tones of cocaine into the United States, along with heroin, methamphetamine and marijuana.
Fifty-six witnesses and hundreds of pieces of evidence — including a diamond-encrusted hand gun belonging to Guzmán — were presented by the prosecution to demonstrate that the former drug lord was indeed directly responsible for smuggling drugs, bribing officials, laundering money and murdering those who stood in his way.
The prosecution described the Sinaloa Cartel as "the world's largest and most prolific drug trafficking organization."
The defense, whose case lasted only half an hour, argued that Guzmán was made a scapegoat. The jury was asked to dismiss the testimony of the government's witnesses, describing them as liars out to save themselves by making deals with authorities.
That reliance on cooperating witnesses "laid bare the corruption of the criminal justice system where freedom is traded by the government in exchange for testimony," charged A. Eduardo Balarezo, one of Guzmán's lawyers.
A former U.S. attorney found the case demonstrated a remarkable degree of penetration into the cartel's activities. John Horn also said the conviction carries a deep meaning.
"There does need to be a conviction of somebody like Chapo Guzmán, both for the symbolism and the pure factor of justice being served," Horn, who is now in private practice, said in an interview before the verdict.
"It does show that . . . for somebody at his level, justice will be done, it will be served. It's an incredibly powerful victory . . . for law enforcement."
As the verdict was delivered at 12:30 p.m. on Tuesday, Guzmán appeared horrified, reported the newspaper Reforma.
His wife's eyes filled with tears on hearing the decision but Emma Coronel, who has been in the courtroom during most of the trial, gave her husband an optimistic thumbs up as he turned to look at her.
Guzmán, 61, was extradited to the U.S. in January 2017 after his capture in Sinaloa nearly a year earlier. His arrest came six months after a spectacular escape through a 1.5-kilometer tunnel under the Altiplano federal prison in México state.
Sentencing is scheduled for June 25.
Source: Reforma (sp), The Washington Post (en), CBS News (en).
AMLO announces plans for Badiraguato, El Chapo's hometown
President will open new highway, announce new university and launch tree-planting program
President López Obrador will visit the hometown of convicted drug lord Joaquín "El Chapo" Guzmán tomorrow to inaugurate one government project and formally announce two more.
The president told reporters at his daily press conference that he will travel to the former Sinaloa Cartel chief's native Badiraguato, a mountainous municipality 80 kilometers north of the Sinaloa capital Culiacán, to open a new stretch of highway that runs to Guadalupe y Calvo, a municipality in Chihuahua.
López Obrador said he will also announce the establishment of a new public university in Badiraguato that will specialize in forestry, explaining that the region has a lot of potential in the sector.
"Thirdly, the Sembrando Vida [Sowing Life] program is going to go ahead," he added, referring to the government's ambitious tree-planting project.
"We're going to plant [trees] in the region, 50,000 hectares just next to Badiraguato…"
López Obrador said the program will create 20,000 permanent jobs in the sierra region of Sinaloa and Chihuahua.
Asked about Guzmán's conviction on drug trafficking charges Tuesday in a New York federal court, López Obrador said yesterday that it was a lesson that a life of crime and easy money doesn't bring happiness.
Today, he said, Badiraguato shouldn't be stigmatized just because El Chapo grew up there.
"Towns mustn't be stigmatized, you can't stigmatize Atlacomulco because the so-called Atlacomulco group is from there," López Obrador said, referring to Institutional Revolutionary Party (PRI) politicians, including former president Enrique Peña Nieto, who hail from the México state municipality.
"Badiraguato is a town with history, a lot of people who deserve respect live there," he added.
The leftist political veteran, who last month said that the drug war is over and arresting drug lords is no longer a priority, explained that the aim of the new government projects and programs in Badiraguato and the country as a whole is to provide options for citizens – especially young people – to earn an honest living and not be tempted into a life of crime.
"We're seeking to regenerate public life," López Obrador said.
Source: Reforma (sp)