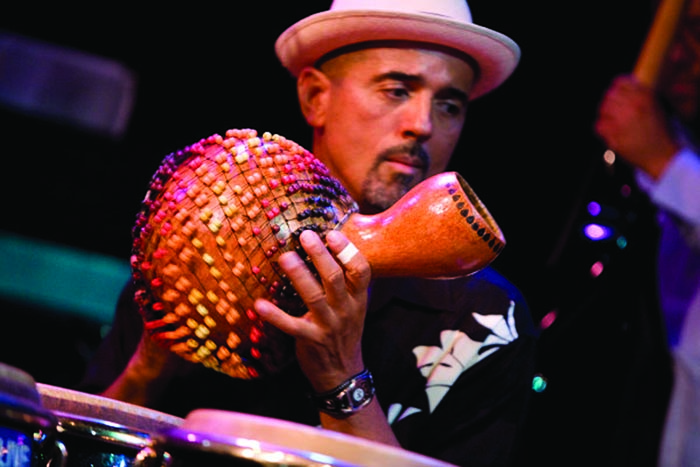 [Author]Compiled by the
El Reportero's staff[/Author]
Drum Talk is a unique, two-week intensive percussion residency, as part of the California State University Summer Arts Program. John will be co-presenting with Mario Pam, director of the world-renowned percussion powerhouse group from Bahia Brazil, Ile Aiyé.
This will be the maestro's first time to the Bay Area! We will be exploring the roots, commonalities and evolution of the drumming traditions of Cuba and Brazil with daily classes, lectures and a culminating performance by the participants. 3 units of transferable college credit!  Scholarships available. (The May 2nd application deadline was extended). For info call (562) 951-4060, csusummerarts.org or visit:
http://blogs.calstate.edu/summerarts/index.php/courses/drum-talk-rhythms-from-cuba-and-brazil/
Through July 13th, 2014, at Cal State University at Monterey Bay.
— Also with John Santos, a Latin Jazz lecture. At the San Francisco Heritage and the SF Latino Historical Society. Latin Kazz in the San Francisco Bay Area: A Retrospective.
At the Mission Cultural Center, 2868 Mission St., San Francisco, on Thursday, July 17, 2014, at 6:00 p.m. www.sfheritage.org. or at ldominguez@sfheritage.org.
SF Symphony performs annual free outdoor concerts at the Stern Grove Festival
The annual San Francisco Symphony free outdoor concerts return to the Stern Grove Festival Sunday, July 6 and San Francisco's Civic Center Plaza Sunday, July 27 as part of the Orchestra's Summer & the Symphony concert series,
These annual free community concerts are a perfect opportunity to bring a picnic lunch and spend a Sunday afternoon listening to the San Francisco Symphony with friends and family, enjoying great music in the beautiful settings of two of San Francisco's most treasured outdoor spaces.
On Sunday, July 6 at 2 pm, the Orchestra returns to the Stern Grove Festival for its annual free concert in the Sigmund Stern Grove, a beautiful outdoor amphitheater located at 19th Avenue and Sloat Boulevard in San Francisco. Guest soloist, Japanese pianist Makoto Ozone, performs with the SFS improvising on Ravel's well-known classical pieces Bolero and Pavane pour une infant défunte. The concert includes musically diverse styles from the jazz of Leonard Bernstein and Henry Mancini, to Richard Rodgers' Broadway sound, to music by American composers Morton Gould, Raymond Scott, and Howard Hanson.
On Sunday, July 27 at 2 pm, the SF Symphony performs at San Francisco's Civic Center Plaza following the Orchestra's wildly successful 100th Anniversary Celebration there in the fall of 2011. Violinist Benjamin Beilman takes center stage in Mendelssohn's Violin Concerto in E minor, Opus 64 and the Orchestra performs additional short classical pieces by Tchaikovsky and Mozart. Food and beverage vendors from Off the Grid, booths and free giveaways add to the festivities.