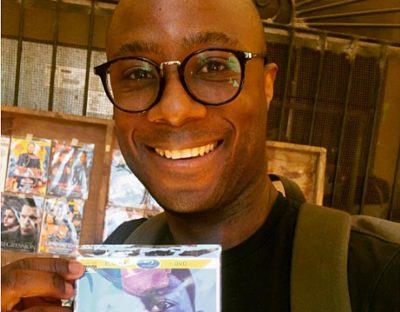 Copy of Oscar winner Moonlight was at a vendor's stall in Yucatán
by the El Reportero's news services
What else would an internationally renowned filmmaker expect to find at a Mexican street vendor's stall of pirated films but one of his own?
That's what happened this week to Oscar Award-winning director Barry Jenkins during a visit to the small city of Muna, Yucatán.
Having stopped to buy some fruit at a market, Jenkins was walking past a vendor of videos when he spotted his own film, Moonlight, or Luz de Luna in Spanish, which won best picture at this year's Academy Awards.
He described the experience on Instagram:
"Walking by the bootleg man in Muna, Mexico and look what I found. To fully comprehend this, you must know that Muna is a town with a population of 11,000 souls, a small-town lover's kind of small town on the way to the Mayan ruins of Uxmal. We stopped for some fruit at an open air market and lo and behold, Luz De Luna. Mama we made it!"
Several Mexicans responded to the post. While a few offered a "Viva México!" several others apologized and some saluted Jenkins' sense of humor over the issue.
There's no telling how bootlegged copies affect box-office receipts but Moonlight's financial situation is not bad. As of this month it has grossed US $55.5 million worlwide; it cost $1.5 million to make.
Juried Awards Champion Emerging Artists and Global Cinema
The San Francisco Film Society today announced the films in competition for the Golden Gate Awards (GGAs), which will distribute nearly $40,000 in total prizes this year in various narrative and documentary categories. Films are selected with an emphasis on bringing attention to innovative and quality filmmaking regardless of participation in other festivals.
The films were announced at the Festival press conference on Wednesday, March 15. Independent juries selected the winners in all categories, which will be announced at the Golden Gate Awards, Sunday, April 16.
Some of the films were directed by a couple of Latino film directors.
Donkeyote, by Chico Pereira, Spain/Germany/UK, is competing in the documentary feature category.
A Spanish man's quest to defy barriers and borders in search of the American West by planning a journey on the Trail of Tears with his donkey by his side is its own quixotic trail of laughter and tears. The understanding between man and animal has rarely been so intimately conveyed as it is in Chico Pereira's winning tale, a stunningly photographed film that hovers between documentary and fiction, one inspired and performed by a real-life character with outsized dreams.
Everything Else, Natalia Almada, Mexico/USA/France, is competing in the New Director category – narrative feature.
Academy Award-nominee Adriana Barraza (Babel) gives a masterfully controlled performance as Doña Flor, a solitary bureaucrat whose lifelong service in a government office has left her markedly unsympathetic towards her clients. Shot with an attentive and deeply empathetic lens, documentarian Natalia Almada's narrative debut is a starkly intimate portrait of a woman at odds with her life who may still have a chance to escape her isolation.