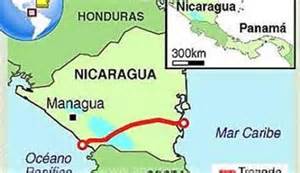 by the El Reportero's wire services
HONG KONG — The lack of detailed financial information on the Nicaragua canal from project leader HKND Group continued this week with the announcement by chairman and CEO Wang Jing that the company was planning to launch an initial public offering to fund the $50 billion waterway.
Wang gave no details of which stock market the IPO would be launched, when it would happen or how much HKND hoped to raise. According to Reuters, he said in the Nicaraguan capital of Managua that he "hoped" the listing would take place in the stock market that offered the best conditions.
Wang said HKND was preparing a prospectus which would reveal the investors behind the 172-mile canal that aims to cut across the Central American nation and compete with the Panama Canal not far to the south.
Almost two years after the canal project was first announced there is mounting skepticism about its viability, something the sketchy financial details are exacerbating. As a Hong Kong based company, the city is the obvious choice for an IPO, but to attract interest, a prospectus will need to address funding issues, identify the major investors, explain how much land will have to be expropriated and provide cost estimates, and outline how seriously Lake Nicaragua will be affected.
Investors expecting financial answers in Wang's address to government officials and business leaders, including Nicaraguan President Daniel Ortega, to celebrate the start of the "Grand Canal of Nicaragua" will have been disappointed.
Overflowing with "hands across the sea" type imagery of China helping its Nicaraguan brothers, the only relevant information in Wang's keynote speech was an outline of the work plan for 2015.
In the first quarter of 2015, measurements, design, land acquisition and construction of access roads on the east and west sides of the canal project will continue, with the tender for the preliminary design offered, Wang said.
At the end of the first quarter, the final and integrated environmental impact studies will be delivered, the third quarter will see bidding and the start of work on the key excavation section between Tule and La Union.
In the fourth quarter, tenders for design and construction of the east and west locks will be called for.
Yet key feasibility studies have been postponed to April and excavation work is not scheduled to begin until the second half of next year. Despite the delays, HKND is standing behind its five-year completion schedule, leading many to surmise that China will be bankrolling its construction.
Something that will have raised eyebrows, however, was Wang's assertion that all the challenges faced by the project had been solved.
"In more than two years, the doubts and speculations on the canal project about protection of the environment, resettlement, technology, machinery, finance, law, politics, experience, equipment, etc. never stopped," Wang told the assembled officials.
"Today we proudly announce that we have overcome all those challenges," he said.